Fantasy Flight Games
Regular price
$39.99
Sale price
$35.99
Unit price
per
Sale
Sold out
Elder Sign: Evil from beyond has come to the museum!

Throughout the museum's history, visitors have been drawn to its unparalleled collection of ancient exhibits and exotic curios from faraway places. But in 1926, unimaginable horrors from beyond threaten to use these artifacts as a means to enter our world, bringing an end to all of humanity. The clock is striking midnight and a small group of courageous investigators desperately search the marbled halls for the legendary symbol that will keep our world safe! The Elder Sign...

In Elder Sign, 1 to 8 players take on the role of investigators struggling to combat one of the Ancient Ones - vast, powerful creatures that dwell in the space between dimensions. By rolling a pool of special dice, players will face adventures in and around the museum that has become the focal point of these strange creatures. The investigators' courage and skill will earn rewards, the most prized of which is an Elder Sign, the eldritch symbol used to seal away the Ancient One and win the game. But the clock is always ticking and each night at midnight, the Ancient One gets closer to waking up. If the investigators take too long to seal it away, the Ancient One awakens and humanity is almost certainly doomed!

Inspired by the writings of H.P. Lovecraft. Elder Sign is a cooperative game of suspense and horror that can be played in 1 or 2 hours by 1 to 8 players aged 13 and up.
Condition: New
Share
View full details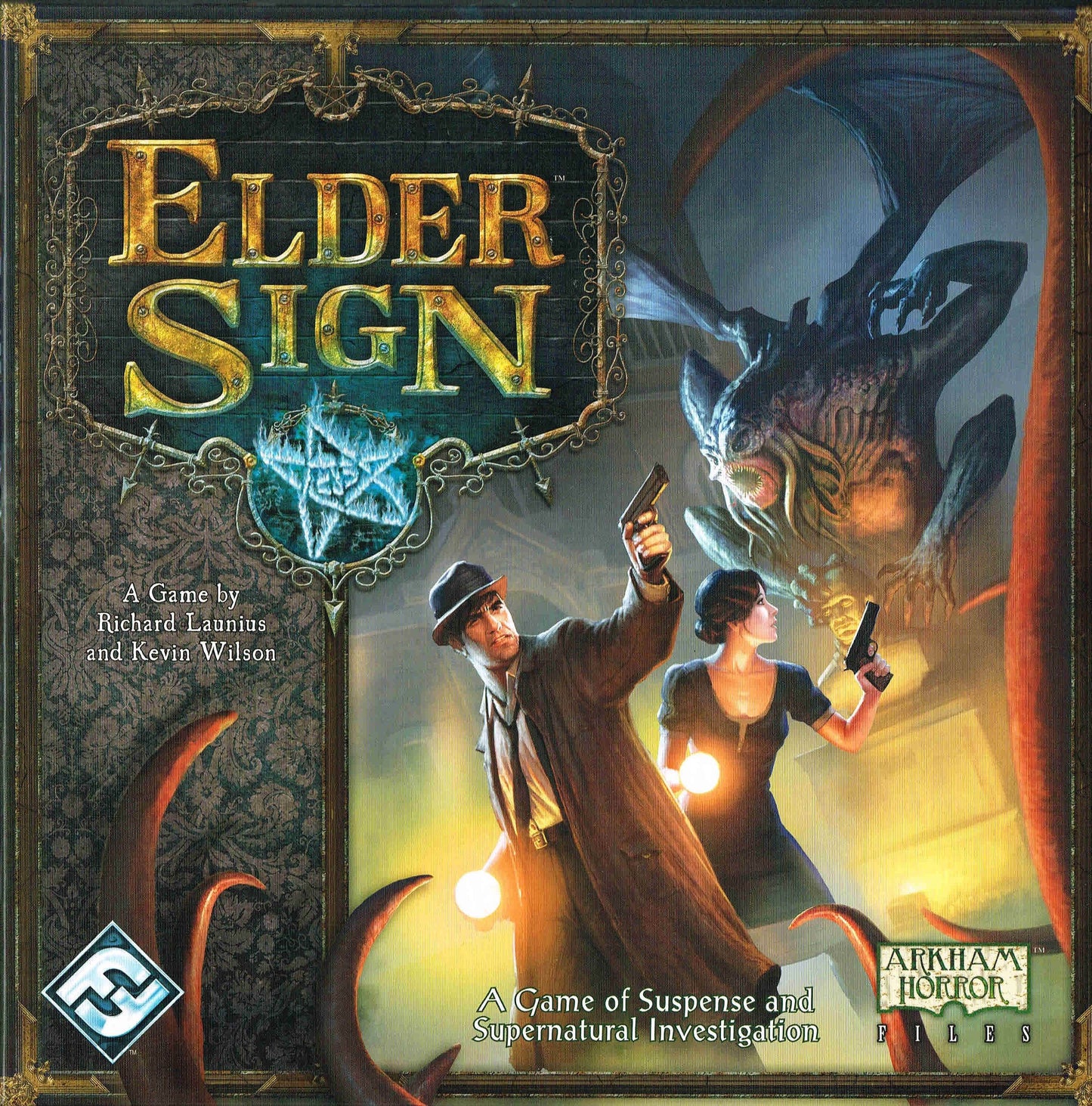 Collapsible content
Game Details

Suggested Ages: 13 and up
Number of Players: 1 to 8
Playing Time: 2 hours

Designer: Launius, Richard and Kevin Wilson
Illustrator:
Publisher: Fantasy Flight Games
Mechanics

cooperative play, dice rolling, modular board, variable player powers, adventure, card game, dice, fighting, horror, novel
Awards & Honors

2012 Golden Geek Best Thematic Board Game Nominee
Contents

1 Rulebook, 1 Cardboard Clock, 8 Customized Dice (6 green, 1 yellow, 1 red), 1 Entrance Reference sheet, 80 Oversized Cards (48 Adventure Cards, 8 Other World Cards, 16 Investigator Cards, 8 Ancient One Cards), 76 Small cards (12 Common Item Cards, 12 Unique Item Cards, 12 Spell Cards, 8 Ally Cards, 32 Mythos Cards), 147 Cardboard tokens and markers
(16 Investigator Markers, 30 Stamina Tokens, 30 Sanity Tokens, 15 Clue Tokens, 22 Monster Markers, 5 Mask Monster Markers, 12 Doom Tokens, 17 Elder Sign Tokens)