Fantasy Flight Games
Regular price
$89.99
Sale price
$80.99
Unit price
per
Sale
Sold out
Marvel D.A.G.G.E.R. Defense Alliance for Global and Galactic Emergency Response

Mission start. Earth is in danger. Nefarious forces threaten the world as we know it, and only a small team of heroes can come to its rescue. With the enemy's minions closing in and innocents in peril, our heroes must work together to stop the villain's plans and save the world. But will they be able to save it in time?

In Marvel D.A.G.G.E.R., 1 to 5 players work together to challenge the forces of evil. Play as iconic heroes like Spider-Man, Daredevil, and Black Widow, and race across the globe to complete missions, battle enemies, and square off for the final showdown against the nemesis. Choose the best aspect for your hero, pull off awesome combos, and wait for the perfect moment to unleash your ultimate ability. Team up with your allies and take on dangerous threats as you become the greatest heroes in the world!

Condition: New
Share
View full details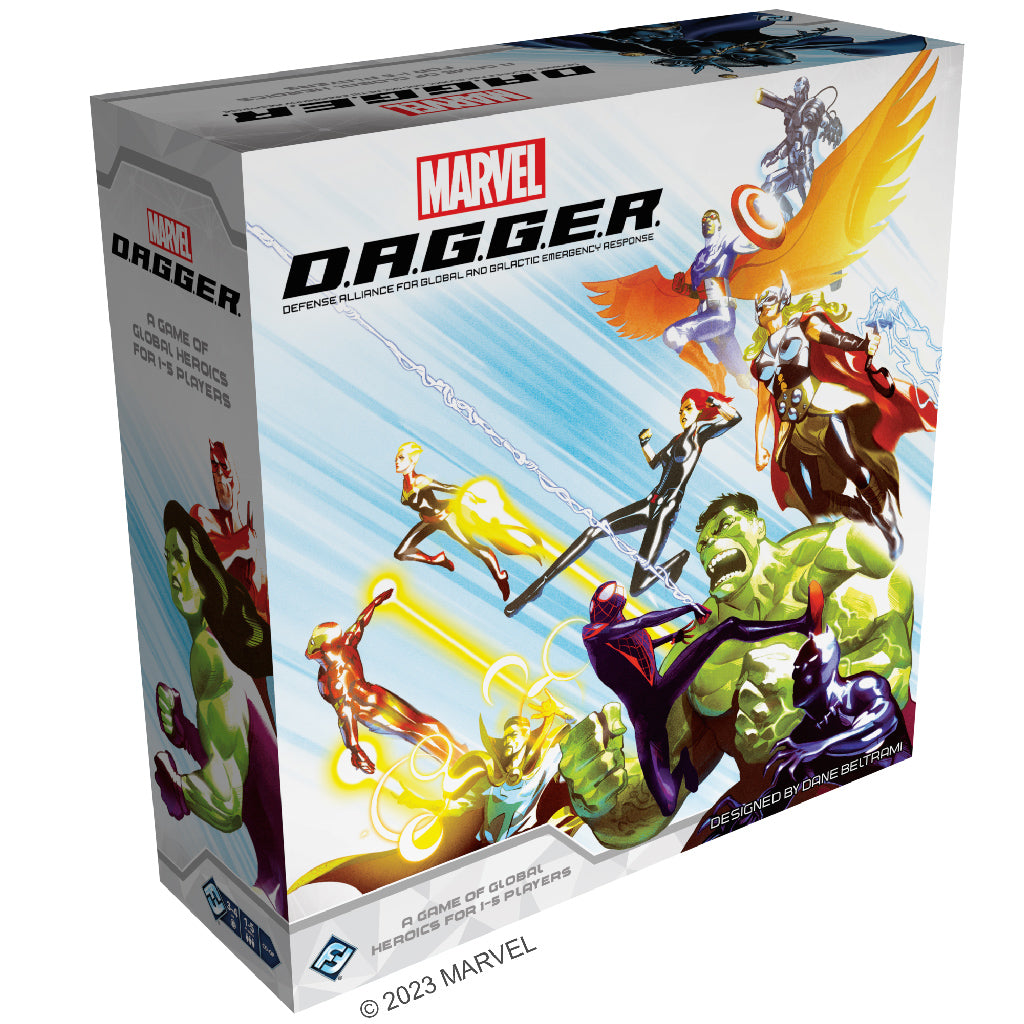 Collapsible content
Game Details

Suggested Ages: 12 and up
Number of Players: 1 to 5
Playing Time: 3 to 4 hours

Designer: Dane Beltrami
Illustrator:
Publisher: Fantasy Flight Games
Contents

Hero profile guide, game board, 10 double-sided hero sheets, 20 hero standees, 6 aspect stands, 6 aspect sheets, 4 nemesis sheets, 4 nemesis standees, nemesis stand, 60 enemy standees. 28 enemy cards, 10 team-up cards, 40 support cards, 42 event cards, 58 mission cards, 5 reference cards, 1 stun token, 30 aspect tokens, 20 combo tokens, 44 progress tokens, 41 damage tokens, 1 Iliad token, 1 Bifrost token, 5 overrun tokens, 3 suppression tokens, 5 mission tokens, 5 hero dice, 13 plastic stands, 1 first player token, 1 threat tracker, 1 threat target tracker, 1 team-up tracker, 1 rule book