Z-Man Games
Regular price
$79.99
Sale price
$69.99
Unit price
per
Sale
Sold out
Pandemic: Legacy Season 2 is an epic cooperative game for 2 to 4 players. Experience the tension and pulse pounding thrills of a new year of surprises, setbacks, and fleeting victories. Take part in an ever-evolving story filled with shocking twists and dramatic revelations. Play out your own story. When it's all over, only one thing is certain: The world will never be the same again.
Unlike most other games, this one is working against you. What's more, some of the actions you take in Pandemic: Legacy will carry over to future games. No two worlds will ever be alike!
The world almost ended 71 years ago...
The plague came out of nowhere and ravaged the world. Most died within a week. Nothing could stop it. The world did its best. It wasn't good enough.
For three generations, we, the last fragments of humanity, have lived on the seas, on floating stations called havens. Far from the plague, we are able to provide supplies to the mainland to keep them - and us - from succumbing completely.
We've managed to keep a network of the largest known cities in the world alive. Things have been tough the past few years. Cities far away from the havens have fallen off the grid...
Tomorrow, a small group of us head out into what's left of the world. We don't know what we'll find.
Experience an Epic Campaign
The standalone follow-up to one of the most critically-acclaimed games of all time, Pandemic Legacy: Season 2 combines an engrossing storyline with an immersive campaign to create an experience unlike any other. You and up to three friends enter a world devastated by a terrible plague and quickly get swept up in a struggle that will determine the fate of humanity.
To survive, you must work together, utilizing your unique abilities to keep the world going while searching the globe for information about the plague. As you do, a harrowing tale of survival unfolds on your tabletop. Each passing month brings new twists and turns as you overcome obstacles and unlock new challenges. Progressing through the story and meeting certain conditions grants you access to eight sealed packages and six top secret dossiers filled with additional components, rules, and hidden information. Each new piece expands your game and can take it in bold new directions.
What's more, your efforts from one game to the next directly impact your world more than ever before. Save a city from the plague and its population will flourish. If that same city is ever infected, however, its population slowly withers away. Similarly, if you expose yourself to the plague, you run the risk of carrying a debilitating scar for the rest of the campaign. No game of Pandemic Legacy: Season 2 is the same as the last, so make your actions count.
The Right Team for the Job
At the beginning of Pandemic Legacy: Season 2, the world is a memory of what it once was. Mass communication systems have been disabled. Transportation networks are down. All that remains is a loose network of the last remaining major cities. With the world a shadow of its former self, it has fallen to you and your team to keep this grid from succumbing completely.
Operating from floating stations known as havens, you must deliver desperately-needed supplies to these cities as you seek to gain a foothold on the mainland. To complete this mission, Pandemic Legacy: Season 2 gives you the freedom to develop your characters as you see fit. You might become an Instructor, making it easier for you to pass knowledge on to your teammates. Or you could choose to be an Administrator, coordinating efforts amongst the various workers on the havens and the outside world. You have plenty of jobs to choose from, each of which helps you contribute to the team in your own way.
No matter the role you choose, however, you'll face some serious challenges as you progress through each new game. At the beginning of the campaign, your leaders have gone missing and your supplies are slowly trickling away. It's now up to you to make do with what you have in order to keep the grid up and running.
To make matters worse, the mainland is a mysterious place fraught with danger. The plague is still out there and remains a looming threat to all you do. Every crate of food, tools, and medicine you deliver helps you and your fellow survivors keep it at bay, but the Hollow Men — roving bands of savages bent on your elimination — constantly disrupt your supply lines, tearing down what you build and stealing what you offer. Hard choices will have to be made if you want any hope of surviving this calamity.
You Are Humanity's Last Hope
The stakes have never been higher. If something isn't done now, the world may never recover. Head into the unknown and embark on an epic quest to save the world with Pandemic Legacy: Season 2!
Note: The contents of the Black box and Yellow box are identical. The two box colors let you run two separate campaigns and easily distinguish between them.
Condition: New
Share
View full details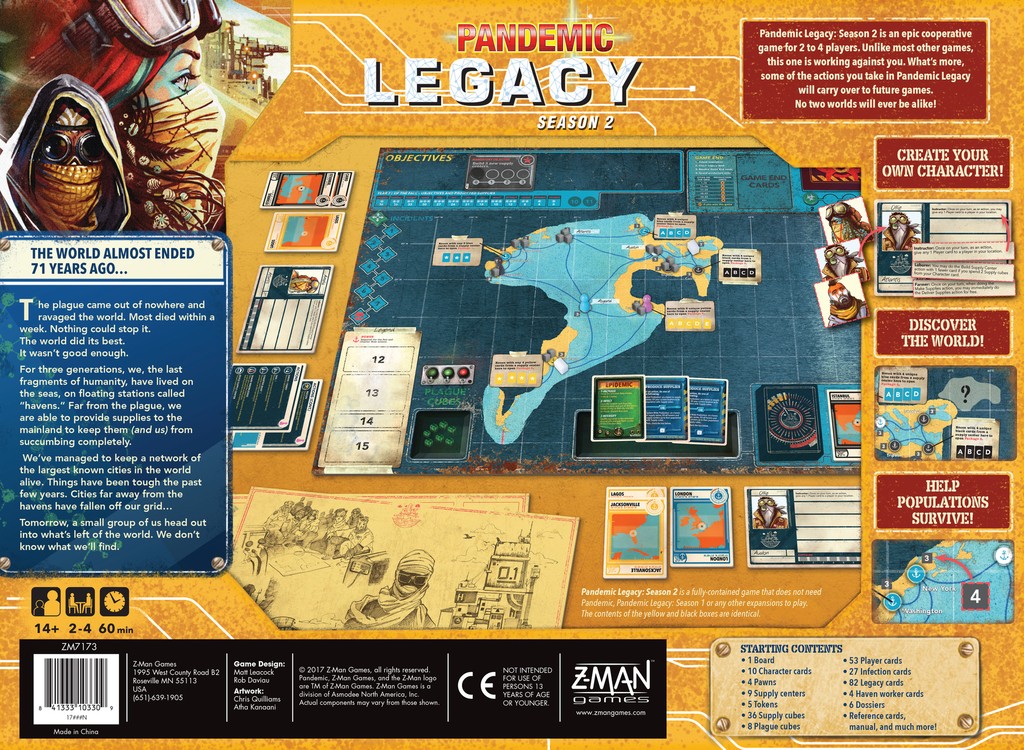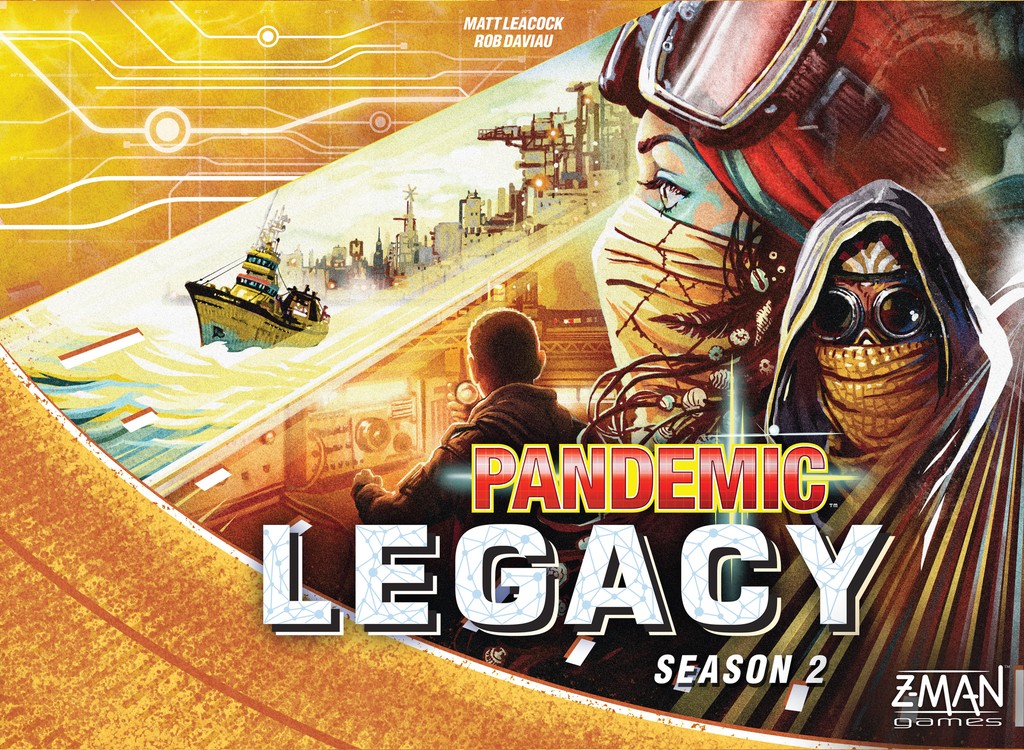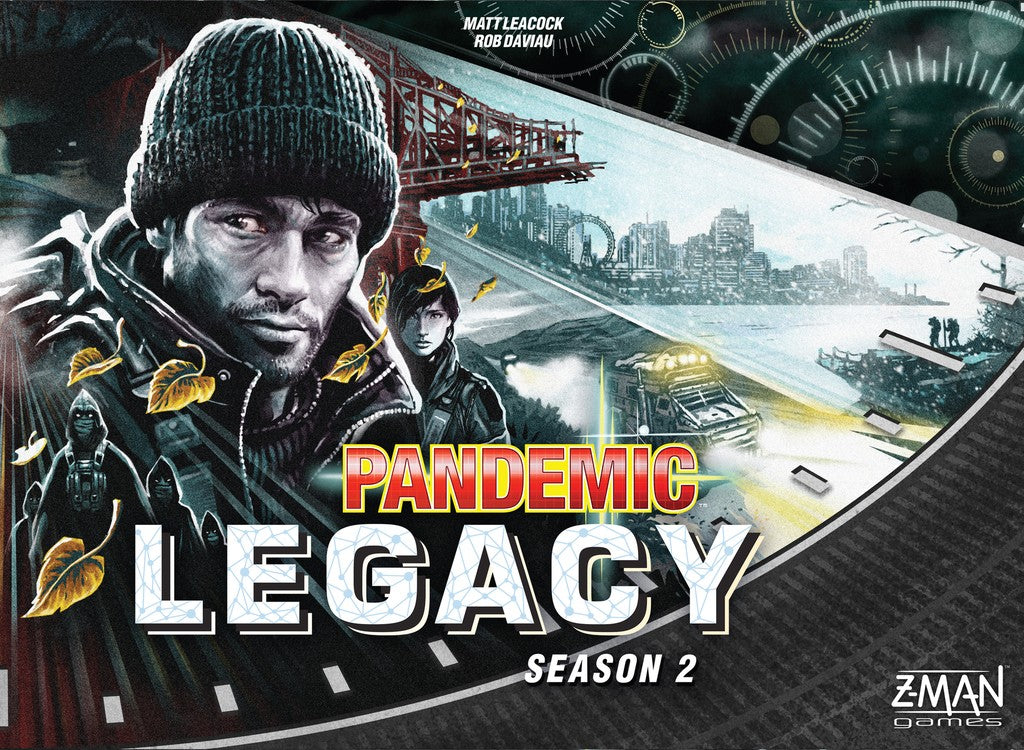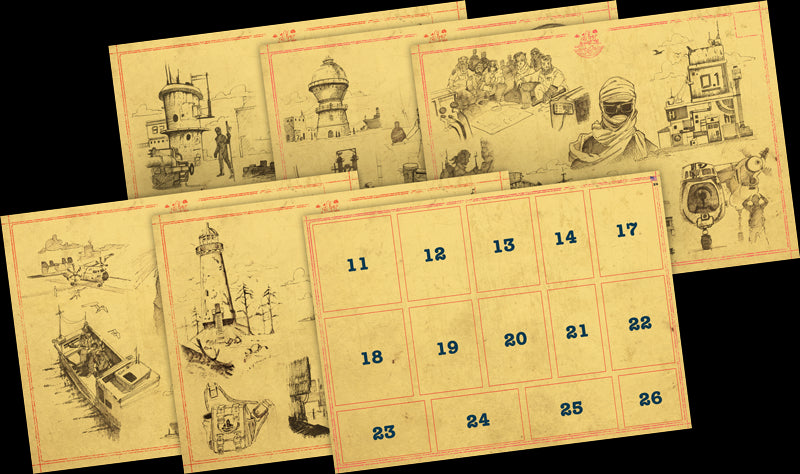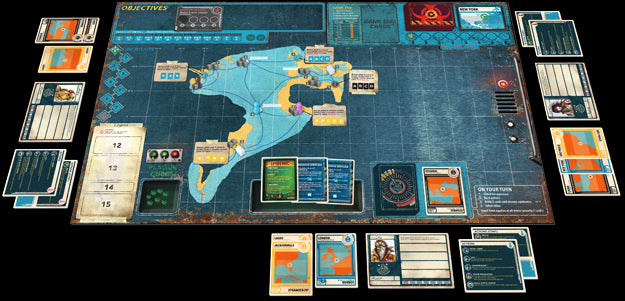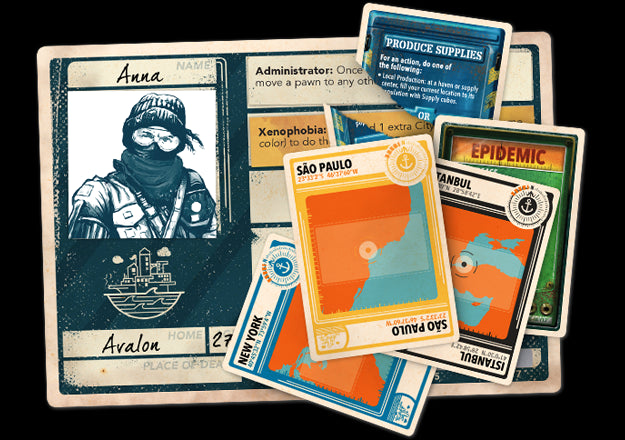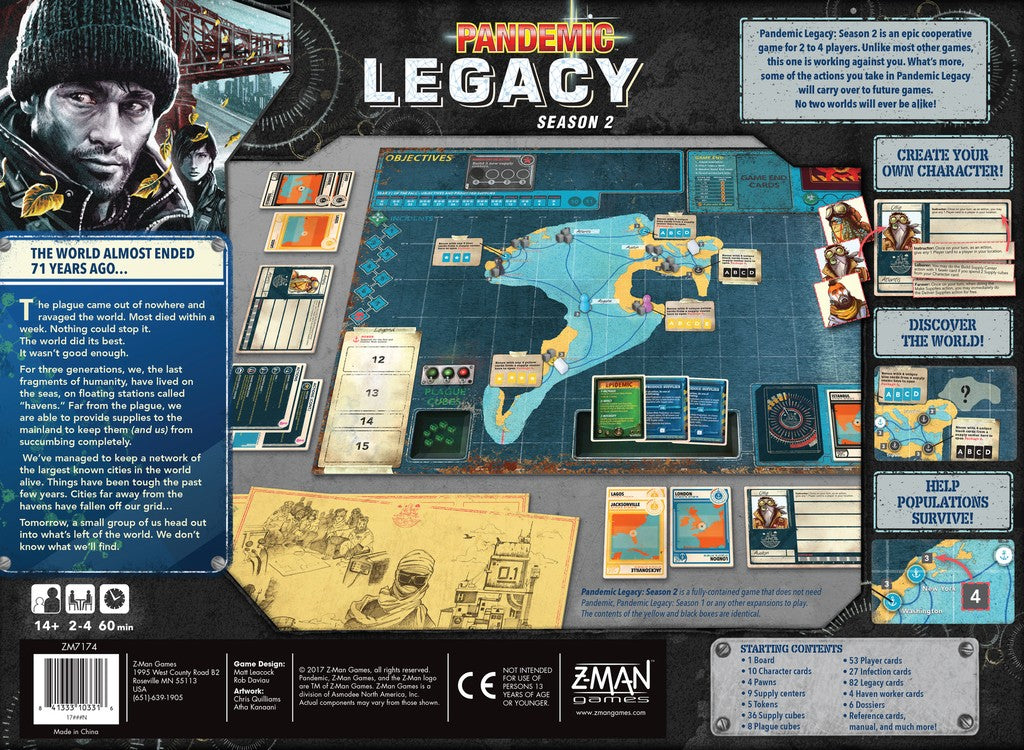 Collapsible content
Game Details

Suggested Ages: 14 and up
Number of Players: 2 to 4
Playing Time: 60 minutes

Designer: Leacock, Matt and Rob Daviau
Illustrator: Chris Quilliams and Atha Kanaani
Publisher: Z-Man Games
Mechanics

cooperative play, hand management, point to point movement, variable player powers, Legacy, Pandemic
Awards & Honors

2018 Spiel des Jahres Special Prize Winner
2018 RPC Fantasy Award Board Game Winner
2018 Origins Awards Best Board Game Nominee
2017 Golden Geek Board Game of the Year Nominee
2017 Golden Geek Best Thematic Board Game Nominee
2017 Golden Geek Best Strategy Board Game Nominee
2017 Golden Geek Best Cooperative Game Nominee
2017 Board Game Quest Awards Game of the Year Nominee
2017 Board Game Quest Awards Best Coop Game Nominee
2016 Dragon Awards Best Science Fiction or Fantasy Board Game Winner
Contents

game board; 10 character cards; 4 pawns; 9 Supply Centers; 5 tokens; 36 Supply cubes; 8 Plague cubes; 53 Player cards; 27 Infection cards; 82 Legacy cards; 4 Haven Worker cards; 6 Dossiers; reference cards; manual, and much more!