Cool Mini or Not
Regular price
$109.99
Sale price
$99.99
Unit price
per
Sale
Sold out
Project: ELITE - All infrastructures within the Solar System have been destroyed. The Mars colony has been wiped out of existence. The aliens from Proxima Centauri b have now reached Earth and, from their massive fleet hidden behind the moon, they rain down destruction on our planet with total impunity, performing mass abductions and destroying our research facilities at the first opportunity. They have been forced to abandon their home world, scorched by their sun, and they turned their eyes toward Earth, determined to seize it by any means. For the first time in History, humanity stands united against a common enemy. Only one hope for a free Earth remains - Project: ELITE!
Project: ELITE is a fast-paced cooperative game for 1-6 players who take on the role of members of an ELITE squad recruited to stop an invading alien force.
These fearless soldiers have been assigned several missions that must be fulfilled before their window of operations closes and time runs out. While the game itself controls the aliens and their activations, players engage in frantic rounds of real-time dice rolling that allow them to move, search for weapons and items, and fight against the incoming swarm of aliens.
Condition: New
Share
View full details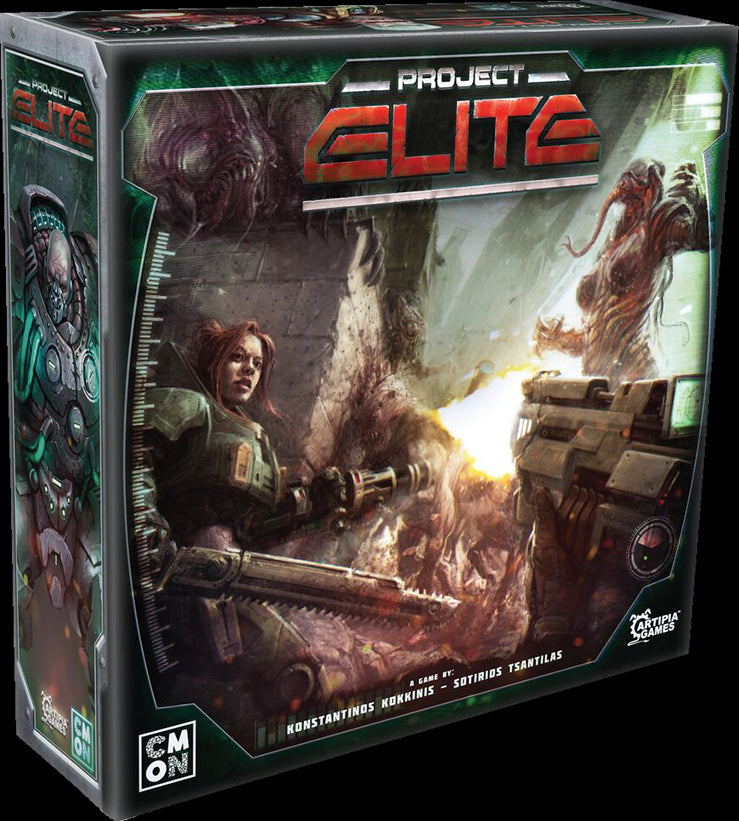 Collapsible content
Game Details

Suggested Ages: 14 and up
Number of Players: 1 to 6
Playing Time: 60 minutes

Designer: Kokkinis, Konstantinos and Marco Portugal, Sotirios Tsantilas
Illustrator: Saeed Jalabi, Stef Kopinski, Henning Ludvigsen, Mike McVey, Edgar Skomorowski
Publisher: Cool Mini or Not
Mechanics

Fighting, Miniatures, Real-time,
Science Fiction, Cooperative Game, Dice Rolling, Grid Movement, Line of Sight,
Variable Player Powers
Awards & Honors

2020 Board Game Quest Awards Best Tactical/Combat Game Nominee
2020 Board Game Quest Awards Best Cooperative Game Nominee
Contents

59 figures (6 heroes, 8 bosses, 45 swarms in 3 different sculpts), 148 cards, 1 electronic timer, 1 double-sided map board, 42 dice (24 action dice, 18 hit dice), 6 marker cubes, 6 hero dashboards, 6 counter bases, 116 tokens, rule book