Asmodee Editions
Regular price
$49.99
Sale price
$44.99
Unit price
per
Sale
Sold out
Seasons: the greatest sorcerers of the kingdom have gathered at the heart of the Argos forest, where the legendary Tournament of the 12 Seasons is taking place. At the end of the three-year competition, the new Archmage of the kingdom of Xidit will be chosen from among the competitors.

Take your place, wizard! Equip your ancestral magical items, summon your most faithful familiars to your side and be ready to face the challenge!

First, select nine power cards at the same time as your opponents. Choose them carefully, as they will heavily impact the rest of the game. Then get used to the passing seasons in order to make the most of the actions offered by the dice during each round.

Gather energy, summon familiars and magic items, amass enough crystals, symbols of prestige, and become the kingdom's most illustrious mage.
At the end of the game we add the points of victory on the cards given the number of crystals possessed. The player with the most victory points wins.
In addition, all the dice are different depending on the season. For example, there is not the same energies to a particular season. Throughout the game, players will therefore have to adapt to these changes.
From BoardGameGeek:
Seasons?is a game of cards and dice which takes place in two phases:

The first phase consists of a draft: the goal during this phase will be to establish a strategy for the rest of the game with 9 cards that can be selected (Each card has a specific effect and earns victory points).

Once the draft is complete, each player must separate his 9 cards into 3 packs of 3 cards. He will begin the second phase of the game with his first pack of three cards, then gradually as the game progresses, he will receive the other two packets of three cards.

Next comes the second phase of play: at the beginning of each round a player will roll the seasons dice (dice = number of players +1).

These cubes offer a variety of actions to the players:

- Increase your invocation (maximum number of cards you may have placed on table)
- Harvesting energy (water, earth, fire, air) to pay the cost of invocation maps
- Crystallization energy (during the current season) to collect crystals. These serve both as a resource to rely on some cards, but also many victory points in the endgame.
- Draw new cards ...

Each player can choose only one die per turn. The first player will choose among those launched, then the following among those remaining and so on. At each turn, the dice indicate how many remaining cells (1, 2 or 3 boxes) the marker of the seasons ahead.
Condition: New
Share
View full details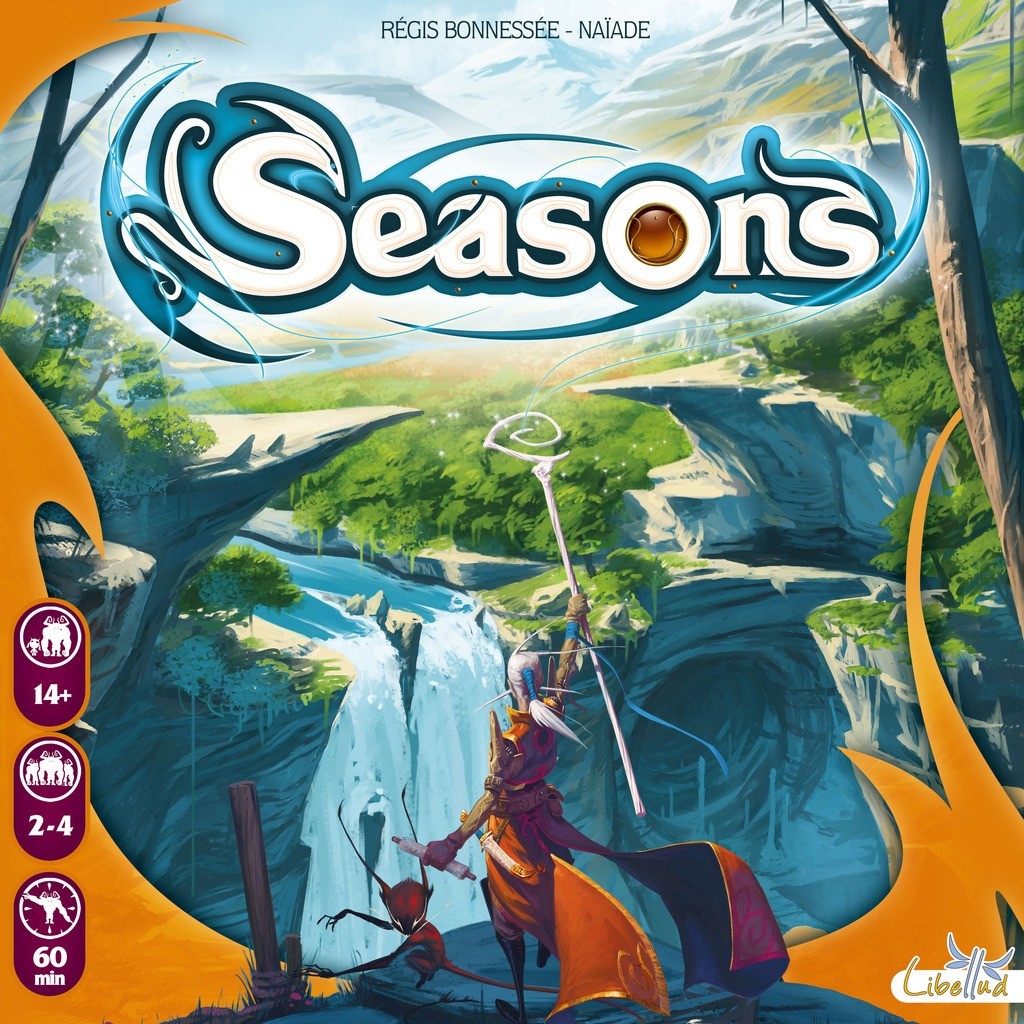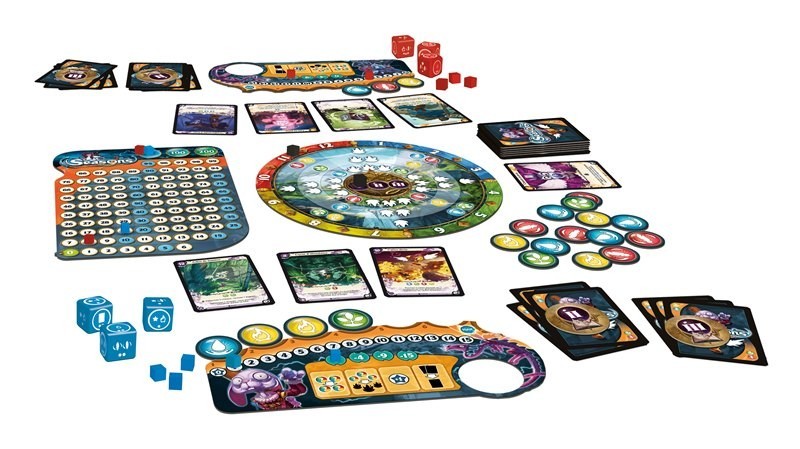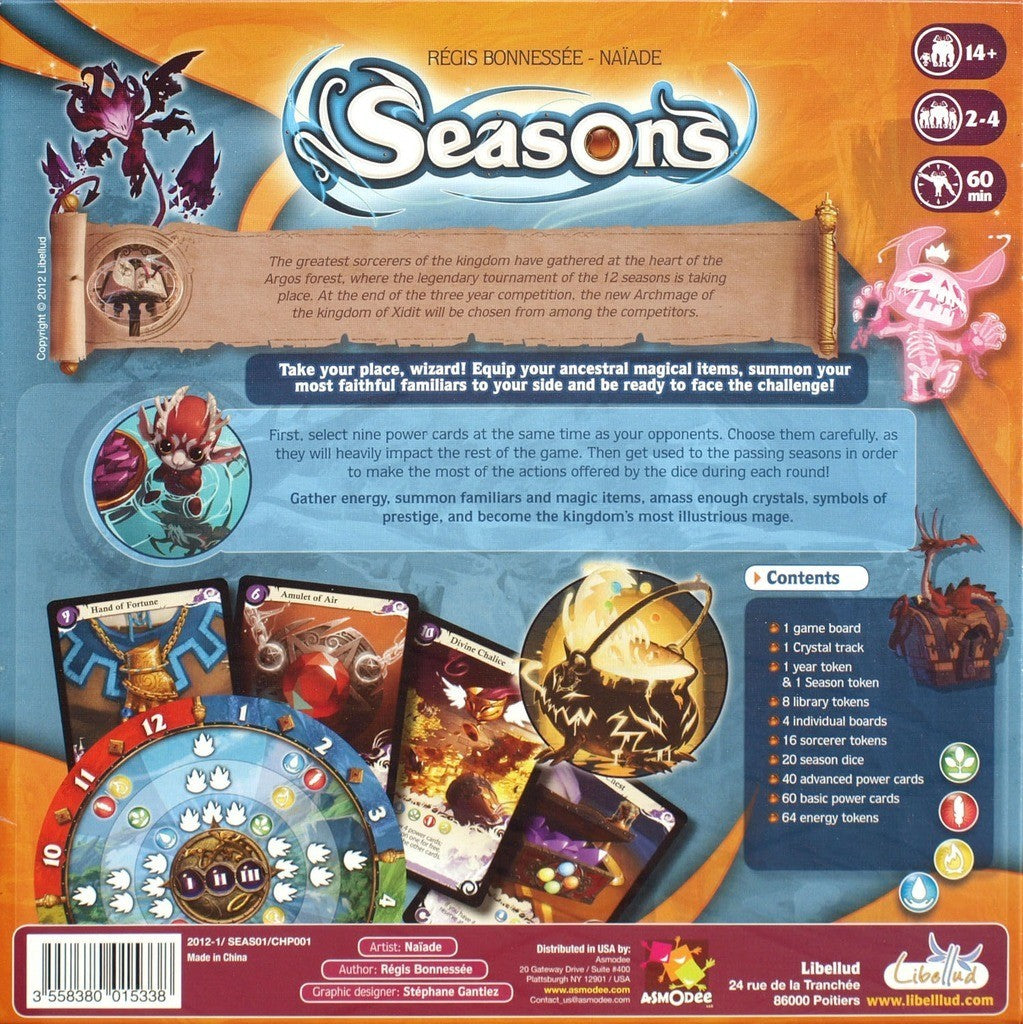 Collapsible content
Game Details

Suggested Ages: 14 and up
Number of Players: 2 to 4
Playing Time: 60 minutes

Designer: Bonnessee, Regis
Illustrator: Naiade
Publisher: Asmodee Editions
Mechanics

card drafting, commodity speculation, dice rolling, hand management, card game, dice, fantasy
Awards & Honors

2013 Ludoteca Ideale Official Selection Winner
2013 Gra Roku Game of the Year Nominee
2013 Golden Geek Best Card Game Nominee
2013 Golden Geek Best Board Game Artwork/Presentation Nominee
2013 As d'Or - Jeu de l'Année Nominee
2012 Tric Trac Nominee
2012 Meeples' Choice Nominee
2012 Lucca Games Best Art Winner
2012 Jocul Anului în România Beginners Finalist
2012 As d'Or - Jeu de l'Année Nominee
Contents

1 game board, 1 Crystal track, 1 year token & Season token, 8 library tokens, 4 individual boards, 16 sorcerer tokens, 20 season dice, 40 advanced power cards, 60 basic power cards, 64 energy tokens, rules