IELLO
Regular price
$56.99
Sale price
$41.99
Unit price
per
Sale
Sold out
Steam Park: build your own? build your own gigantic, coal-powered amusement park by constructing beautiful 3-D rides in this family strategy game.
Be the owner of a fantastic Steam Park. You'll be assigned a vast area where you'll build gigantic rides to attract as many visitors as you can!
Steam Park is an easy-to-learn game, with two difficulty levels: an easier level for less experienced gamers, and a more strategic level for those who want a more exciting challenge.
In this dice and management game, you'll have to build your own amusement park and make it the largest and most profitable at the annual fair. As you construct the three-dimensional rides, illustrated by the talented Marie Cardouat (of Dixit fame), you'll see your Steam Park grow right before your eyes. But as owners of those fantastic steam parks, building attractions won?t be enough: you?ll also need to manage your employees, invest in advertising in order to attract and please the different kinds of guests visiting your park, and, above all, keep the dirt your park produces under strict control!
Build stands to attract more visitors, or toilets to keep the dirt down. Whichever approach you take, do it quickly: thanks to the action-choosing mechanism you'll need to be both the best and the fastest if you want to win at Steam Park!
Honors:
2013 Golden Geek Best Family Board Game Nominee
2014 Gioco dell?Anno Nominee
Contents:? 24 Dice(6 for each player), 42 Visitors (7 in each of the 6 colours), 4 Starting Ground tiles, 20 Additional Ground tiles, 8 Rides (3 for each colour and 6 in each size),
24 Stands (4 for each of the 6 kinds), 1 Turn Track, 4 Turn Order tokens, 4 Pig boards, Dirt tokens, 34 Bonus cards, 1 Cotton bag, 4 Reference cards, Banknotes, rule book.
Condition: New
Share
View full details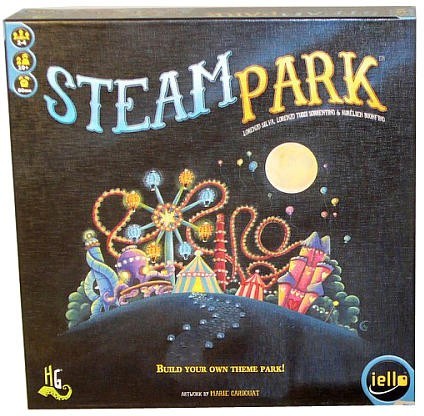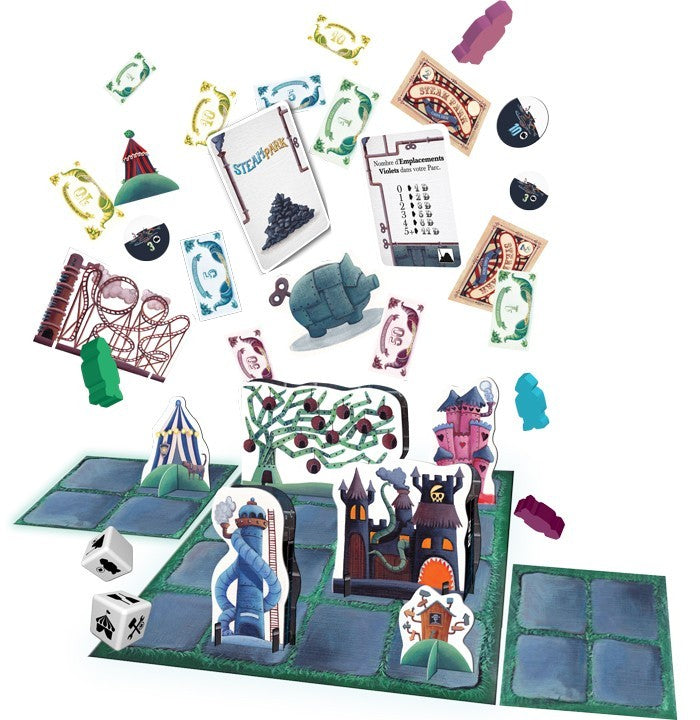 Collapsible content
Game Details

Suggested Ages: 10 and up
Number of Players: 2 to 4
Playing Time: 60 minutes

Designer: Silva, Lorenzo and Lorenzo Tucci Sorrentino, Aurelien Buonfino
Illustrator: Marie Cardouat
Publisher: IELLO
Mechanics

card drafting, dice rolling, memory, modular board, city building, dice, real