Z-Man Games
Regular price
$41.99
Sale price
$37.99
Unit price
per
Sale
Sold out
Carcassone is a simple, clever tile-laying game that brings new challenges with every turn! This New Edition features updated and more brightly colored artwork. Includes two mini expansions: The River and The Abbot.
The southern French city of Carcassonne was founded on an important trade route between the Mediterranean and the Atlantic. Because of its strategic location, the city was often conquered and has known many rulers. As a result of this varied history, the city of Carcassonne is famous for its unique Roman and Medieval fortifications.?
In Carcassonne, you and your fellow players develop the area around Carcassonne by placing land tiles. Each turn the area becomes larger as you expand and add roads, fields, cities, and cloisters. ?You may also deploy your followers as thieves (on roads), knights (in cities), monks (in cloisters), and farmers (in fields). As you only have a few followers, you'll want to plan your moves carefully and deploy followers when and where you can earn the most points.
The skill of the players to develop the area will determine who is victorious.
Carcassone is a simple, clever tile-laying game that brings new challenges with every turn! 
This New Edition of Carcassonne includes The River Expansion with 12 tiles that provide an alternative method for starting the game. To use the River, instead of using the Start Tile, place the Spring that starts the River in the center of the table. Set aside the Lake tile and shuffle the remaining 10 River tiles face down and draw from these before drawing the tiles from the base game. Place the River tiles so that the river on each connects to the River on the previous tile. Do not place a River tile so that the River makes a U-turn. You may place followers on the River tiles as you would in the base game. Do not place followers on the River, though. When the 10 River tiles have been played, the next player plays the Lake and play continues as normal with the tiles from the base game.
Carcassonne New Edition also includes a new mini-expansion: The Abbot which consists of 5 Abbot meeples (1 in each of the 5 player colors). Abbots can be placed on cloisters/monasteries or gardens. Gardens a new landscape feature in this New Edition of Carcassonne. An Abbot on a cloister/monastery or garden scores just like a monk: 9 points when the feature is completely surrounded by 8 tiles. In addition, the Abbot has a special property: whenever you don't place a meeple on your turn, you can optionally remove your Abbot from the field, immediately scoring the appropriate points for the partially completed monastery or garden (1 point per tile). At game end, your Abbot scores like a normal monk.
Condition: New
Share
View full details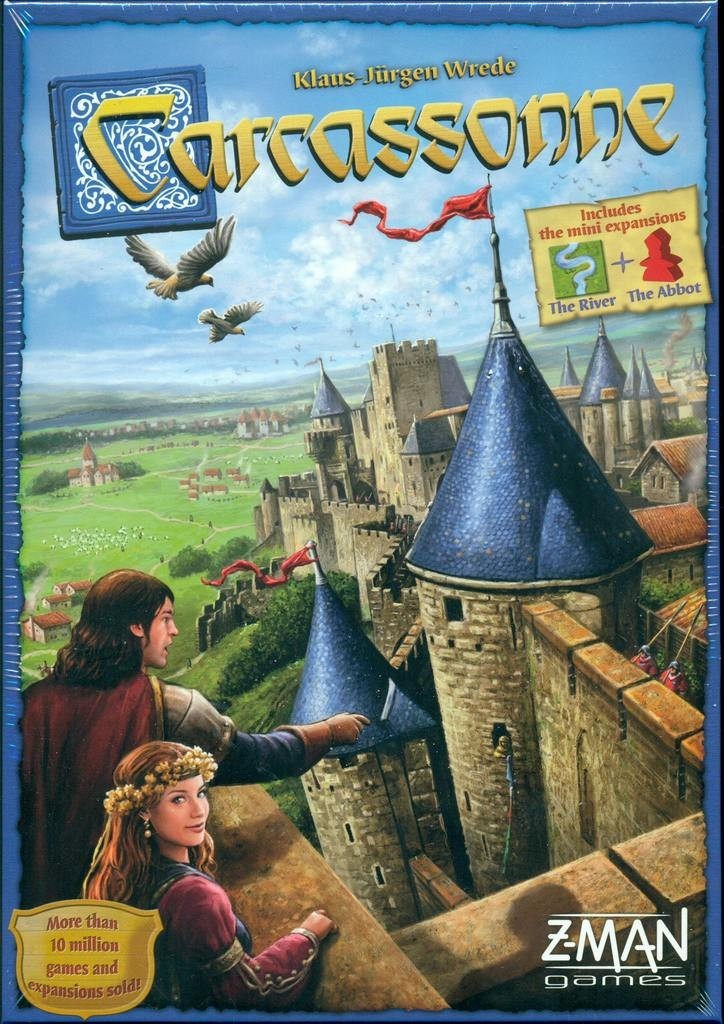 Collapsible content
Game Details

Suggested Ages: 13 and up
Number of Players: 2 to 5
Playing Time: 30 to 45 minutes

Designer: Wrede, Klaus-Jurgen
Illustrator: Anne P?tzke and Chris Quilliams
Publisher: Z-Man Games
Mechanics

map building, tile placement, area control, territory building, medieval, modular board, Carcassonne
Contents

72 land tiles, 12 River tiles, 1 scoring track, 40 wooden followers (8 in each of 5 player colors: red, yellow, green, blue and black), 5 abbots (1 in each player color), rule booklet