Mayday Games
Regular price
Sale price
$2.50
Unit price
per
Sale
Sold out
These Euro Size Card Sleeves, manufactured by Mayday Games, are designed for cards of 59 MM X 92 MM size. They have a solid colored glossy black back.
Features:
Size: 59mm x 92mm
Clear Polypropylene
Acid Free, No PVC
Archival Safe
Qty: 100 sleeves

Appropriate for:
Agricola
Battlelore
Beowulf: The Legend
Cyclades
Dice Town
Discworld: Ankh-Morpork
Dominion
A Few Acres of Snow
Gang of Four
Jambo
Keltis
Kingdom Builder
Le Havre
Lord of the Rings
Machu Pichu
Memoir '44
Notre Dame
Princes of Florence
Robinson Crusoe
San Juan
Stone Age
Troyes
We Didn't Playtest This At All

For a thicker sleeve option (90 microns thick), try the Euro Size Premium Card Sleeves


Share
View full details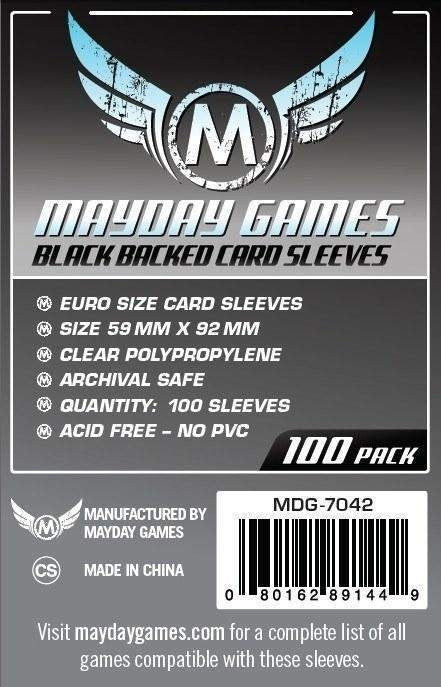 Collapsible content
Card Sleeves FAQ

What is the purpose of card sleeves? 
Card sleeves protect your cards from damage and wear.

What's the difference between Premium and Standard card sleeves? 
Premium card sleeves are 125% thicker than Standard card sleeves, making them more durable than Standard sleeves. Cards sleeved in Premium Card Sleeves feel really nice, crisp and substantial. 

If space in your game box is tight, however, Standard Card Sleeves might be a better choice as Premium-sleeved cards will noticeably take up more room.

Premium Card Sleeves typically come in packs of 50, while Standard Card Sleeves usually come in packs of 100. You'll want to take this into consideration when calculating the number of packs you need to order.

Will card sleeves scratch my cards? 
No, card sleeves are specifically designed to prevent scratches and other damage to your cards.

How do you properly sleeve cards? 
Slide your card into the sleeve, bottom first.

If you are double sleeving, slide your card into the first/inner sleeve, top first. The sleeve opening will be at the bottom of the card.
Then slide your sleeved card into the outer sleeve top first, effectively sealing it in. The outer sleeve opening should be at the top.

What is Double Sleeving? 
Double Sleeving provides extra protection to your cards. Double Sleeving helps keep your cards dust-free and provides some protection from water.

How do you flatten sleeves on cards? 
Usually, card sleeves flatten over time and use. Some people use binders to flatten them faster.
Card Sleeve Finder

Mayday Games has made a Card Sleeve Finder - available as a browser app or spreadsheet - to help you find the right size card sleeve for your game's cards. It even tells you how many cards each game has.

Mayday updates their Card Sleeve Finder frequently. It covers over 4,000 games! Works on iOS, Android and PCs. The App loads right in your web browser, so just bookmark it.