Rio Grande Games
Regular price
Sale price
$24.99
Unit price
per
Sale
Sold out
Concordia: Britannia / Germania is an expansion for Concordia that contains two maps for new strategic challenges:
Britannia has 23 cities in ten provinces which forces more player interaction.
In Germania, you may move along rivers at a faster pace, and pick up bonus goods from Roman castles.
Both maps can be played at all player counts, but become very competitive with four and especially with five players. The maps also have a new format which is a little longer, but clearly smaller than previously released maps.
The two-sided personality card display is separated from the map and contains a side with different additional costs.
About Concordia
Concordia is a peaceful strategy game of economic development in Roman times for 2-5 players aged 13 and up. Instead of looking to the luck of dice or cards, players must rely on their strategic abilities. Be sure to watch your rivals to determine which goals they are pursuing and where you can outpace them!
In Concordia, colonists are sent out from Rome to settle down in cities which produce bricks, food, tools, wine, and cloth. Each player starts with an identical set of playing cards and acquires more cards during the game. These cards serve two purposes: 1) they allow a player to choose actions during the game and 2) they are worth victory points (VPs) at the end of the game.

Contents: 1 double-sided game board.
Condition: New
Share
View full details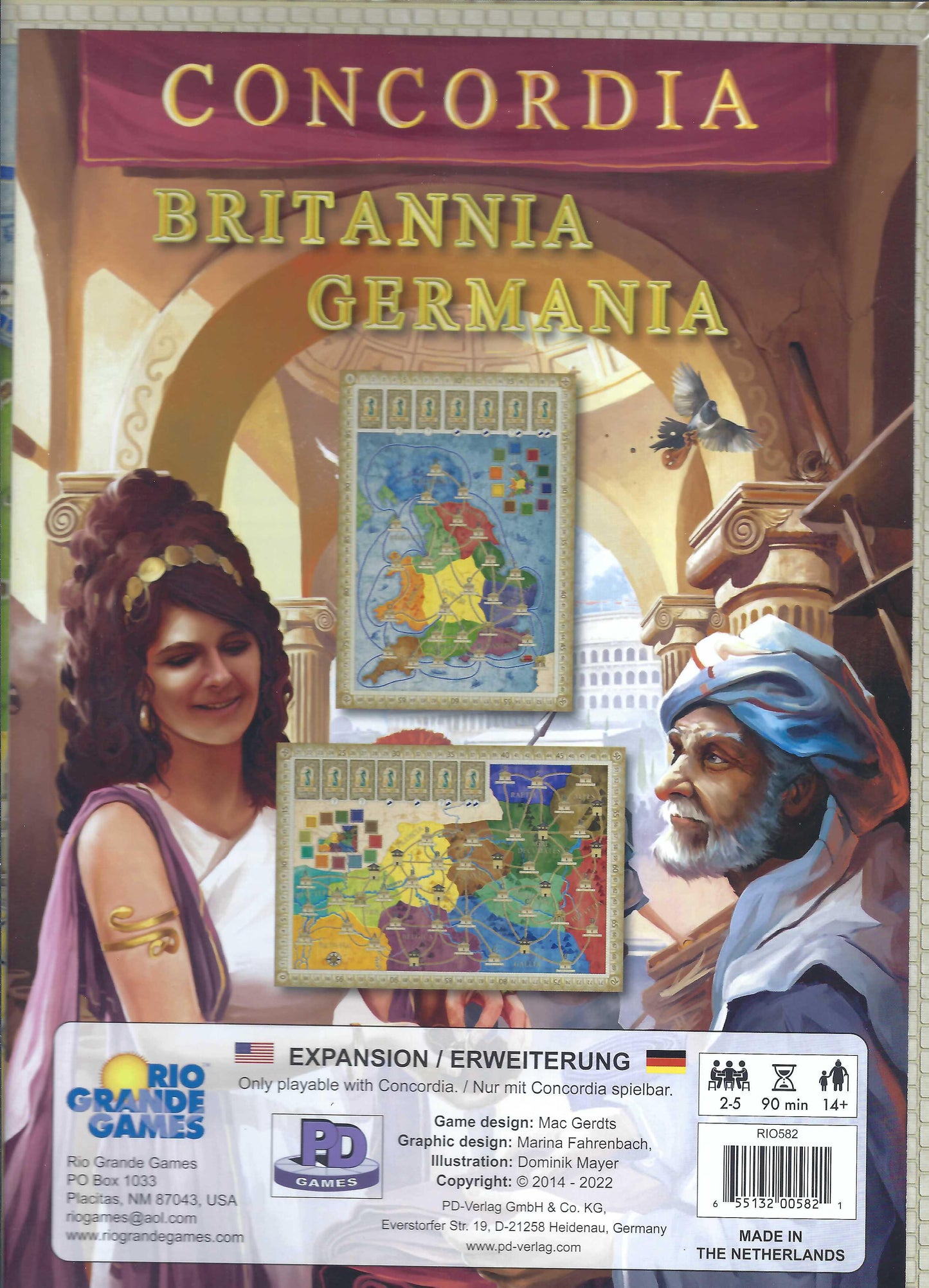 Collapsible content
Game Details

Suggested Ages: 12 and up
Number of Players: 2 to 5
Playing Time: 90 minutes

Designer: Gerdts, Mac
Illustrator: Maja Damkovac and Marina Fahrenbach
Publisher: Rio Grande Games
Mechanics

card drafting, deck building, hand management, point-to-point movement, ancient, economic, Britain, Germany, expansion, Concordia