Days of Wonder
Regular price
$0.00
Sale price
$74.99
Unit price
per
Sale
Sold out
The countdown begins and sudden deep roars cut through the air as all the cars leap away from their starting lines; the Grand Prix is underway. Dust and wind rush past your helmet as you enter the first corner. Pushing your engine to the limit, you almost spin out but tightening your grip on the steering wheel you slide through the corner apex still in first. You got this!

To stay at the front of the pack, you'll need to push your car to the limit. Will your car endure the long straightaways or will your engine fail in the last curve because you've taken too much HEAT?

Based on simple and intuitive hand management, Heat: Pedal to the Metal puts players in the driver's seat of intense car races of the 1960s. Selecting the right upgrades for your car will help you hug the curves and keep your engine cool enough to maintain top speeds. But ultimately your driving skills will be the key to victory!

Experience the thrill of a single race or use the Championship System to play a whole season in one game night, customizing your car before each race to claim the top spot of the podium.

Add legendary automated drivers with the Legends Module so you can play solo, or include them as additional opponents in multiplayer games.

There's no prize for crossing the finish line in a pristine car, so... Put your PETAL to the METAL!


Condition: New
Share
View full details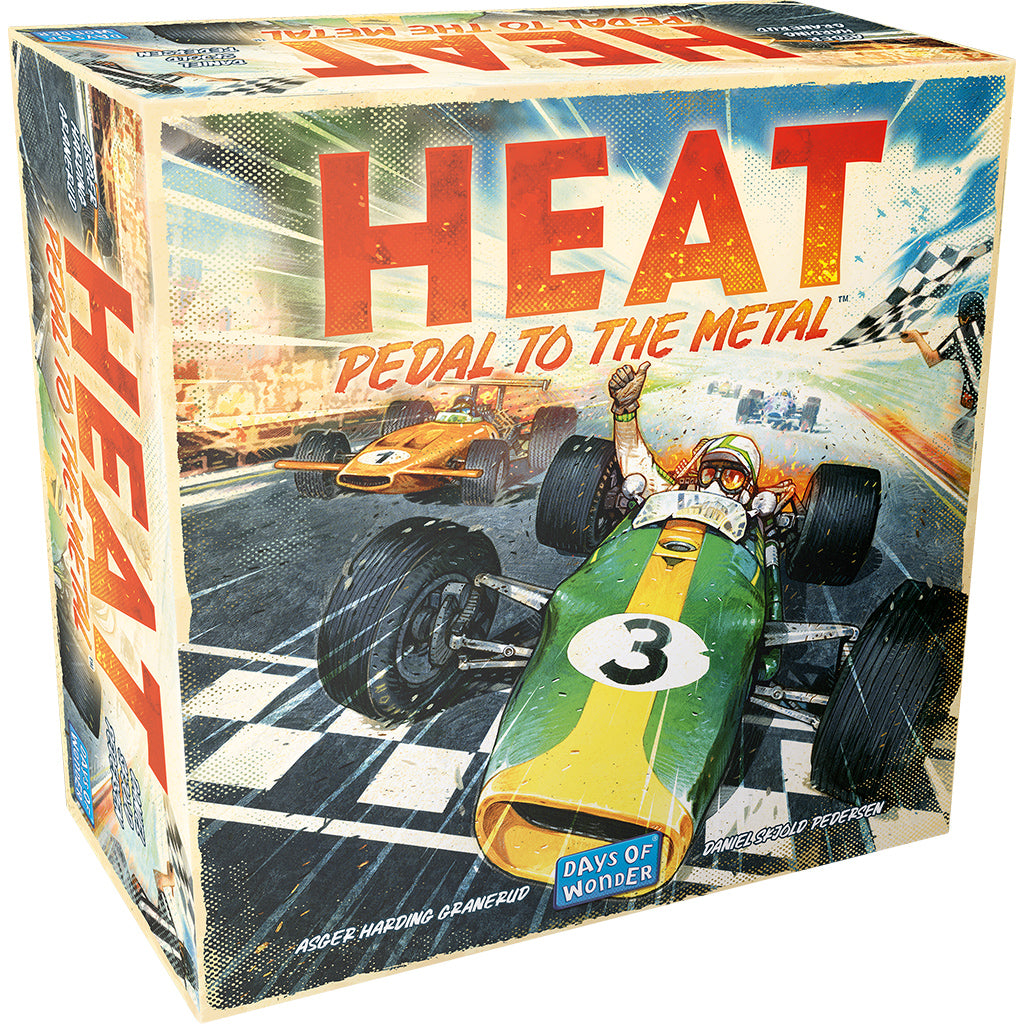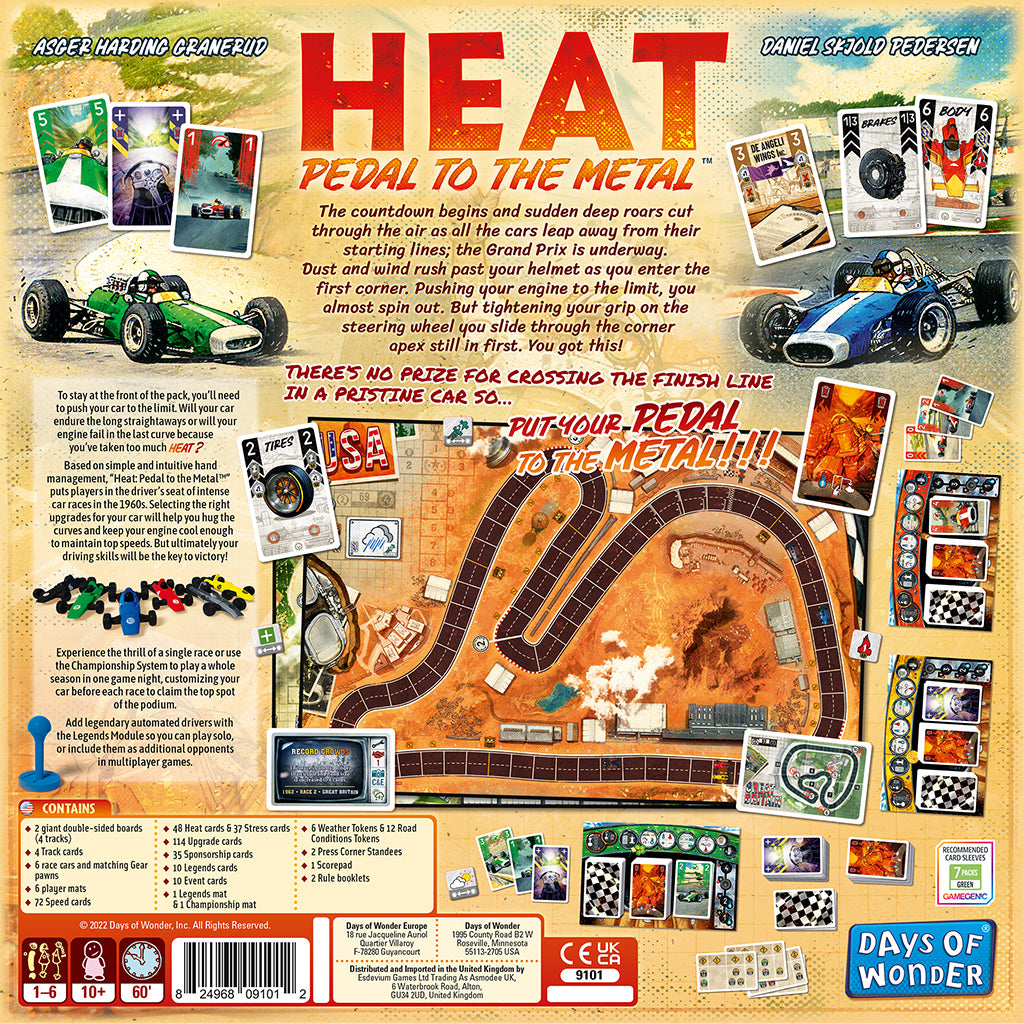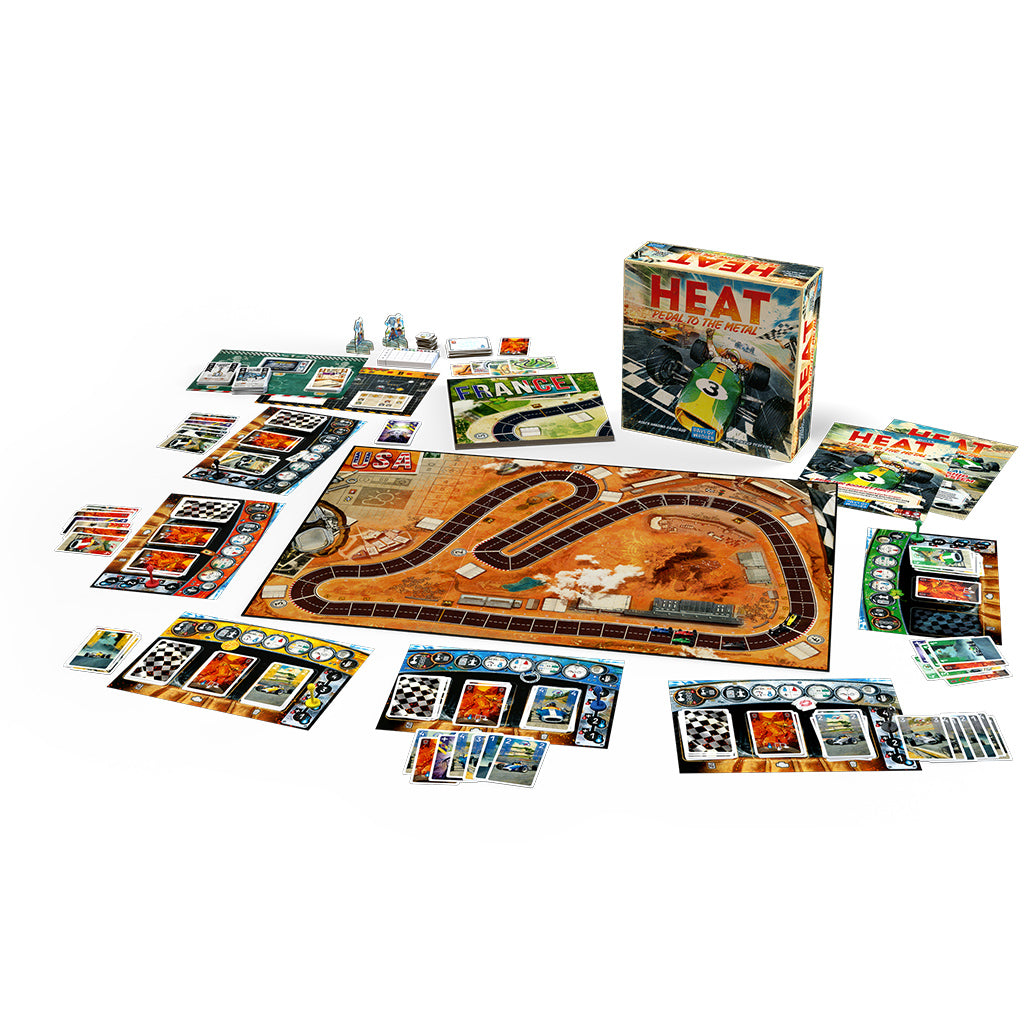 Collapsible content
Game Details

Suggested Ages: 10 and up
Number of Players: 1 to 6
Playing Time: 60 minutes

Designer: Asger Harding Granerud, Daniel Skjold Pedersen
Illustrator: Vincent Dutrait
Publisher: Days of Wonder
Awards & Honors

2023 Nederlandse Spellenprijs Best Advanced Game Winner
2023 Gra Roku Advanced Game of the Year Winner
2022 Tric Trac Nominee
2022 Tric Trac Initiés Nominee
2022 Tric Trac d'Or Initiés
2022 Golden Geek Most Innovative Board Game Nominee
2022 Golden Geek Medium Game of the Year Winner
2022 Golden Geek Best Thematic Board Game Winner
2022 Golden Geek Best Board Game Artwork & Presentation Nominee
Contents

2 giant double-sided boards (4 tracks), 4 track cards, 6 race cars and matching gear pawns, 6 player mats, 72 speed cards, 48 heat cards & 37 stress cards, 114 upgrade cards, 35 sponsorship cards, 10 Legends cards, 10 event cards, 1 Legends mat & 1 Championship mat, 6 weather tokens & 12 road conditions tokens, 2 press corner standees, 1 scorepad, 2 rule booklets