Blue Orange Games
Regular price
Sale price
$21.99
Unit price
per
Sale
Sold out
Kingdomino a puzzly, kingdom-building tile placement game.
Become King of your domain!
Connect your dominoes wisely to build the most impressive realm, but be careful, other Kings are also coveting these profitable lands to win the most prestige points. A majestic twist on a popular classic.
The dominoes are thick cardboard featuring two landscape tiles, one on each end. Your goal is to acquire the most points by connecting like landscape tiles together, orthogonally. For each type of landscape, you score points according to the number of tiles connected times the number of crowns in that section (number tiles X number crowns).
Game Play
At the beginning of each round, you'll pull a number of tiles (depending on number of players) and lay them out in ascending order. Typically the higher valued dominoes are more valuable, often having more crowns on them. However, whoever chose the lowest-valued domino gets to choose first from the next set of choices.
When placing dominoes, you must place them such that at least one landscape tile touches a matching tile. Also, your kingdom may not exceed a 5x5 grid. Your starting tile, holding you castle, is wild and anything can be placed next to it.
Condition: New
Share
View full details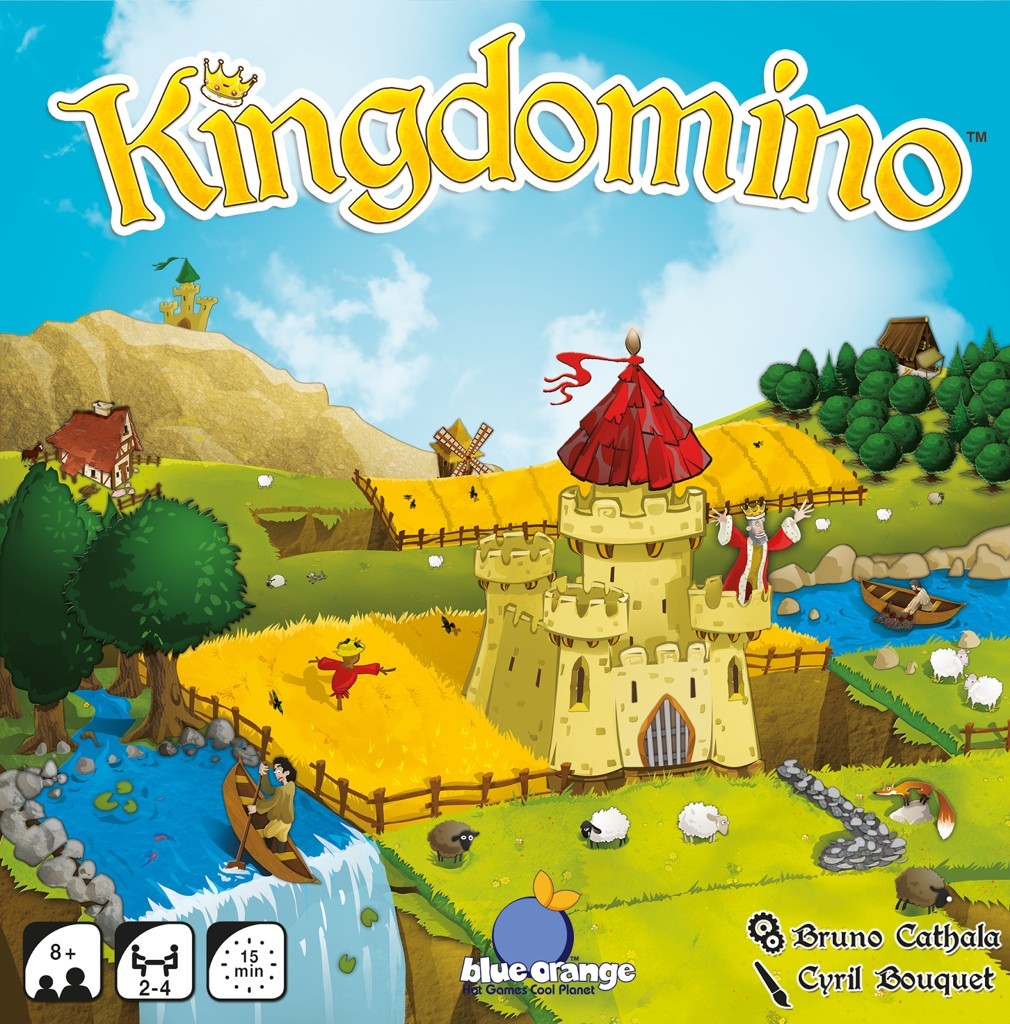 Collapsible content
Game Details

Suggested Ages: 8 and up
Number of Players: 2 to 4
Playing Time: 15 minutes

Designer: Cathala, Bruno and Cyrill Bouquet
Illustrator:
Publisher: Blue Orange Games
Mechanics

tile placement, card drafting, variable phase order, territory building, medieval
Awards & Honors

2018 Hungarian Board Game Award Nominee
2018 Boardgames Australia Awards Best International Game Nominee
2017 Spiel des Jahres Winner
2017 Nederlandse Spellenprijs Best Family Game Nominee
2017 Lys Grand Public Finalist
2017 Japan Boardgame Prize Voters' Selection Winner
2017 Japan Boardgame Prize U-more Award Winner
2017 Hra roku Finalist
2017 Guldbrikken Best Family Game Winner
2017 Gra Roku Family Game of the Year Nominee
2017 Gouden Ludo Best Family Game Winner
2017 Gioco dell'Anno Winner
2017 Board Game Quest Awards Best Family Game Nominee
2017 As d'Or - Jeu de l'Année Nominee
2017 Årets Spill Best Family Game Winner
2016 Tric Trac Nominee
2016 Meeples' Choice Nominee
2016 Golden Geek Best Family Board Game Nominee
Contents

4 start tiles, 4 castles, 48 dominoes, 8 player pawns (2 each in 4 player colors), rules