Steve Jackson Games
Regular price
Sale price
$34.99
Unit price
per
Sale
Sold out
Knightmare Chess (Third Edition): the original game of Chaos on the Chessboard! Make a move. Play a card. Chess will never be the same! Includes Knightmare Chess 2!
The cards in Knightmare Chess break the rules in wild and unpredictable ways. Some affect a single move, and some change the entire game.
"It will eat your mind... I love it!"
- Gary Gygax, creator of Dungeons & Dragons
Knightmare Chess is Chess... with a difference! The goal remains the same: to checkmate the enemy King. But the moves may be a bit unusual...
Each player has a deck of cards. Each card modifies the traditional rules of the game in a different way, so every move is a surprise. In Knightmare Chess, victory is never certain until the last move.
Knightmare Chess plays quickly out of the box, but it also includes variants, and it's easy for players to customize. The possibilities are endless, and so is the fun!
This third edition of Knightmare Chess includes Knightmare Chess 2, for a total of 158 beautiful cards, each painted by Rogerio Vilela.
Based on the original French game Tempete sur l'Echiquier by Pierre Clequin and Bruno Faidutti. Translated by Stephane Bura.
Note: This is not a stand-alone game. You will need a chess set to play!
Condition: New
Share
View full details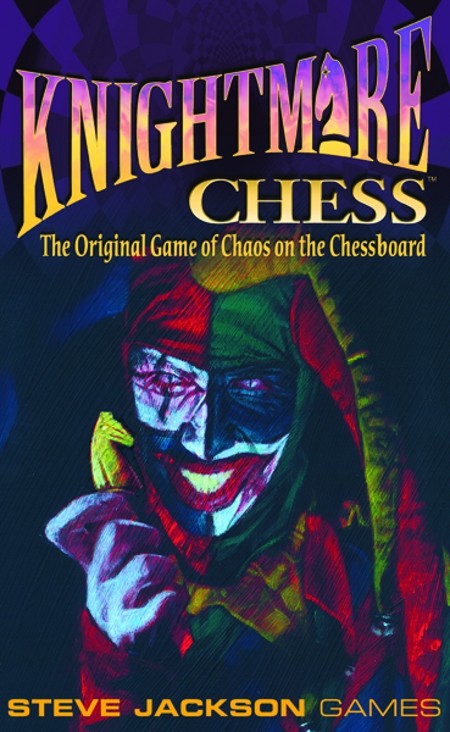 Collapsible content
Game Details

Suggested Ages: 10 and up
Number of Players: 2
Playing Time: 1 to 2 hours

Designer: Faidutti, Bruno and Pierre Clequin
Illustrator: Rogerio Vilela
Publisher: Steve Jackson Games
Mechanics

abstract strategy, chess, card game, chess games