Capstone Games
Regular price
$74.99
Sale price
$67.99
Unit price
per
Sale
Sold out
Maracaibo: The Caribbean during the 17th century: Various nations are in a constant struggle for dominance, all while striving for the consolidation of their political and economic power in this area.
You are seafarers and adventurers, trying to increase your reputation with these nations, establish strong alliances, and finally obtain wealth and fame.
You have to go all out to win - your opponents do not rest. Only if you manage to successfully implement your plans, victory shall be yours! This can be achieved through different strategies: upgrade your ship to a mighty vessel, engage in combat, work as a privateer, build up a network of assistants, set off on expeditions, fulfill quests, and much more.
But beware: Your maneuvers should be carefully planned because the end of a round can come quickly!
Immerse yourself in a colorful world full of adventures and clever opportunities. A new and splendid design by the master of strategic expert games - Alexander Pfister.
Climb aboard and set sail for Maracaibo!
A unique story mode: You can play Maracaibo as a campaign, experiencing an exciting story as you go. In the process, several surprises change how the game plays out!
Includes a solo variant.
Condition: New
Share
View full details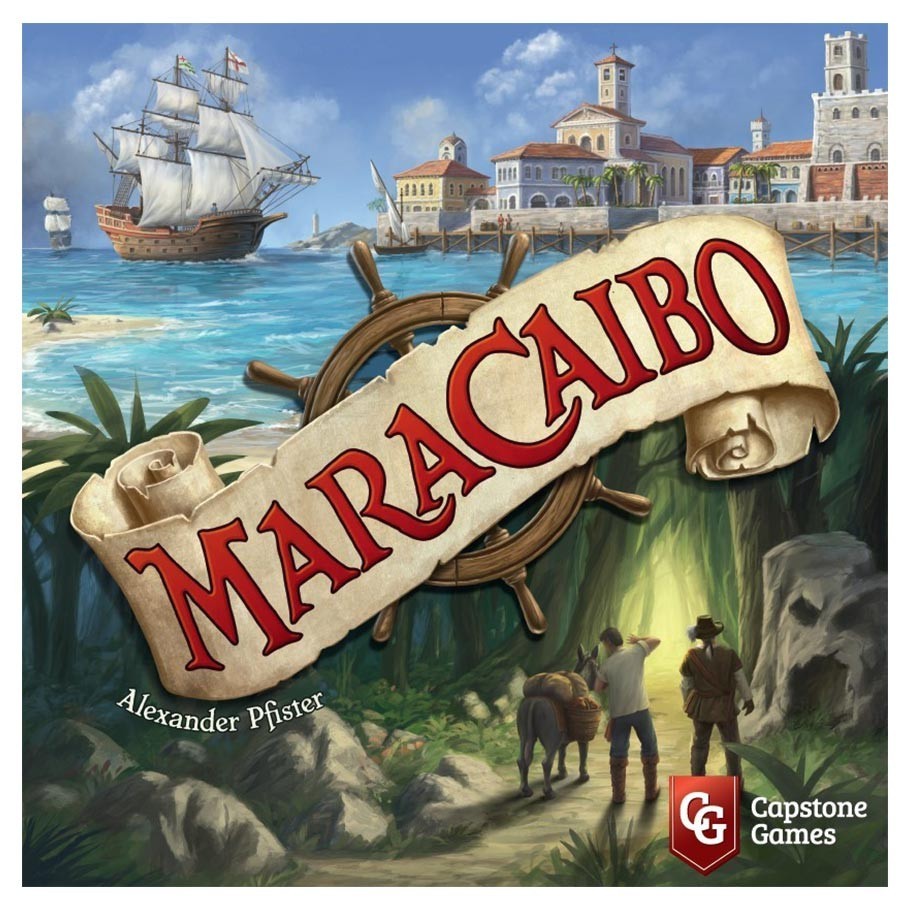 Collapsible content
Game Details

Suggested Ages: 12 and up
Number of Players: 1 to 4
Playing Time: 30 minutes per player

Designer: Pfister, Alexander
Illustrator: Fiore GmbH, Aline Kirrmann
Publisher: Capstone Games
Mechanics

Economic, Exploration, Contracts, End Game Bonuses, Hand Management, Income, Point to Point Movement, Campaign Game, Solo Game
Awards & Honors

2021 Nederlandse Spellenprijs Best Expert Game Nominee
2021 MinD-Spielepreis Complex Game Nominee
2021 Geek Media Awards Game of the Year for Experienced Gamers Nominee
2020 Tric Trac Nominee
2020 Tric Trac d'Argent
2020 Jogo do Ano Nominee
2020 International Gamers Award - General Strategy Nominee
2020 Cardboard Republic Tactician Laurel Nominee
2019 Swiss Gamers Award Nominee
2019 Meeples' Choice Winner
2019 Golden Geek Board Game of the Year Nominee
2019 Golden Geek Best Strategy Board Game Nominee
Contents

203 wooden pieces (ships, figures, discs, ownership markers, income markers, victory point markers), 265 cards (project cards, prestige building cards, career cards, story cards, Automa cards), 175 cardboard tokens (ship boards, overview boards, coins, victory point tokens, synergy tokens, city tiles, legacy riles, combat tokens), 1 large game board, rule book