SlugFest Games
Regular price
$39.99
Sale price
$35.99
Unit price
per
Sale
Sold out
Red Dragon Inn 7: The Tavern Crew can be played alone or combined with other versions of The Red Dragon Inn for games with more than 4 players!
Serving up drinks and hospitality to the hardy adventurers of Greyport is an exciting, often difficult, and always thirsty task! The Wench finally joins the party at The Red Dragon Inn, and she's bringing the rest of the tavern crew with her!
Warthorn Redbeard, the jovial dwarven owner of Red Dragon Inn. The Good: Warthorn knows a bit about almost everything! The Bad: …and he'll happily talk your ear off about it!
Molly the Stablehand, a chipper halfling. The Good: Molly's made friends with a whole menagerie of magical and mundane mounts! The Bad: They're not always friends with each other… or the furniture… or you…
Jasper the Bouncer, an amiable retired adventurer. The Good: Jasper keeps folks from sneak-thievin' the customers. The Bad: He does, however, frequently lose track of his teeth.
The Wench! The hardworking and ever-professional woman herself with the keys to the tavern's special reserve in her pocket. The Good: The special reserve drinks are some of the best in the land! The Bad: The special reserve drinks are some of the most potent in the land!
Now the staff can kick back with a mug of ale, a fist of dice and pouches lined with adventurers' gold. Drink, gamble and roughhouse with your friends. But don't forget to keep an eye on your gold. If you run out, you're going to be on dish duty for the rest of the night. Oh… and try not to get too beaten up or too drunk. If you black out, your coworkers will divvy up all your gold as tips before continuing the party without you!
The last conscious adventurer staff member with gold wins the game!
Red Dragon Inn 7: The Tavern Crew can be played as a 2 to 4 player standalone game in 30 to 60 minutes or as an expansion to The Red Dragon Inn series of games adding more players and/or character options for more fun and mayhem.
Contents: 4 new character decks, Molly's Stable Deck, Warthorn's Story Deck, The Wench's Special Reserve Deck, Drink Deck, 2 drink coasters, Fortitude and Alcohol Content markers, gold pieces and other tokens, player mats, rulebook.
Condition: New
Share
View full details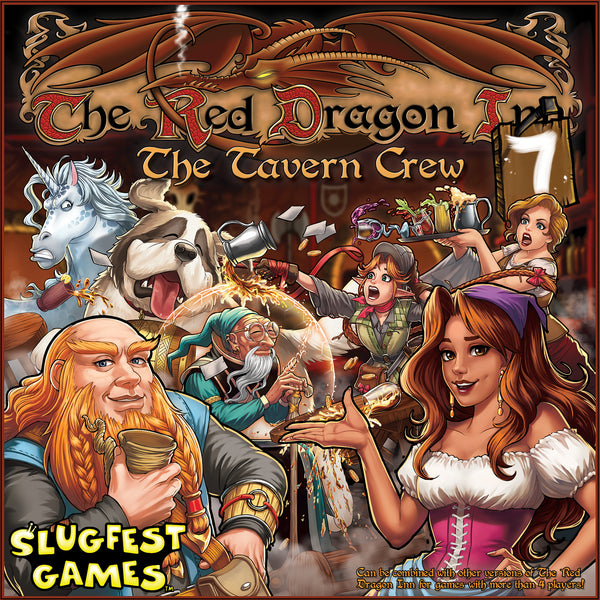 Collapsible content
Game Details

Suggested Ages: 13 and up
Number of Players: 2 to 4
Playing Time: 30 to 60 minutes

Designer: Waller, Sam and Jeff Morrow
Illustrator: Erin Wong
Publisher: SlugFest Games
Mechanics

card game, betting, wagering, variable player powers, fantasy, humor, medieval, party game, thematic games, Red Dragon Inn