Z-Man Games
Regular price
$54.99
Sale price
$49.99
Unit price
per
Sale
Sold out
Each age has its special challenges. The Stone Age was shaped by the emergence of agriculture, the processing of useful resources, and by the building of simple huts. Trade begins and grows and civilization takes root and spreads. In addition, traditional abilities like skillful hunting are in demand, in order to be able to nourish the growing population.

In Stone Age, the goal of the players is to master all these challenges. There are many ways to do so, so everyone can work to achieve his goal in his own way. Find your own way and learn at the end whether it was the best way.

From BoardGameGeek:
In Stone Age, players struggle to survive the Stone Age by working as hunters, collectors, farmers, and tool makers. As you gather resources, and raise animals, you work to build the tools needed to build your civilization.

Players use up to 10 tribe members each in 3 phases. The first phase players place their men in regions of the board that they think will benefit them, including the hunt, the trading center, or the quarry. In the second phase, the starting player activates each of his staffed areas in whatever sequence he chooses, followed in turn by the other players. In the third phase, players must have enough food available to feed their populations, or face losing resources or points.


Condition: New
Share
View full details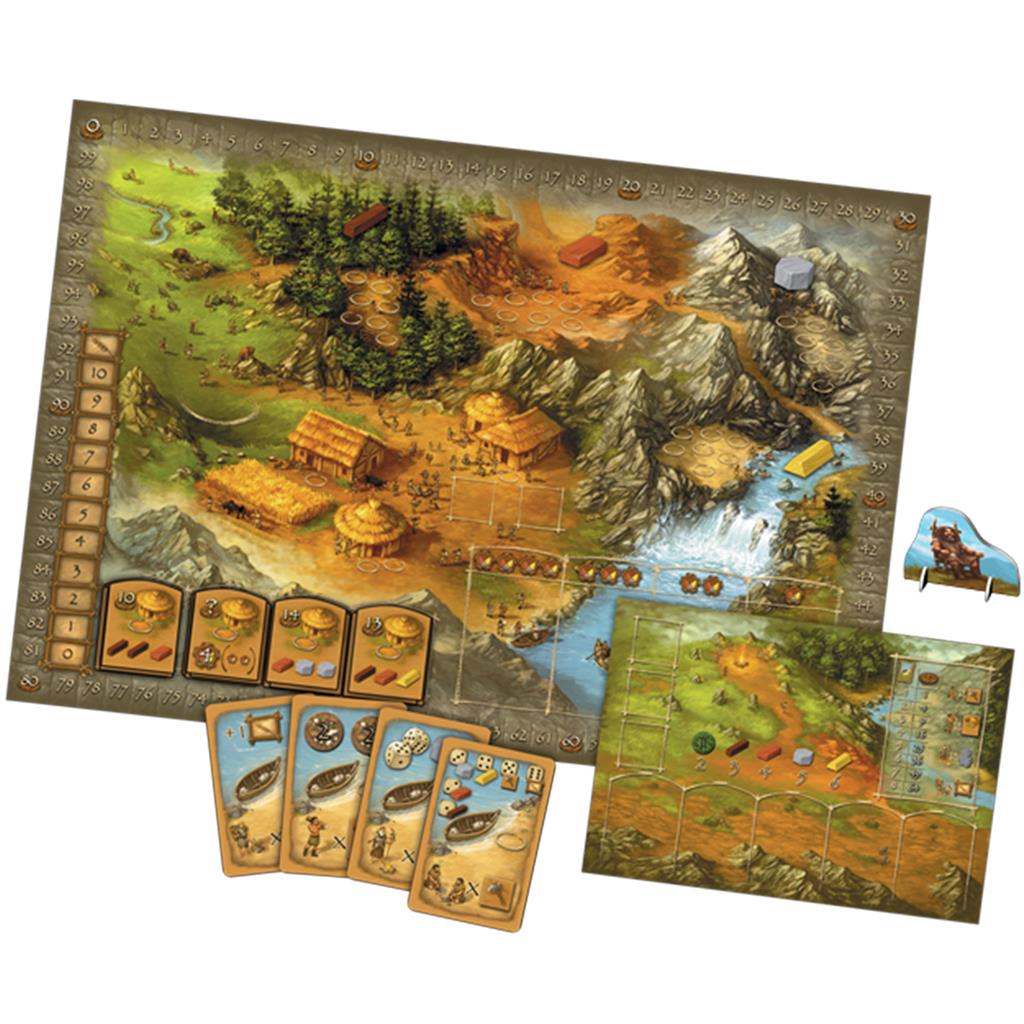 Collapsible content
Game Details

Suggested Ages: 10 and up
Number of Players: 2 to 4
Playing Time: 60 to 90 minutes

Designer: Brunnhofer, Bernd
Illustrator: Michael Menzel
Publisher: Z-Man Games
Mechanics

economic, civilization, dice rolling, set collection, prehistoric, worker placement
Awards & Honors

2008 Deutscher Spiele Preis Best Family/Adult Game 2nd Place
2008 Golden Geek Best Board Game Artwork/Presentation Nominee
2008 Golden Geek Best Family Board Game Nominee
2008 Golden Geek Best Gamer's Board Game Nominee
2008 Hra roku Nominee
2008 International Gamers Awards - General Strategy; Multi-player Nominee
2008 Japan Boardgame Prize Voters' Selection Nominee
2008 Spiel der Spiele Hit mit Freunden Recommended
2008 Spiel des Jahres Nominee
2008 Tric Trac Nominee
2009 Games Magazine Best New Family Strategy Game Winner
2009 Golden Geek Best 2-Player Board Game Nominee
2009 Golden Geek Best Board Game Artwork/Presentation Nominee
2009 Golden Geek Best Family Board Game Nominee
2009 Golden Geek Best Gamers' Board Game Nominee
2009 Hra roku Nominee
2009 JoTa Best Artwork Audience Award
2009 JoTa Best Family Board Game Audience Award
2009 JoTa Best Family Board Game Critic Award
2009 Nederlandse Spellenprijs Nominee
2009 Vuoden Peli Adult Game of the Year Nominee
2010 Ludoteca Ideale Official Selection
Contents

1 game board, 4 player boards, 58 wooden resources (wood, brick, stone and gold), 40 wooden figures (10 in each of 4 player colors: red, yellow, green, blue), 8 wooden markers (1 field & 1 scoring in each of 4 player colors), 53 food supply tiles, 28 hut tiles, 18 tool tiles, 1 start player figure, 36 civilization cards, 7 six-sided dice, 1 leather dice cup, 1 rule booklet