Z-Man Games
Regular price
Sale price
$63.99
Unit price
per
Sale
Sold out
Terra Mystica is a strategy game with a simple game principle and very little luck involved: you govern one of the 14 factions trying to transform the landscape on the game board in your favor in order to build your structures. On the one hand, proximity to other players limits your options for further expansion, on the other hand though, it provides some benefits during the game. This conflict is the source of Terra Mystica's appeal.

Taking turns, the players execute their actions on the resources they have at their disposal.

* Structures may be upgraded to provide even more resources, like workers, priests, money, and power. Dwellings can be developed into trading houses; trading houses into strongholds or temples; and one temple can be upgraded to a sanctuary.
* Build temples to gain more influence in the four cults of fire, water, earth, and air, so you can develop religion and your terraforming and seafaring skills.
* Build your stronghold to activate your faction's special ability.
* Expand and build new dwellings to have many workers at hand.
* Make sure to have a constant flow of money by building trading houses.

Each group must also develop its terraforming skill and its skill with boats to use the rivers. The groups in question, along with their home landscapes, are:

* Desert (Fakirs, Nomads)
* Plains (Halflings, Cultists)
* Swamp (Alchemists, Darklings)
* Lake (Mermaids, Swarmlings)
* Forest (Witches, Auren)
* Mountain (Dwarves, Engineers)
* Solitude (Giants, Chaos Magicians)

The artfully designed factions, each having unique special abilities, as well as the exchangeable bonus cards allow for a large number of possible game plays that constantly keep Terra Mystica entertaining!
Condition: Previously owned, unplayed, still in shrink
Condition: Used
Share
View full details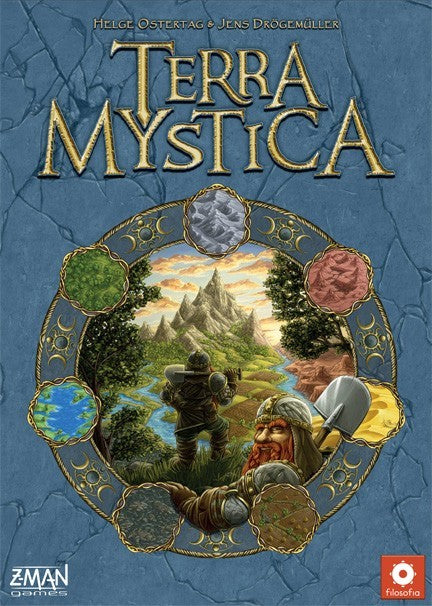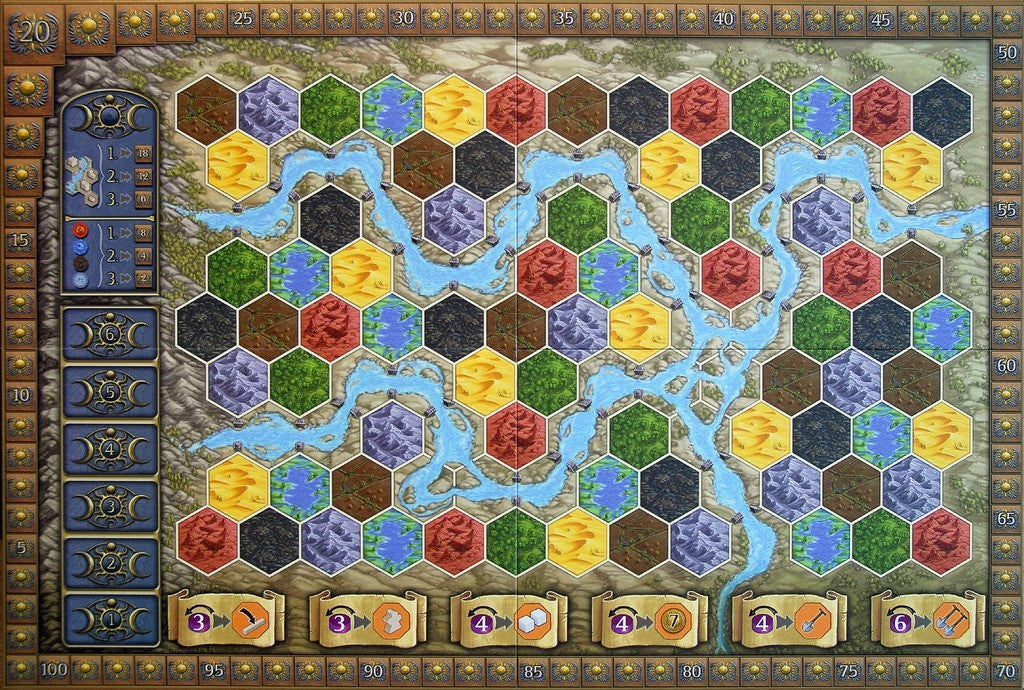 Collapsible content
Game Details

Suggested Ages: 13 and up
Number of Players: 2 to 5
Playing Time: 30 minutes per player

Designer: Ostertag, Helge and Jens Drögemüller
Illustrator: Dennis Lohausen
Publisher: Z-Man Games
Mechanics

area enclosure, variable player powers, civilization, economic, fantasy, territory building
Awards & Honors

2015 MinD-Spielepreis Complex Game Winner
2014 Ludoteca Ideale Official Selection Winner
2014 Gra Roku Advanced Game of the Year Winner
2014 Diana Jones Award for Excellence in Gaming Nominee
2013 Tric Trac Finalist
2013 Tric Trac d'Or Winner
2013 Spiel des Jahres Kennerspiel des Jahres Recommended
2013 Nederlandse Spellenprijs Best Expert Game Winner
2013 Le Lys Passioné Finalist
2013 JUG Adult Game of the Year Winner
2013 International Gamers Award - General Strategy: Multi-player Winner
2013 Hra roku Winner
2013 Gouden Ludo Winner
2013 Golden Geek Most Innovative Board Game Nominee
2013 Golden Geek Board Game of the Year Winner
2013 Golden Geek Best Strategy Board Game Winner
2013 Golden Geek Best Board Game Artwork/Presentation Nominee
2013 Deutscher Spiele Preis Best Family/Adult Game Winner
2012 Meeples' Choice Winner
2012 Jogo do Ano Nominee
2012 Jocul Anului în România Advanced Finalist
Contents

1 game board, 1 Cult board, 7 double-sided Faction boards, 56 Terrain tiles, 65 wooden workers, 85 coins, 65 Power tokens, 1 Starting player token, 17 Action tokens, 1 Game end token, 5 Points tokens, 28 Favor tiles, 133 wooden structures, 49 wooden priests, 49 wooden markers, 21 bridges, 10 Town tiles, 8 Scoring tiles, 9 Bonus cards, 5 Overview tiles, 1 rule book