Days of Wonder
Regular price
$34.99
Sale price
$31.99
Unit price
per
Sale
Sold out
Ticket to Ride: First Journey (USA) tailors the Ticket to Ride gameplay to kids with simple rules, a shorter play time and iconography to assist young readers.
Take your first steps in Ticket to Ride with Ticket to Ride: First Journey. Collect cards of different colors, use them to claim railway routes with your trains, and complete your Tickets to achieve victory!
Easy to learn and fast to play, Ticket to Ride: First Journey is the perfect introduction to the Ticket to Ride game series. The colorful iconography associated with each city assists young readers in finding the target cities on their tickets on the game board map of the United States. So climb aboard, and discover a wonderful railroad adventure!
Game Play
Players each start the game with four colored train cards and two tickets. Each ticket shows two cities that you need to connect with a contiguous path of your trains in order to complete the ticket.
On your turn, you can either draw two train cards from the deck or claim a route between two cities by discarding a number of train cards matching the color and number of spaces in the route. For example, discard three blue train cards to claim a three-space blue route.
If after claiming a route, you've connected the two cities shown on any of your tickets, reveal the ticket and draw a new one. If you connect one of the west coast cities to one of the east coast, immediately claim a Coast-to-Coast ticket.
If you ever find yourself with two tickets that you cannot complete because the paths are blocked, you can spend a turn to discard both of those tickets and draw two new ones.
The first player to complete 6 tickets wins the game. Alternatively, when a player places their last train (of 20), the player with the most completed tickets wins the game.
Condition: New
Share
View full details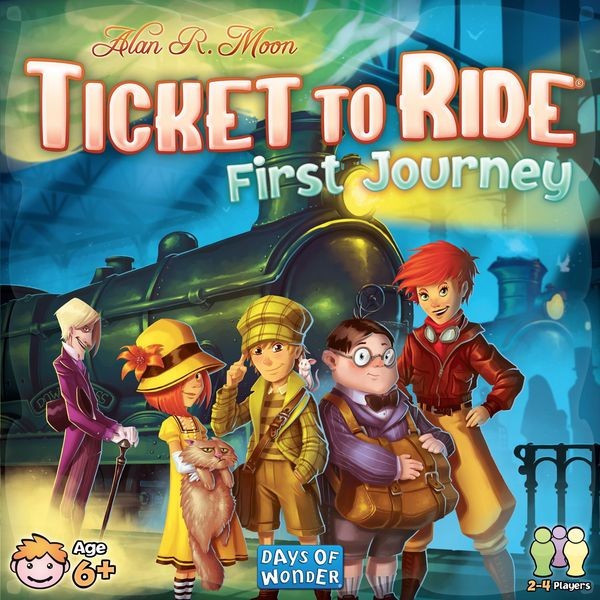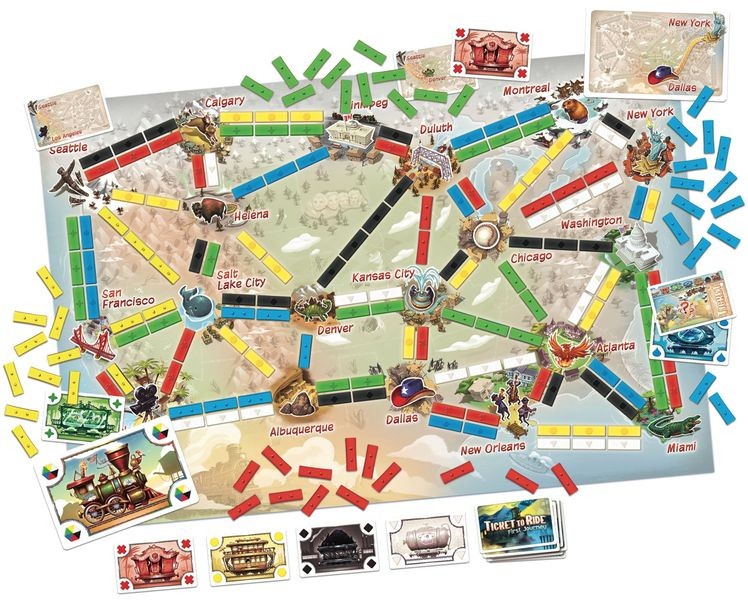 Collapsible content
Game Details

Suggested Ages: 6 and up
Number of Players: 2 to 4
Playing Time: 15 to 30 minutes

Designer: Moon, Alan R.
Illustrator: Cyrille Daujean, Jean-Baptiste Reynaud, Régis Torres
Publisher: Days of Wonder
Mechanics

route building, set collection, trains, transportation, travel, USA, Ticket to Ride
Contents

1 game board , 80 colored trains (20 each in 4 player colors), 72 Train cards, 32 Tickets, 4 Coast to Coast Bonus Tickets, 1 "Golden Ticket" card, 1 rulesheet