Stonemaier Games
Regular price
Sale price
$59.99
Unit price
per
Sale
Sold out
Viticulture: Essential Edition is a worker-placement strategy game that allows players to create their own Tuscan vineyard anywhere a table and a friend can be found.

In Viticulture, you find yourself in rustic, pre-modern Tuscany where you've inherited a meager vineyard. You own a few plots of land, an old crush pad, a tiny cellar, three workers... and the dream of owning the best winery in Italy.

Your job is to allocate your workers and helpful visitors to complete various tasks throughout the year. Each season is different on a vineyard, so the workers have different tasks they can take care of in the summer and winter. There's competition over those tasks, and often the first worker to arrive at each one has an advantage over the rest.

Fortunately for the players, people love to visit wineries, and it just so happens that many of those visitors are willing to help out around the vineyard when they visit as long as you assign a worker to take care of them. Their visits (in the form of cards) are brief but can be very helpful.

Using those workers and visitors, you can expand your vineyard by building structures, planting vines, and filling wine orders as you work towards the goal of owning the most successful winery in Tuscany.

What's Different About Viticulture Essential Edition
Designer Uwe Rosenberg (Agricola, Caverna, Bohnanza, etc) helped Stonemaier Games combine the second edition of Viticulture with a few elements from Tuscany to make this Essential Edition, which includes: Mamas & Papas, Fields (Properties), various Visitor cards, & Automa (the solo variant).
Viticulture: Essential Edition is basically a more robust version of Viticulture without adding the complexity of some of the heavier Tuscany expansions.
Mamas & Papas gives players different starting resources.
Field cards let you sell fields you're not using for an influx of money.
A larger set of Visitor cards offer a lot more variety. The publisher selected only the most balanced cards so there's never a bad draw.
These are the expansions we always play with, they no longer feel like expansions. So they're now included in the core game of Viticulture.
Condition: New
Share
View full details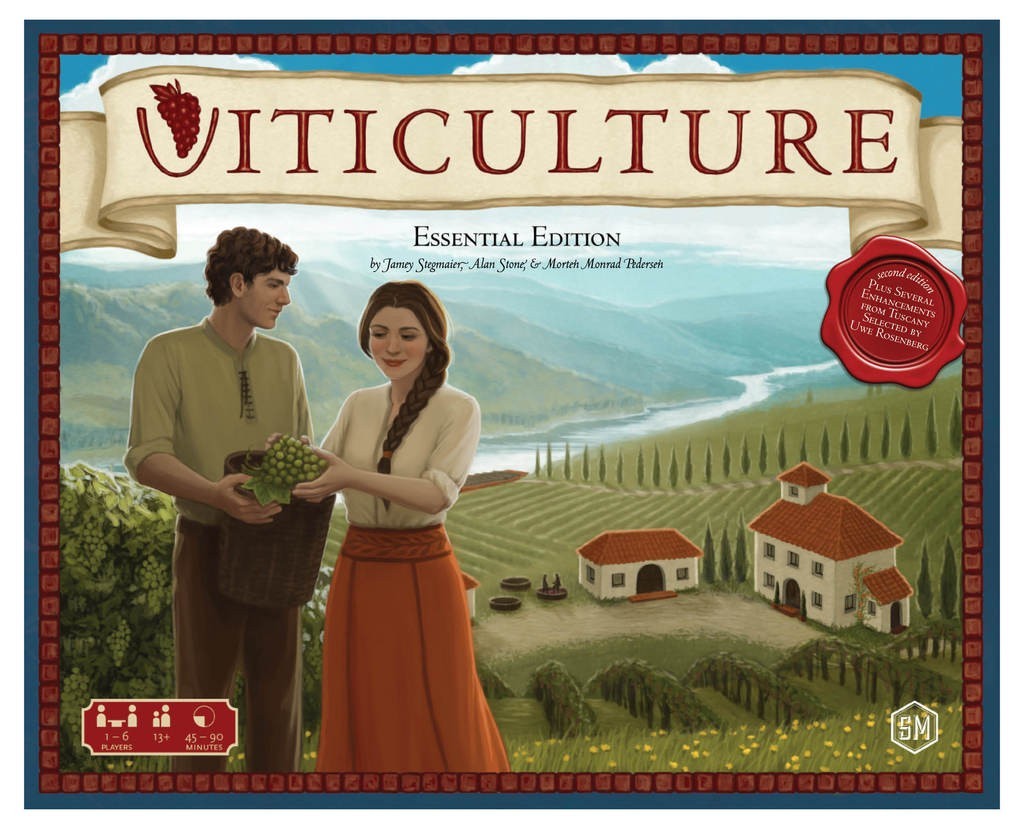 Collapsible content
Game Details

Suggested Ages: 13 and up
Number of Players: 1 to 6
Playing Time: 45 to 90 minutes

Designer: Stegmaier, Jamey and Alan Stone and Morteh Monrad Pederseh
Illustrator: Jacqui Davis and David Montgomery
Publisher: Stonemaier Games
Mechanics

hand management, worker placement, economic, farming, Viticulture
Awards & Honors

2013 Board Game Quest Awards Game of the Year Nominee
2013 Board Game Quest Awards Best Strategy/Euro Game Nominee
2017 Juego del Año Recommended
Contents

42 vine cards (green deck), 38 summer visitor cards (yellow deck), 36 wine order cards (purple deck), 38 winter visitor cards (blue deck), 36 mama & papa cards, 18 field cards, 24 Automa cards, 1 double-sided game board, 6 double-sided vineyard mats (player mats), 30 worker meeples (5 each in 6 player colors: yellow, orange, green, blue, purple, white), 1 temporary worker (gray), 6 grande worker meeples (1 each in 6 player colors), 50 clear glass grape & wine tokens, 6 wake-up tokens (roosters) in player colors, 6 victory point tokens (corks) in player colors, 6 residual payment tracker tokens (wine bottles) in player colors, 48 wooden structure tokens (8 unique tokens for each player color), 72 punch board lira (52 bronze 1s, 12 silver 2s, 8 gold 5s), 1 first-player token (grapes), rulebook and quick-reference guide.