Cool Mini or Not
Regular price
$99.99
Sale price
$69.99
Unit price
per
Sale
Sold out
Zombicide: Season 2 Prision Outbreak More zombies, more survivors, more danger!
The world is at WAR against a hungry horde of ZOMBIES born from our own hubris. While most people chose to flee and became prey, WE chose to STAND and become PREDATORS. We are survivors, and we FIGHT against death itself with every weapon available. It's time to engage in… ZOMBICIDE!
Take the role of a survivor, each with unique abilities, and harness both their skills and the power of teamwork against the hordes of zombies! The infected creatures are controlled by simple rules and a deck of cards. Play 10 missions on 10 different maps made from the included modular map tiles, or create your own. Find weapons. Kill zombies. The more zombies you kill, the more skilled you get, and the more zombies appear.
Six survivors are set to build their shelter from a zombie infested prison. They'll face off against beserker zombies, blood-crazed killing machines. But our heroes hold new powerful weapons: automatic shotguns, dual hatchets, nailbats, meat cleavers, riot shields, and even gunblades!
Zombicide Season 2: Prison Outbreak is a collaborative game for 1 to 6 players, ages 14 and up.
Designed as a stand-alone game, it is fully compatible with other Zombicide products, like the Season 1 Zombicide or the Toxic City Mall expansion.
Condition: New
Share
View full details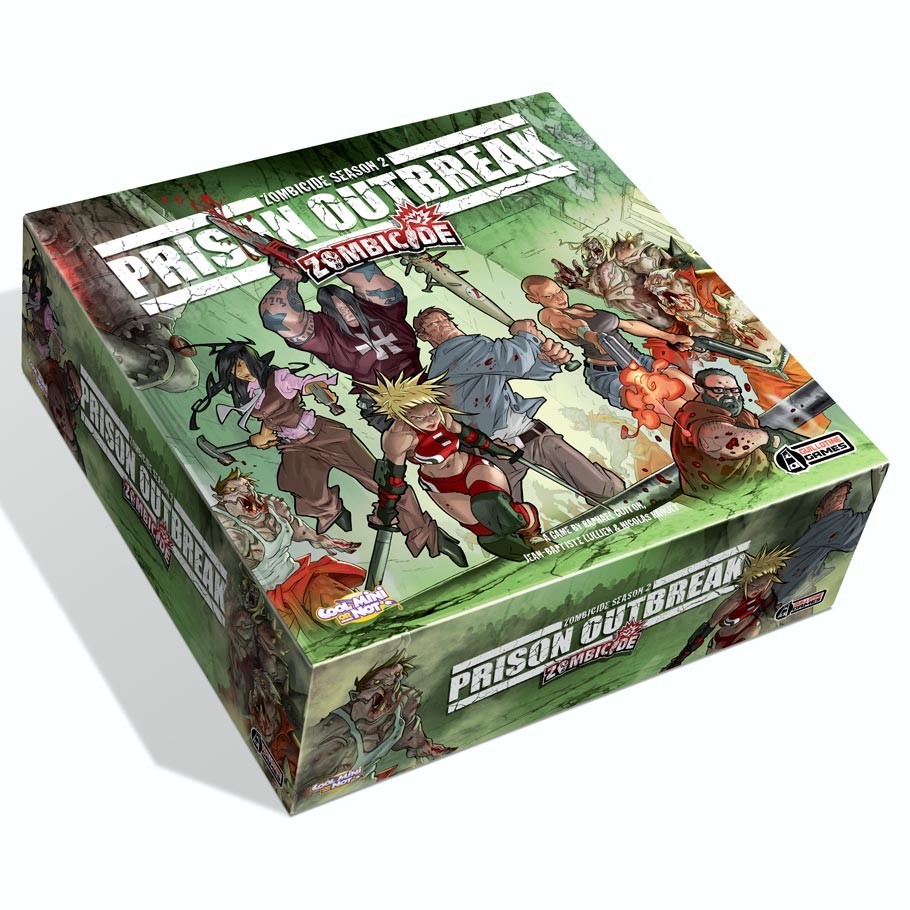 Collapsible content
Game Details

Suggested Ages: 14 and up
Number of Players: 1 to 6
Playing Time: 1 hour

Designer: Guiton, Raphael, Jean-Baptiste Lullien, Nicolas Raoult
Illustrator: Nicolas Fructus, Edouard Guiton, Mathieu Harlaut, Eric Nouhart
Publisher: Cool Mini or Not
Mechanics

cooperative play, action point allowance system, dice rolling, modular board, variable player powers, horror, miniatures, zombies, Science Fiction, solo play, Zombicide
Awards & Honors

2013 Board Game Quest Awards Best Tactical/Combat Game Nominee
2013 Board Game Quest Awards Best Coop Game Nominee
Contents

90 minis (6 Survivors, 6 Zombivors, 6 Fatties, 12 Runners, 30 Walkers, 1 Abomination, 4 Berserker Fatties, 8 Berserker Runners,16 Berserker Walkers, 1 Berserker Abomination), 9 gaming tiles, 149 mini-cards, 6 Survivor Identity cards, 110 tokens, rules