Eagle-Gryphon Games
Regular price
Sale price
$24.99
Unit price
per
Sale
Sold out
Can't Stop - In this Sid Sackson classic, players must press their luck with dice and choose combinations tactically to be the first to close out three columns.

The Can't Stop board has one column for each possible total of two six-sided dice (2 thru 12), but the number of spaces in each column varies: the more probable a total, the more spaces in that column and the more rolls it takes to complete it.

Can't Stop is as easy as...
1. Roll the 4 dice and form 2 pairs of numbers.
2. Advance your markers up the number columns according to your rolls.
3. Be the first to make it to top of 3 columns and you win.

BUT, you can only keep rolling the dice if you advance a marker, and
IF you can't advance, you lose all of the progress you made on that turn!
EVERYONE likes to keep rolling one more time... and then maybe just once more...
They Can't Stop! Can You?

Game Play
On your turn, roll four dice and arrange them in pairs. For example: 2, 4 5, 6 can become 2+4 and 5+6 for 6 & 11, 2+5 and 4+6 for 7 & 10, or 2+6 and 4+5 for 8 & 9. It's up to you to choose which combination you want to use. After choosing, place or advance the Runners (white progress markers) in the open column(s) associated with your chosen dice combination(s). Then decide whether to roll again or end your turn, in which case you'll replace the Runners with cones of your own color. You can only advance three different columns in a turn and cannot advance a column which any player has closed out by reaching the end space. If a roll doesn't result in any legal plays, your turn ends and all of that turn's progress is lost.

The first player to close out 3 columns wins!

Condition: New
Share
View full details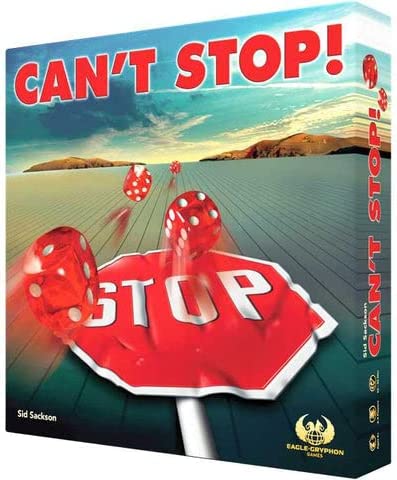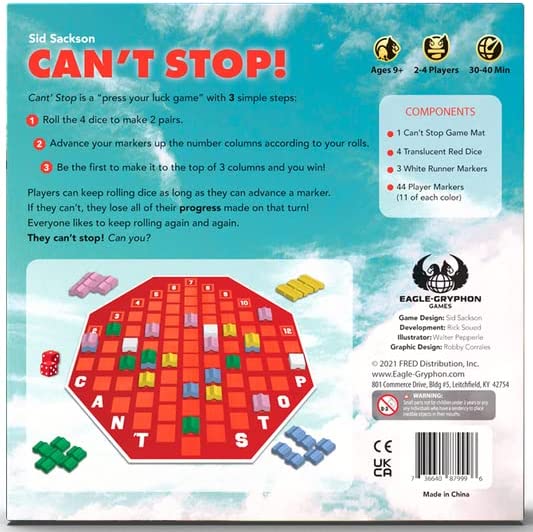 Collapsible content
Game Details

Suggested Ages: 9 and up
Number of Players: 2 to 4
Playing Time: 30 to 40 minutes

Designer: Sid Sackson
Illustrator: Walter Pepprle, Robby Corrales
Publisher: Eagle-Gryphon Games
Mechanics

dice rolling, press your luck,
Awards & Honors

2021 5 Seasons Best International Filler Game Winner
1982 Spiel des Jahres Recommended
1981 Spiel des Jahres Recommended
Contents

1 game mat, 3 white runner markers, 44 player markers (11 each in 4 player colors), 4 red dice, rules