Catan Studios, Inc.
Regular price
Sale price
$5.99
Unit price
per
Sale
Sold out
Catan Geographies: The Carolinas, part of the Catan Geographies series, is a map expansion for Catan that offers another game using the Catan mechanics. Rules provide for 3-6 players and require the base game plus the 5-6 player expansion set if playing with 5 or 6 players.
Players win by achieving 10-13 VPs (depending on number of players) through the usual construction of settlements and cities, longest road or largest army, and VP points from cards or map locations.
Variations from the base game in Catan Geographies: The Carolinas include waterways as well as roads, VP intersections, and Off Map settlements. There is also an optional Rice and Tobacco Variant. (You'll need some additional tokens that aren't in the Catan base game to play the Rice & Tobacco Variant - 12 to 20 tokens of two types. They can be coins, cubes, game pieces, etc.)
Finally, as with other maps in the Geographies series, Catan Geographies: The Carolinas includes historical information about the Carolina colonies. Brief history notes and statistics for North Carolina, South Carolina and notable locations in each state are also printed on the map.
In order to settle The Carolinas region, you need the game pieces and cards from the Catan base game. You also need additional markers for victory point tokens; you can use Catan chits from the Seafarers expansion, coins, or whatever else is handy. The standard Catan rules apply to The Carolinas scenario, with a few exceptions noted on the map.
Condition: New
Share
View full details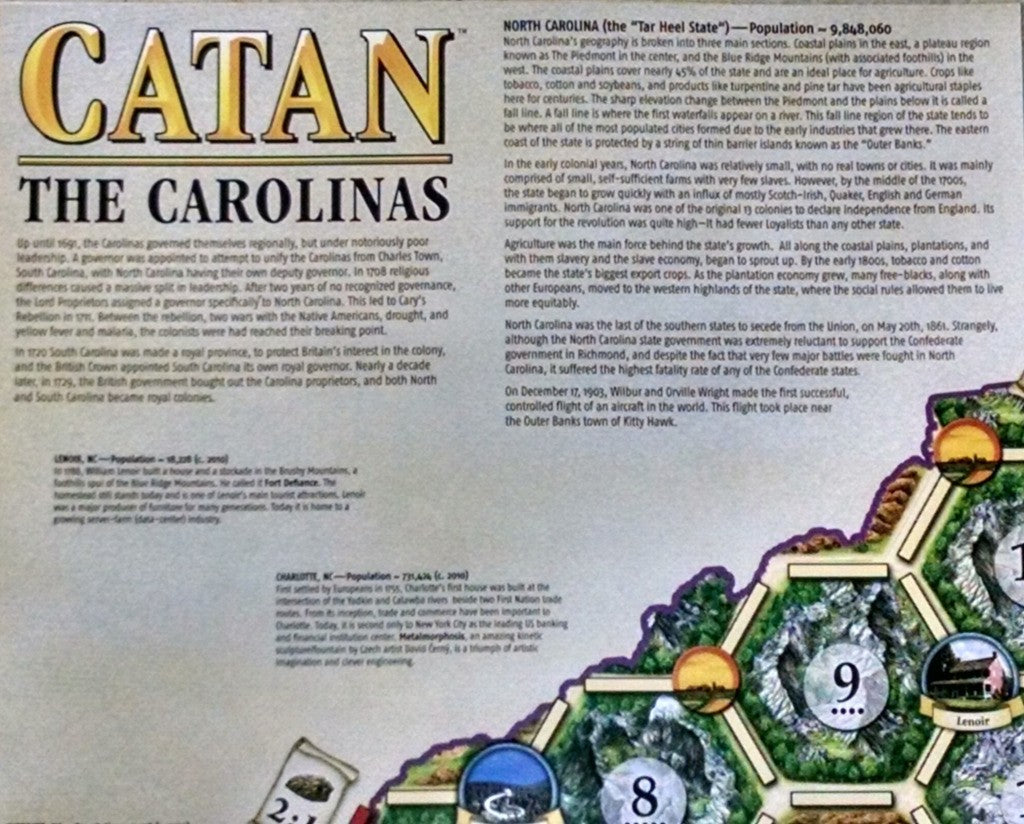 Collapsible content
Game Details

Suggested Ages: 10 and up
Number of Players: 2 to 4
Playing Time: 90 minutes

Designer: Teuber, Klaus and Ron Magin
Illustrator: Tanja Donner, Harald Lieske, and Ron Magin
Publisher: Catan Studios, Inc.
Mechanics

route building, trading, dice rolling, city building, civilization, negotiation, Catan