ThunderGryph Games
Regular price
Sale price
$59.99
Unit price
per
Sale
Sold out
All you can see on the horizon is the line that detaches from the sea from the sky. Suddenly, you glimpse a shore in the distance, and you shiver with excitement for the adventure that awaits.

You set off to explore the Galapagos, a magical place of incredible beauty and endless biodiversity, where you gather specimens and expand your knowledge of the natural sciences.

After inspiring hours spent studying and reaching enlightening conclusions, you rest under a sparkling sky, admiring the stunning complexity of the animal realm.

Darwin's Journey is a worker-placement where players recall Charles Darwin's memories of his adventure through the Galapagos islands, where he developed his theory of evolution.

With an innovative worker progression system, each worker studies the disciplines required to perform many actions in the game, such as island exploration, ocean navigation, and correspondence. Throughout the game, players gather specimens from the land and sea to facilitate further scientific research. These specimens are then delivered to museums to contribute to the human's knowledge of biology.

The game lasts five rounds; in each round, the players work toward numerous short- and long-term objectives. At the end of the game, the player with the most victory points will be the winner.



Condition: New
Share
View full details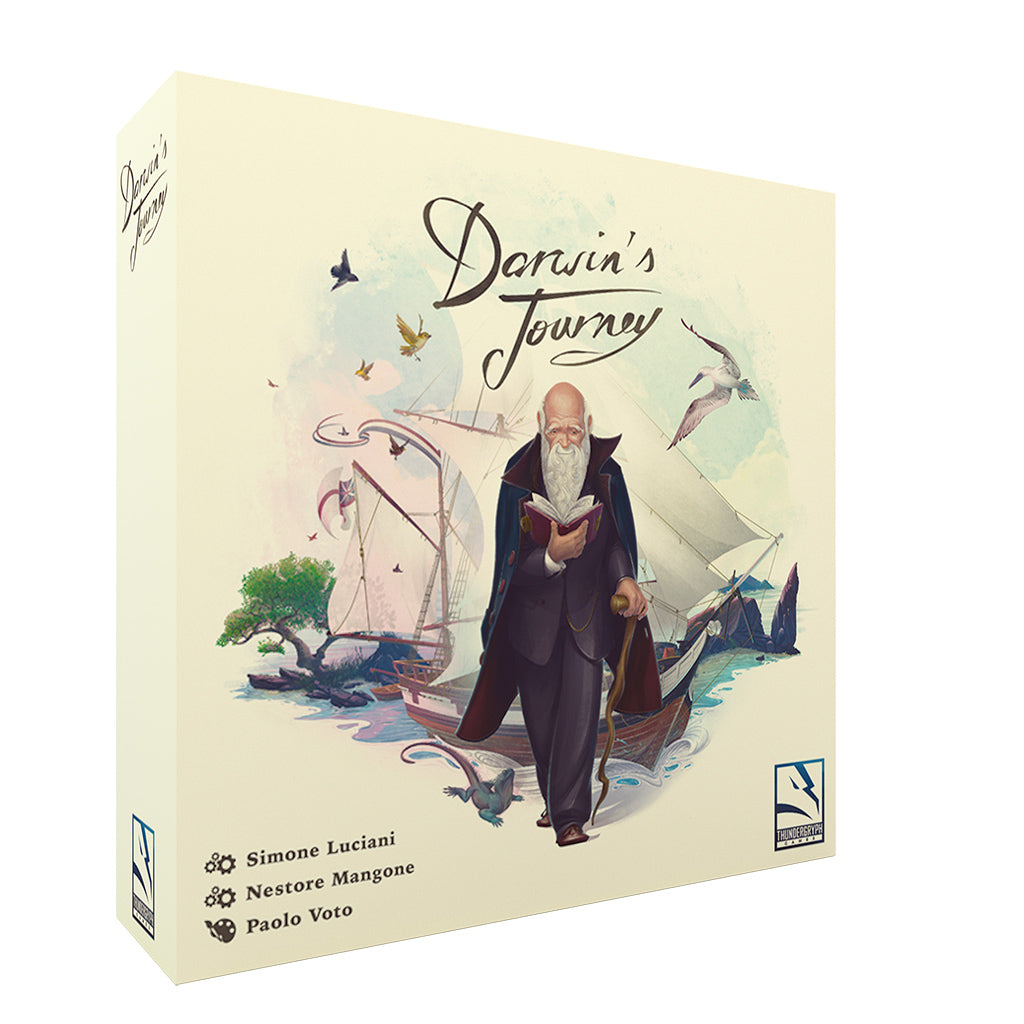 Collapsible content
Game Details

Suggested Ages: 14 and up
Number of Players: 1 to 4
Playing Time: 30 minutes per player

Designer: Simone Luciani, Nestore Mangone
Illustrator: Paolo Voto
Publisher: ThunderGryph Games
Mechanics

Contracts, Set Collection, Worker Placement, Different Worker Types
Contents

1 game board,16 crew cards, 56 regular wax seals (14 of each green, red, blue, yellow), 12 special wax seals (purple), 16 temporary knowledge tokens, 16 specimen tokens, 16 museum tokens, 30 research tokens, 40 coins (28 value 1, 12 value 5), 12 special action tiles, 12 Beagle goal tiles, 20 objective tiles (10 silver, 10 gold), 8 starting objective tiles, 8 correspondence tiles, 2 neutral lense tokens, 1 wooden HMS Beagle token, 1 improved turn order action token, 1 player aid sheet
Player components (X4): 1 personal board, 5 wooden workers, 3 wooden explorers, 1 wooden ship, 4 wooden cubes, 5 wooden tents, 6 personal lense tokens, 12 stamps
Solo Components: 4 Alfred alternative boards, 8 Alfred cards, 8 Alfred bonus track cards