Z-Man Games
Regular price
$79.99
Sale price
$71.99
Unit price
per
Sale
Sold out
Fields of Arle, a Euro strategy game for 1 or 2 players. Live as farmers during an era of prosperity in the small and peaceful town of Arle in East Frisia. As the seasons change, take advantage of opportunities to prosper, farm the land, and capitalize on the demand for flax.
In Fields of Arle, set in the small East Frisan village of Arle on the verge of the 18th century, your family must take care of numerous tasks: dehydrate the moor, plow the farmland, and breed the animals. Improving your craftsmanship in the village and constructing the appropriate buildings will be invaluable.
Turn by turn, you will assign various tasks to the members of your family while preparing for the impending change of season. Use your vehicles to trade resources with other villages and upgrade your goods.
Work the Land
Whether you delve into flax farming or leverage other areas of expertise, always make sure that you have the land to build up your village. Construct dikes to keep the waters at bay and expand your fields. Dry out bogs to harvest peat and then clear the land for cultivation. Create more fields for your livestock, buildings, or future crops; after that, you can decide whether to house animals or cultivate a forest for timber. Perhaps you'd like to take up some flax farming for yourself, or diversify and try out a little bit of everything.
Tools of the Trade
At the outset of each half year, you'll choose how you'd like to spend that time working. There are many ways to build your fortune. Use the Master space to increase the tools at your disposal, focus on the Cattle Trainer to make the most of your livestock, or build up your fleet of vehicles and ship out goods. Taking stock of your progress differs depending on the season. You may milk your existing livestock or care for a bunch of newborn animals. You could harvest your flax in the fall, and sheer your sheep in spring. At the end of each half year, you'll need to take stock of your progress by unloading your vehicles and feeding your family and animals, so keep an eye on the season and do your best to keep the farm growing and everyone well fed!
Travel and Prosper
Once you've made headway in clearing fields and stocking up goods, it's time to make your products available to potential buyers. The more vehicles you have, the more goods you can ship. Send things into the wide world to increase your Travel Experience and grant you points over the course of the four and a half years of the game. Build up your farm and your vehicles and get your goods out into the world to make the most of every season. There are many roads to success in Fields of Arle, so pick your path, work the land, and enjoy the friendly competition as you strive to make your fortune!
In Fields of Arle, designer Uwe Rosenberg (Agricola and A Feast for Odin) presents his own family history: his father was born and raised in Arle.
Condition: New
Share
View full details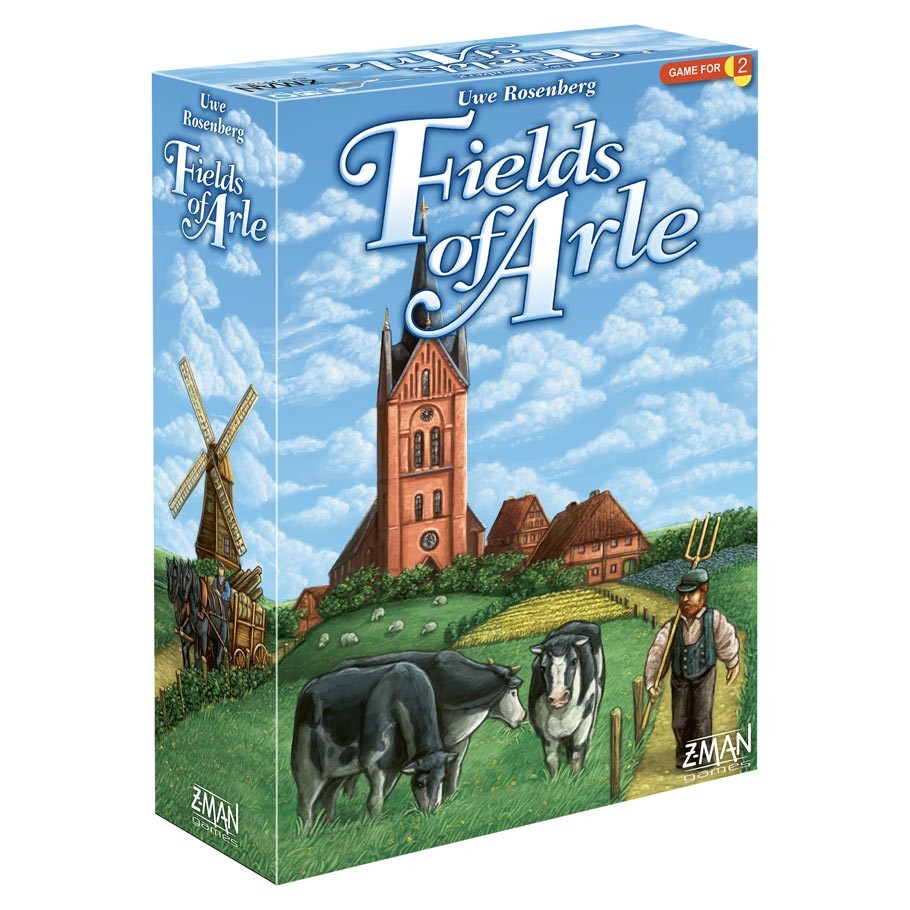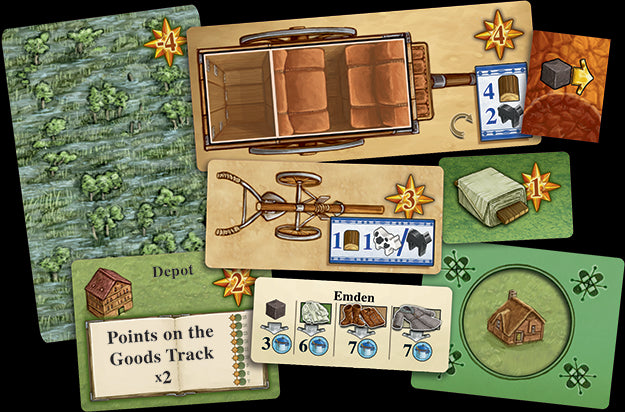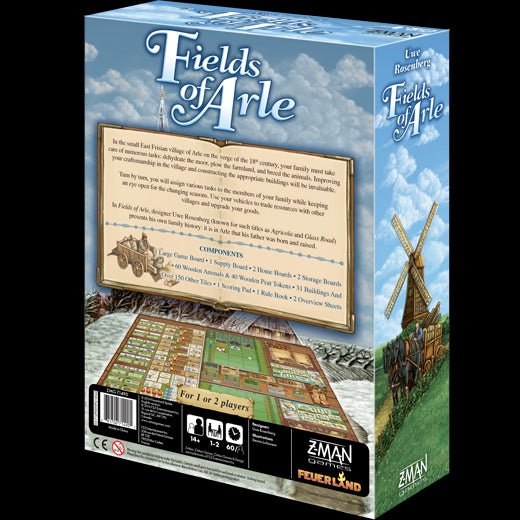 Collapsible content
Game Details

Suggested Ages: 14 and up
Number of Players: 1 to 2
Playing Time: 60 to 120 minutes

Designer: Rosenberg, Uwe
Illustrator: Dennis Lohausen
Publisher: Z-Man Games
Mechanics

economic, farming, industry, worker placement, solo play, Fields of Arle
Awards & Honors

2015 Kennerspiel des Jahres Recommended
2015 International Gamers Award - General Strategy: Two-players Nominee
2015 Cardboard Republic Architect Laurel Nominee
2014 Meeples' Choice Nominee
2014 Golden Geek Best Solo Board Game Nominee
2014 Golden Geek Best 2-Player Board Game Nominee
Contents

1 large game board, 1 supply board, 2 home boards, 2 storage boards, 60 wooden animals, over 80 other wooden tokens, 2 overview sheets, 31 buildings, over 150 other tiles, scoring pad, rulebook.