Asmodee Editions
Regular price
$54.99
Sale price
$49.99
Unit price
per
Sale
Sold out
Mysterium - A horrible crime has been committed on the grounds of Warwick Manor and it's up to the psychic investigators to get to the bottom of it.
In the 1920s, Mr. MacDowell, a gifted astrologist, entered his new house when he immediately detected a supernatural being. Gathering eminent mediums of his time (that's you) for an extraordinary seance, they will have 7 hours to contact the ghost and investigate to unlock an old mystery?
Unable to talk, the amnesic ghost will communicate with the mediums through visions (illustrated cards). They will have to decipher the images to help the ghost remember how he was murdered (who? where? which weapon?). The more they cooperate and guess well, the easier it will be to catch the right culprit.
Mysterium is one of the most anticipated games of 2015, thanks to innovative, thrilling and immersive features. It offers cooperation and investigation with an asymmetrical gameplay. While playing the ghost or a medium, you will have fun trying to guess what other players have in their minds!
So enter this strange manor and let yourself be led by your intuition!
From the Box:
In this asymmetric cooperative game, Mysterium, one player adopts the role of the ghost and the others play as psychics. All players share the same goal of shedding light on the strange circumstances surrounding the ghost's death and laying his spirit to rest at last.
Unable to speak, the ghost attempts to communicate by sending visions to the gathered psychics, who will be able to reconstruct the events of the fateful evening by correctly interpreting these ethereal messages. Cooperation and inspired guesswork will facilitate their task of unmasking the culprit.
But time is short! The team has only seven hours (rounds) in which to contact the ghost and solve this enduring mystery...
Step inside, be seated and let your intuition guide you!
Condition: New
Share
View full details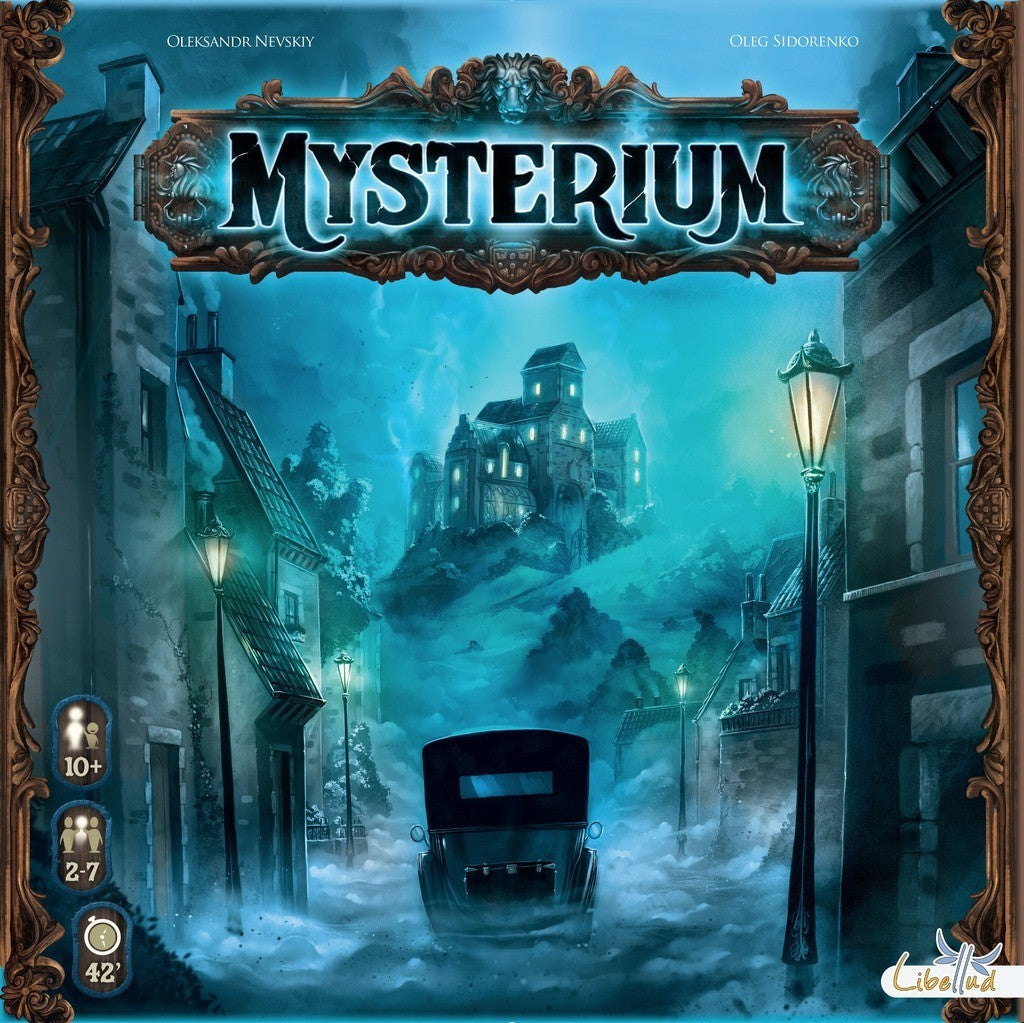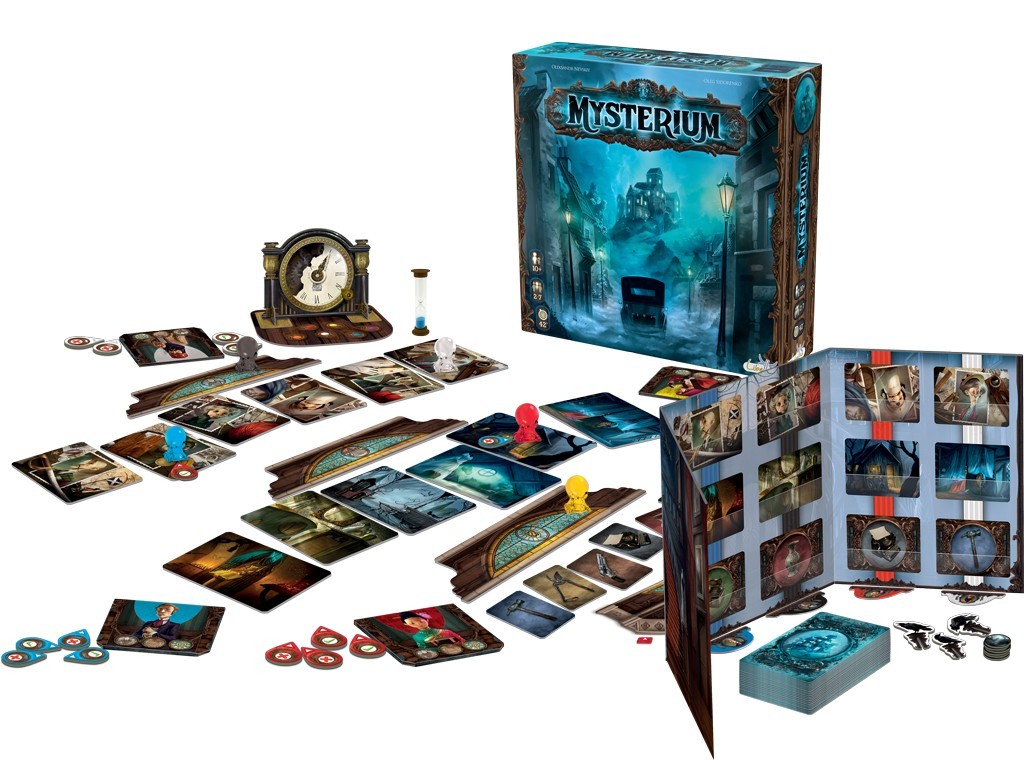 Collapsible content
Game Details

Suggested Ages: 10 and up
Number of Players: 2 to 7
Playing Time: 42 minutes

Designer: Nevskiy, Oleksandr and Oleg Sidorenko
Illustrator: Xavier Collette and Igor Burlakov
Publisher: Asmodee Editions
Mechanics

cooperative play, deduction, hand management, murder mystery, Mysterium
Awards & Honors

2019 Gioco dell'Anno Nominee
2017 MinD-Spielepreis Complex Game Nominee
2017 Hungarian Board Game Award Nominee
2017 Hra roku Finalist
2016 Lys Grand Public Winner
2016 Juego del Año Recommended
2016 Hra roku Finalist
2016 Graf Ludo Best Family Game Graphics Winner
2016 As d'Or - Jeu de l'Année Winner
2015 Tric Trac d'Argent Winner
2015 Jocul Anului în România Beginners Finalist
2015 Japan Boardgame Prize Voters' Selection Winner
2015 Golden Geek Most Innovative Board Game Nominee
2015 Golden Geek Board Game of the Year Nominee
2015 Golden Geek Best Thematic Board Game Nominee
2015 Golden Geek Best Party Board Game Nominee
2015 Golden Geek Best Family Board Game Nominee
2015 Golden Geek Best Board Game Artwork/Presentation Winner

Contents

6 Intuition tokens, 6 sleeves, 6 clairvoyance level markers, 36 clairvoyance tokens, clock board, 4 progress boards, 18 character psychic cards, 18 location psychic cards, 18 object psychic cards, sand timer, 18 character ghost cards, 18 location ghost cards, 18 object ghost, 6 ghost tokens, 84 vision cards, 6 culprit tokens, 3 crow markers, clairvoyance track; rulebook