Asmodee Editions
Regular price
$29.99
Sale price
$26.99
Unit price
per
Sale
Sold out
Mysterium: Secrets & Lies Expansion - Shed new light on the strange events leading up to the ghost's death with the new Story cards in this second expansion for Mysterium.
Rochester, New York, USA
Monday, February 11th, 1924
Sir Conrad Mac Dowell,
Duchy of Warwick
Dear Conrad,
I have barely arrived home, and yet here I am with pen in hand. I spent the whole journey back reading the cards to check that we were successful.
The answers are vague, but always the same. It seems the ghost is not completely free to leave your manor. Something is still holding him prisoner.
Maybe we didn't ask the right questions? Rather than focusing on the circumstances of the murder, perhaps we should learn more about the ghost? Why was he killed?
Conrad, stop me if I'm wrong. What can you make out through the mist in your crystal ball?
Warm regards,
Jessalyn
The haunted manor hides a troubled past...
Shed new light on the strange events leading up to the ghost's death in Secrets and Lies, the second expansion for Mysterium. Using their gifts, the psychics' task is to lift the veil on these troubling events, using 18 new Story cards. The ghost can use 42 additional Vision cards to assist the psychics as they investigate all-new suspects, locations and objects (6 of each).
New Story Cards
Find out what could have led to the servant's demise from his perspective.
Step inside, your seat at the séance table awaits!
About Mysterium
In the asymmetric cooperative game, Mysterium, one player adopts the role of the ghost and the others play as psychics. All players share the same goal of shedding light on the strange circumstances surrounding the ghost's death and laying his spirit to rest at last.
Unable to speak, the ghost attempts to communicate by sending visions to the gathered psychics, who will be able to reconstruct the events of the fateful evening by correctly interpreting these ethereal messages. Cooperation and inspired guesswork will facilitate their task of unmasking the culprit.
But time is short! The team has only seven hours (rounds) in which to contact the ghost and solve this enduring mystery...
Note:Mysterium: Secrets & Lies is an expansion for Mysterium. Play this expansion requires the Mysterium base game. No other expansion is required.
Condition: New
Share
View full details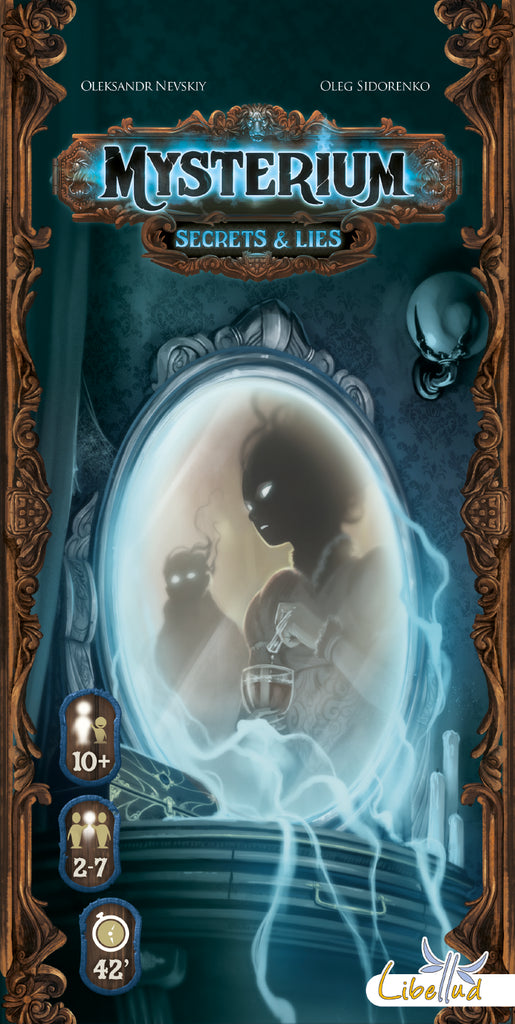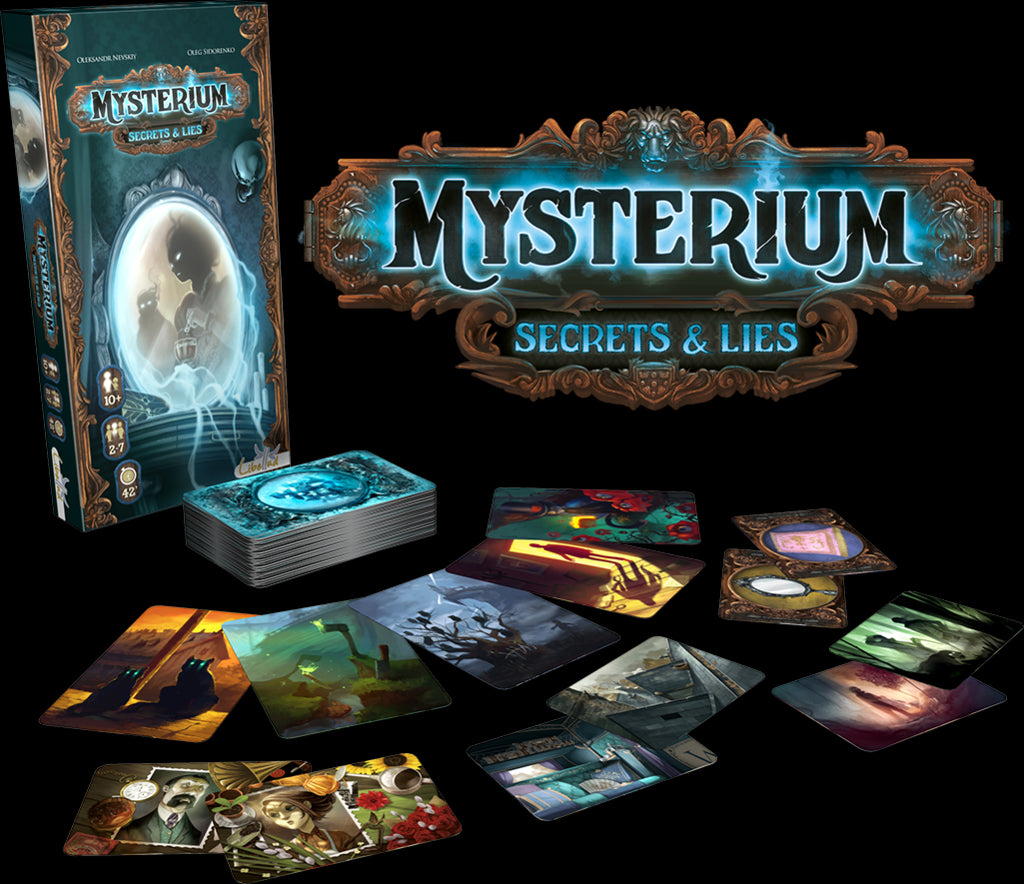 Collapsible content
Game Details

Suggested Ages: 10 and up
Number of Players: 2 to 7
Playing Time: 42 minutes

Designer: Nevskiy, Oleksandr and Oleg Sidorenko
Illustrator: Xavier Collette
Publisher: Asmodee Editions
Mechanics

cooperative play, deduction, hand management, murder mystery, expansion, Mysterium
Contents

Expansion Contents for the psychics: 36 Psychic cards.
For the ghost: 42 Vision cards, 36 Ghost cards.