Leder Games
Regular price
$59.99
Sale price
$53.99
Unit price
per
Sale
Sold out
Root is a game of adventure and war in which players battle for control of a vast wilderness. It's a game of woodlands might and right.
In Root, two to four intrepid players attemp to rule a fantastic forest kingdom in the ultimate asymmetric game of adventure and war. Each player has unique abilities and a different victory condition.
Players drive the narrative in Root. The differences between each role create an unparalleled level of interaction and replayability.
Play as the:
Marquise de Cat - Dominate the woods, extracting its riches and policing its inhabitants. Play a game of engine building and logistics. By collecting wood, you can produce workshops, lumber mills and barracks. Win by building new buildings and crafts.
Eyrie Dynasties - Regain control of the woods while keeping your squabbling court at bay. Muster your hawks to take back the woods. Capture as much territory as possible and build roosts.
Woodland Alliance - Gather supporters and coordinate revolts against the ruling regime. Hide in the shadows and hatch conspiracies. You'll begin slowly, and can build towards a dramatic late-game presence - but only if you manage to keep the other players in check.
Vagabond - Seek fame and fortune as you forge alliances and rivalries with the other players. Play all sides of the conflict for your own gain, while hiding a mysterious quest. Explore the board, fight other factions and work towards achieving your hidden goal.
Each game includes...
Cards, counters, and faction boards featuring hand drawn illustrations be Kyle Ferrin.
Over fifty screen painted wooden warriors.
A two-sided (autumn & winter) mounted map.
A rules reference and robust learning to play manual so you can start playing in minutes!
Condition: New
Share
View full details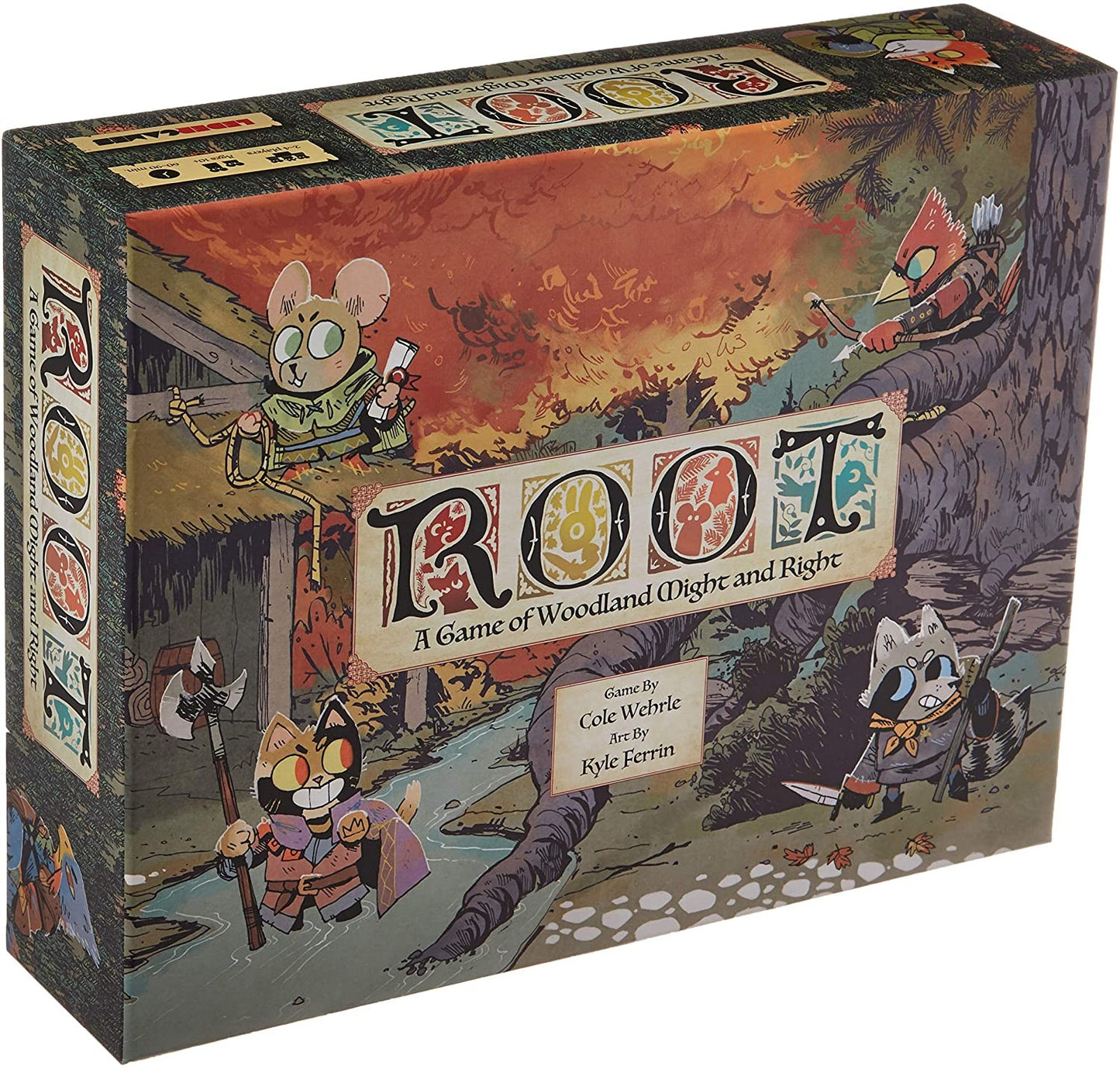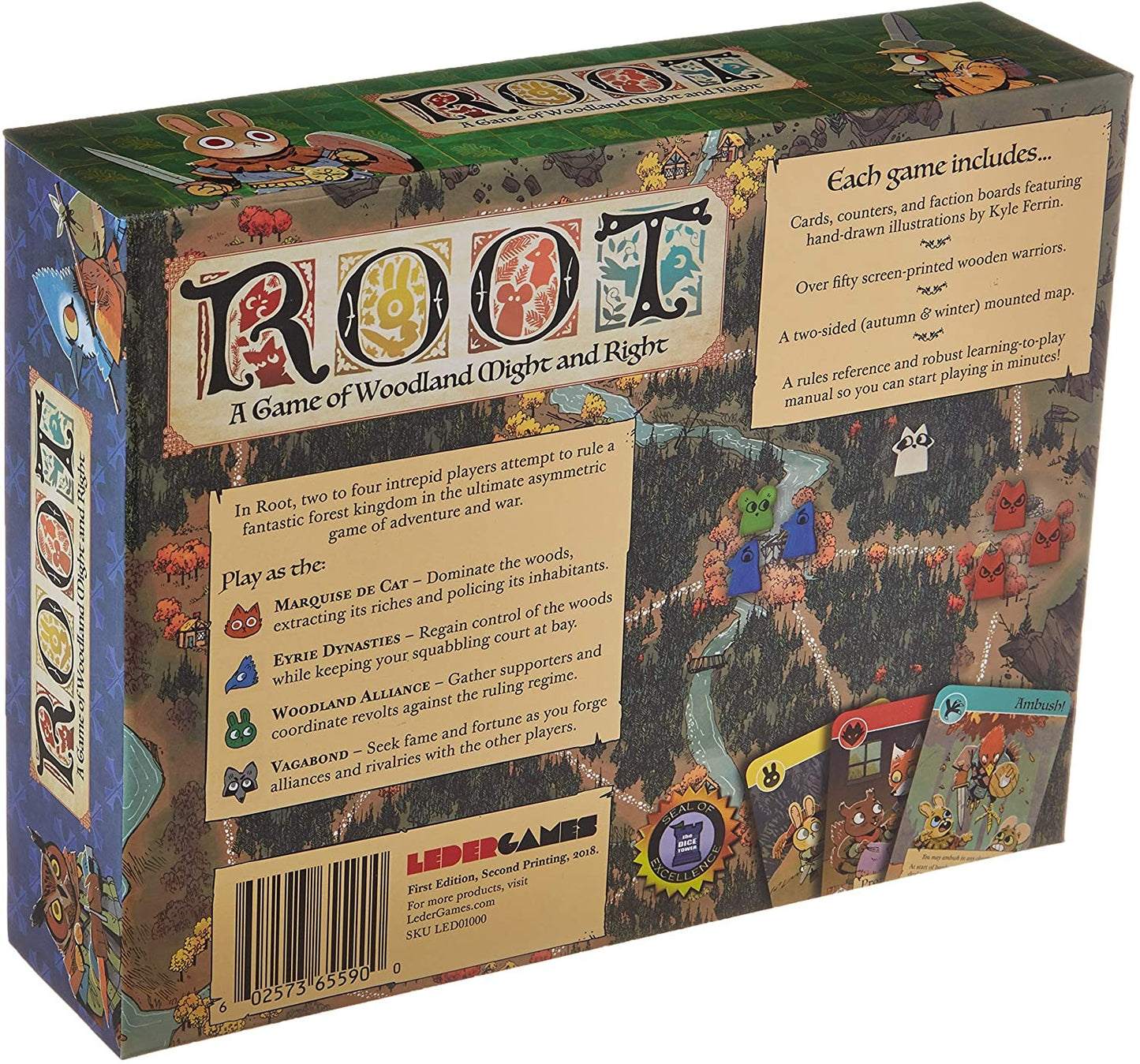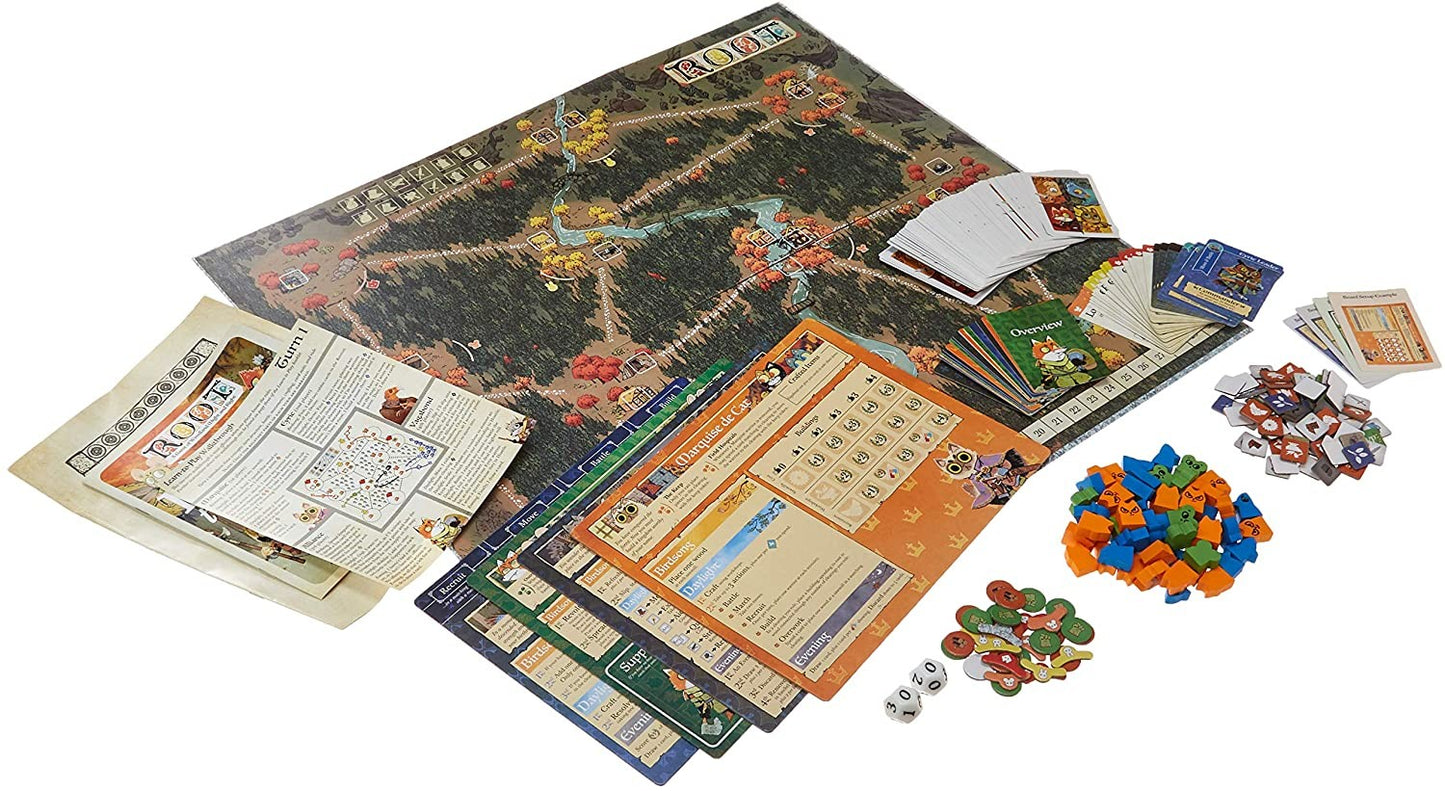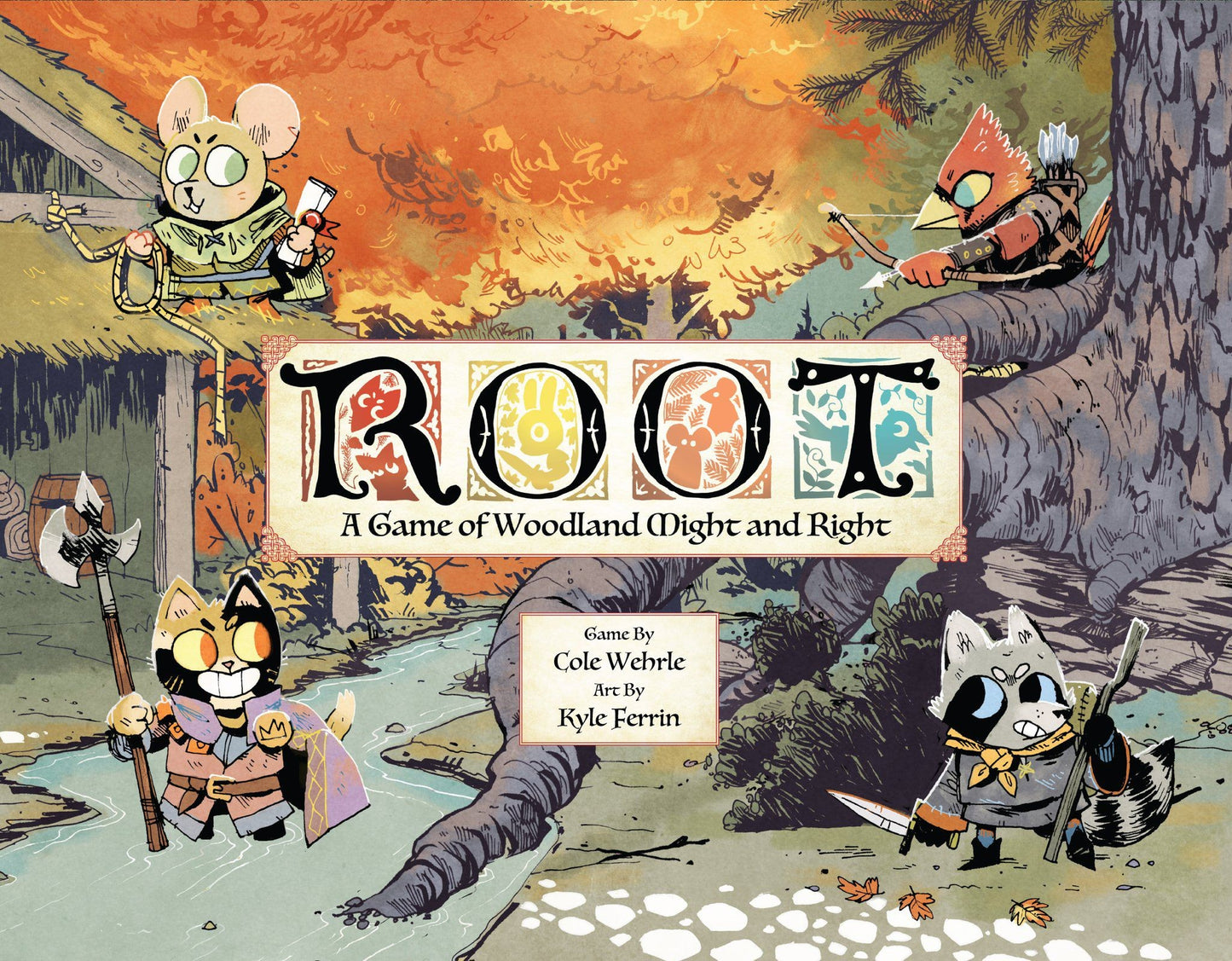 Collapsible content
Game Details

Suggested Ages: 10 and up
Number of Players: 2 to 4
Playing Time: 60 to 90 minutes

Designer: Wehrle, Cole
Illustrator: Kyle Ferrin
Publisher: Leder Games
Mechanics

action queue, action retrieval, area influence, area movement, dice rolling, hand management, point-to-point movement, race, variable player powers, animals, fantasy, wargame, Root
Awards & Honors

2020 Gra Roku Advanced Game of the Year Nominee
2020 As d'Or - Jeu de l'Année Expert Nominee
2019 UK Games Expo Best Board Game (Strategic Style) People's Choice Winner
2019 UK Games Expo Best Board Game (Strategic Style) Judges Award Winner
2019 Tric Trac Nominee
2019 SXSW Tabletop Game of the Year Winner
2019 SXSW Best Crowdfunded Game of the Year Nominee
2019 Scelto dai Goblin Winner
2019 Origins Awards Best Board Game Nominee
2019 Jogo do Ano Winner
2019 International Gamers Award - General Strategy: Multi-player Winner
2019 Goblin Magnifico Winner
2019 Dragon Awards Best Science Fiction or Fantasy Board Game Nominee
2019 American Tabletop Complex Games Winner
2018 The Golden Elephant Award Finalist
2018 Meeples' Choice Nominee
2018 Golden Geek Most Innovative Board Game Winner
2018 Golden Geek Board Game of the Year Winner
2018 Golden Geek Best Thematic Board Game Winner
2018 Golden Geek Best Strategy Board Game Nominee
2018 Golden Geek Best Board Game Artwork & Presentation Winner
2018 Cardboard Republic Striker Laurel Winner
2018 Board Game Quest Awards Game of the Year Winner
2018 Board Game Quest Awards Best Tactical/Combat Game Nominee
2018 Board Game Quest Awards Best Game from a Small Publisher Nominee