Indie Boards & Cards
Regular price
Sale price
$24.99
Unit price
per
Sale
Sold out
Snowdonia: Jungfraubahn & Mount Washington is an expansion for Snowdonia with 2 new Scenarios, 66 new cards and Dynamite!

About Snowdonia
In Snowdonia players represent work gangs providing labour for the construction of the Snowdon Mountain Railway. Unlike other railway games, you will have to send your workers to excavate your way up a mountain side, collect raw materials, make and lay? track, construct viaducts and build stations. And you'll do all this despite the weather of the Welsh mountains (and the game itself)!

You may be assisted by a train (though that's not always best) and you'll be able to collect essential materials from the Stock Yard. You can also obtain special work contracts that provide bonuses.

When the task is complete, you will be rewarded for your efforts. Can you contribute more than the other players to the magnificence of the Snowdon Mountain Railway?

Snowdonia Honors:
2013 - International Gamers Award Finalist (Multiplayer Game)
2013 - GAMES Magazine Advanced Strategy 2013 - Honorable Mention
2013 - JogoEu J.U.G Adult Game of the Year - Nominee
2013 - Fairplay.de Magazine - Bestenliste Summer 2013 (FairPlay 104)
2013 - UK Games Expo - Best Boardgame Nominee
2012 - Meeples Choice - Finalist
2012 - Fairplay Scouts List at Essen Spiel - 11th

Contents: 27 standard Snowdonia Contract cards, 15 Contract cards for the Jungfrau scenario, 3 Contract cards for the Mount Washington scenario, 4 new Trains, 6 Jungfraubahn Track cards, 1 weather reference card, 1 event reference card, 2 action space cards, 7 Station cards, and 1 rulebook.
Condition: New
Share
View full details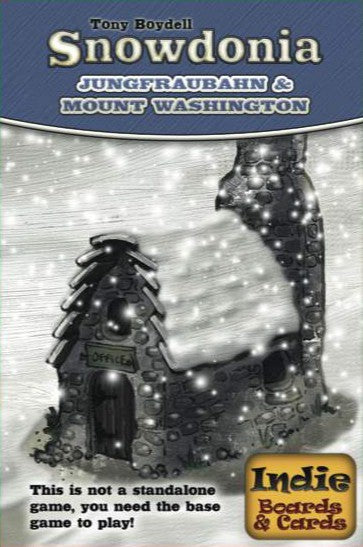 Collapsible content
Game Details

Suggested Ages: 10 and up
Number of Players: 1 to 5
Playing Time: 30 to 90 minutes

Designer: Boydell, Tony
Illustrator: Charlie Paul
Publisher: Indie Boards & Cards
Mechanics

card drafting, hand management, worker placement, trains, strategy games, expansion, solo play, Snowdonia