Gamewright
Regular price
Sale price
$3.00
Unit price
per
Sale
Sold out
Sushi Go Party! The Deluxe Pick and Pass Card Game. Now for up to 8 players
It's a party platter of mega make, super sashimi, and endless edamame in this expanded version of the best-selling card game Sushi Go! You still earn points by picking winning sushi combos, but now you can customize each game by choosing a la carte from a menu of more than 20 delectable dishes.
What's more, you can invite up to 8 players to join in on the sushi-feast. Let the good times roll!
Sushi Go Party! is an expanded version of the light card-drafting game Sushi Go! that can now accommodate up to eight players. In addition to the maki rolls, tempura, dumplings, and other cards featured in the original game, this new game adds deliciously-illustrated cards featuring edamame, miso soup, tea, and tofu, among others. In each game session, the new cards can be combined with the old cards such that there is one roll, one dessert, three appetizers, two specials, and nigiri (which are in every game). The new cards have a number of new scoring mechanisms--for example, onigiri scores for unique shapes, and tofu scores 6 points for two but zero points for three or more.
About Sushi Go!:
Sushi Go! takes the card-drafting mechanism of 7 Wonders and distills it into a twenty-minute game that anyone can play. The dynamics of "draft and pass" are brought to the fore, while keeping the rules to a minimum. As you see the first few hands of cards, you must quickly assess the make-up of the round and decide which type of sushi you'll go for. Then, each turn you'll need to weigh which cards to keep and which to pass on. The different scoring combinations allow for some clever plays and nasty blocks. Round to round, you must also keep your eye on the goal of having the most dessert cards at the end of the game!
Kids Learn:
Rental Replacement Cost: $24.99
Share
View full details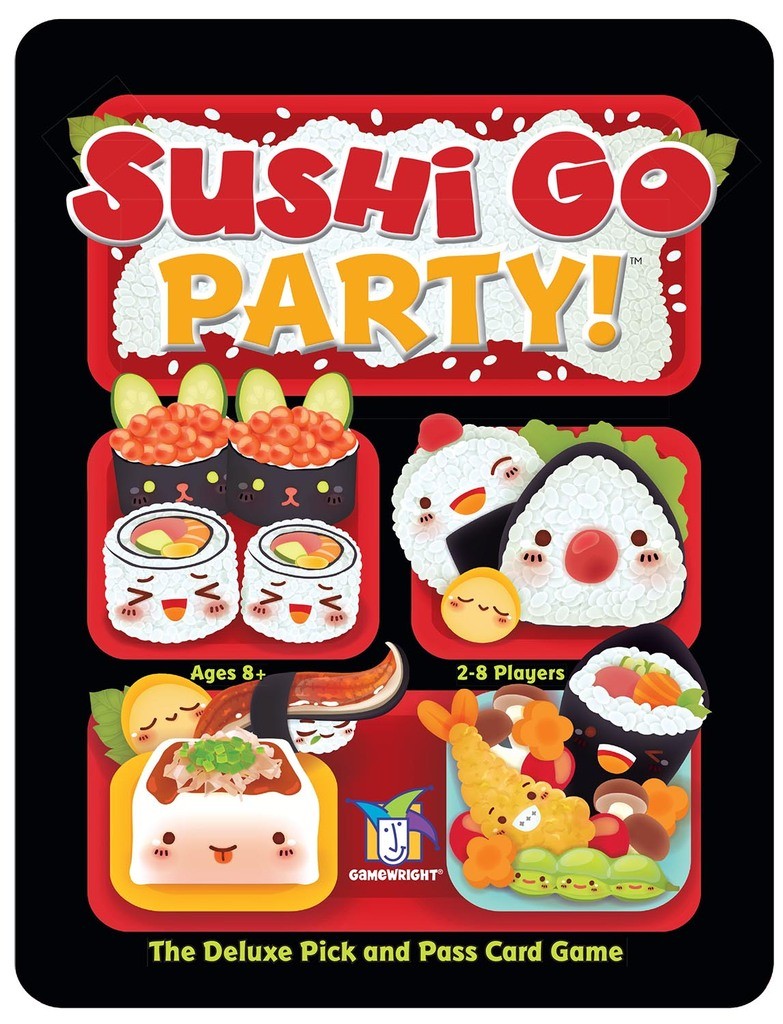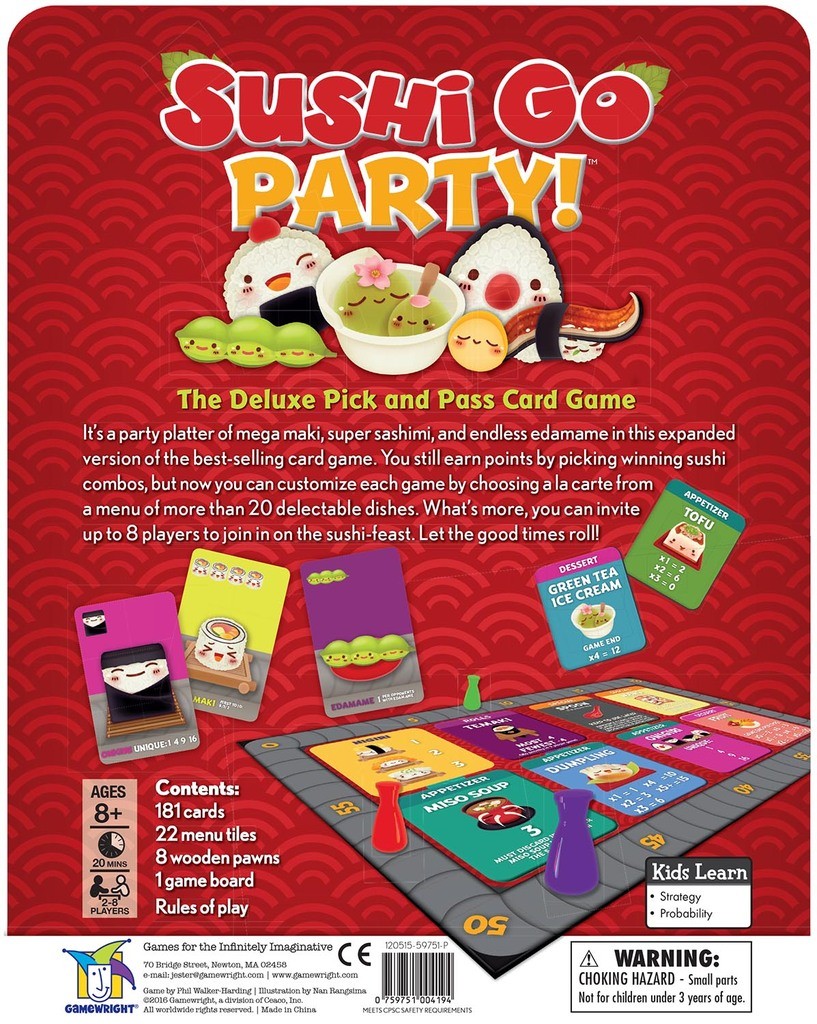 Collapsible content
Game Details

Suggested Ages: 8 and up
Number of Players: 2 to 8
Playing Time: 20 minutes

Designer: Walker-Harding, Phil
Illustrator: Phil Walker-Harding
Publisher: Gamewright
Mechanics

card drafting, hand management, set collection, simultaneous action selection, food, cooking, card game, Sushi Go!