Board & Dice
Regular price
$59.99
Sale price
$59.99
Unit price
per
Sale
Sold out
Teotihuacan: City of the Gods is a strategic game of resource and worker management.
Travel back in time to the greatest city in MesoAmerica, and become part of its history. Witness the glory of the powerful pre-Columbian civilization, and become the builder of the magnificent Pyramid of the Sun! Strategize, accrue wealth, gain the favor of the gods.
Teotihuacan: City of Gods is a strategic game of resource and worker management. Each player commands a force of worker dice, which grow in strength with every move. On your turn, you move a worker around a modular board, always choosing one of two areas of the location tile you land on: one offering you an action (and a worker upgrade), the other providing you with a powerful bonus (but without an upgrade).
Develop new technologies, climb the steps of the three great temples, build houses for the inhabitants of the city, and raise the legendary and breath-taking Pyramid of the Sun in the center of the city.
Each game is played in three eras. As the dawn of the Aztecs comes closer, player efforts (and their ability to feed their workforce) are evaluated a total of three times. The player with the most fame is the winner.
Teotihuacan provides numerous features to increase replayability, including:
Build a different board every time you play.
Random bonuses on Worship spaces.
Players can start with varied resources and bonuses each game..
Try a different path to victory every time you play.
Challenge your friends or play solo against the simple robust automated opponent.
However you play, your goal is is to strategize, adapt and become the most influential figure in Teotihuacan: City of Gods.
Condition: New
Share
View full details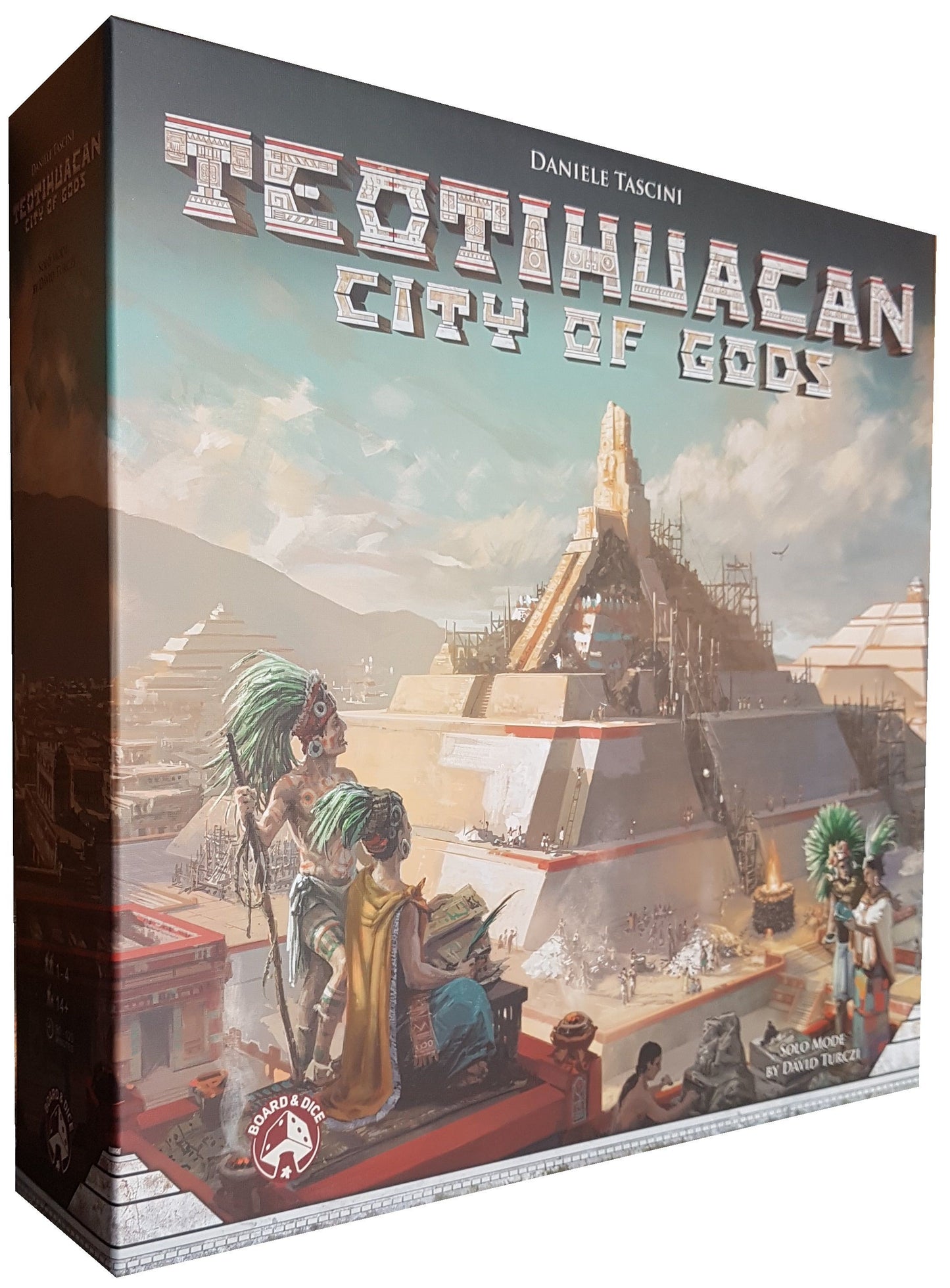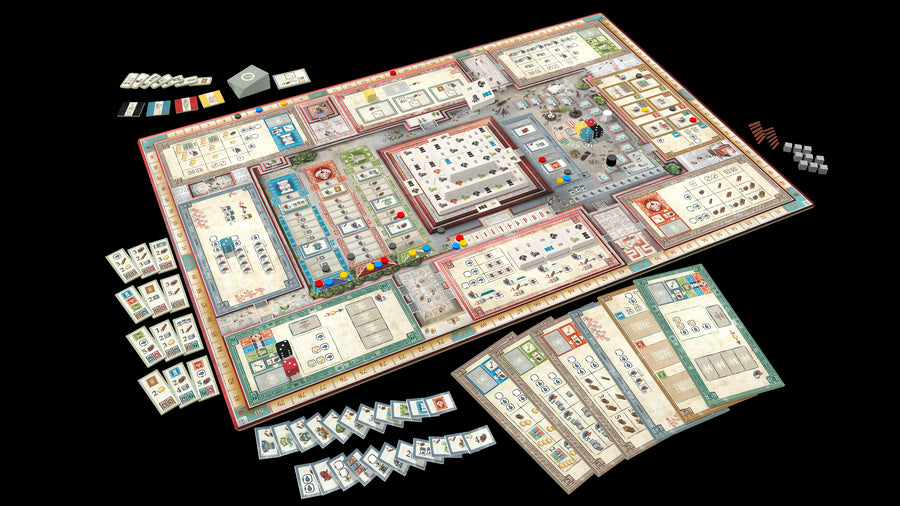 Collapsible content
Game Details

Suggested Ages: 12 and up
Number of Players: 1 to 4
Playing Time: 90 to 120 minutes

Designer: Tascini, Daniele
Illustrator: Odysseas Stamoglou
Publisher: Board & Dice
Mechanics

point to point movement, set collection, tile placement, worker placement, resource management, solo play, ancient, Teotihuacan
Awards & Honors

2020 Nederlandse Spellenprijs Best Expert Game Nominee
2020 MinD-Spielepreis Complex Game Winner
2020 Gra Roku Advanced Game of the Year Nominee
2019 Lys Passioné Finalist
2019 Jogo do Ano Nominee
2019 International Gamers Award - General Strategy: Multi-player Nominee
2019 Gouden Ludo Best Expert Game Nominee
2019 Goblin Magnifico Nominee
2019 Cardboard Republic Tactician Laurel Nominee
2019 American Tabletop Complex Games Recommended
2018 The Golden Elephant Award Finalist
2018 Swiss Gamers Award Nominee
2018 Meeples' Choice Winner
2018 Golden Geek Board Game of the Year Nominee
2018 Golden Geek Best Strategy Board Game Nominee
2018 Golden Geek Best Solo Board Game Nominee
2018 Golden Geek Best Board Game Artwork & Presentation Nominee
2018 Board Game Quest Awards Game of the Year Nominee
Contents

1 main board, 6 action boards, 32 pyramid tiles, 15 decoration tiles, 54 discovery tiles, 18 starting tiles, 11 buildings, 9 royal tiles, 9 technology tiles, 7 temple bonus tiles, 2 calendar discs, 4 player order tokens, 60 wooden resources, 4 multiplier tokens, Cocoa Tokens, rule book