Stronghold Games
Regular price
$79.99
Sale price
$71.99
Unit price
per
Sale
Sold out
Terraforming Mars - Control a corporation that's terraforming Mars. Play project cards, build up production, place your cities and green areas on the planet map and race to achieve milestones and awards.
Terraforming Mars is all about the taming of the red planet. Corporations are competing to transform Mars into a habitable planet by spending vast resources and using innovative technology to raise the temperature, create a breathable atmosphere, and make oceans of water. As terraforming progresses, more and more people will immigrate from Earth to live on the Red Planet.
In Terraforming Mars, you control a corporation with a certain profile. Play project cards, build up production, place your cities and green areas on the map, and race for milestones and awards!
Will your corporation lead the way into humanity's new era?
Features:
Over 200 unique cards.
Build your economy.
Execute Huge Projects.
Transform the planet.
Condition: New
Share
View full details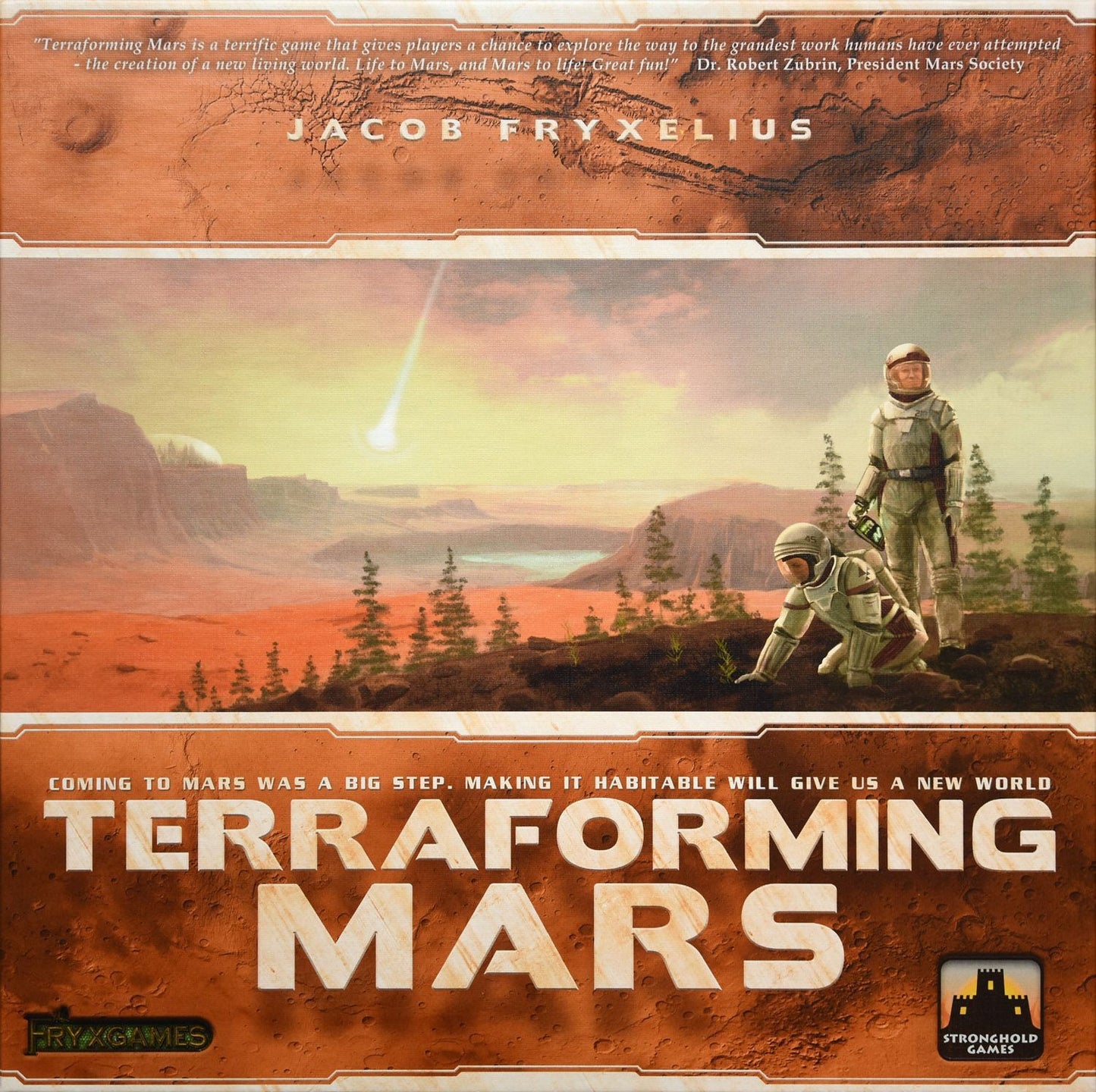 Collapsible content
Game Details

Suggested Ages: 12 and up
Number of Players: 1 to 5
Playing Time: 90 to 120 minutes

Designer: Galasso, Jennifer
Illustrator: Isaac Fryxelius
Publisher: Stronghold Games
Mechanics

card drafting, hand management, tile placement, variable player powers, economic, environmental, industry, manufacturing, science fiction, territory building, Terraforming Mars
Awards & Honors

2020 Årets Spel Best Adult Game Winner
2019 Vuoden Peli Strategy Game of the Year Winner
2018 MinD-Spielepreis Complex Game Winner
2018 Japan Boardgame Prize Voters' Selection Winner
2018 Guldbrikken Best Expert Game Winner
2018 As d'Or - Jeu de l'Année Expert Winner
2017 Tric Trac Nominee
2017 Tric Trac d'Argent
2017 Spiel der Spiele Hit für Experten Recommended
2017 Lys Passioné Winner
2017 Kennerspiel des Jahres Nominee
2017 JUG Adult Game of the Year Finalist
2017 Juego del Año Recommended
2017 Jogo do Ano Nominee
2017 International Gamers Award - General Strategy: Multi-player Nominee
2017 Hra roku Recommended
2017 Gra Roku Game of the Year Winner
2017 Gra Roku Advanced Game of the Year Winner
2017 Gouden Ludo Best Expert Game Nominee
2017 Goblin Magnifico Nominee
2017 Diana Jones Award for Excellence in Gaming Nominee
2017 Deutscher Spiele Preis Best Family/Adult Game Winner
2017 Best Science Fiction or Fantasy Board Game Nominee
2016 Swiss Gamers Award Nominee
2016 Meeples' Choice Winner
2016 Jocul Anului în România Advanced Winner
2016 Golden Geek Board Game of the Year Nominee
2016 Golden Geek Best Strategy Board Game Nominee
2016 Golden Geek Best Solo Board Game Nominee
2016 Cardboard Republic Architect Laurel Winner
2016 Board Game Quest Awards Game of the Year Winner
2016 Board Game Quest Awards Best Strategy/Euro Game Nominee
Contents

game board, 200 player markers (transparent plastic cubes in 5 colors), 200 resource markers (opaque plastic cubes in gold, silver and copper in different sizes), 5 player boards, 233 cards, 80 tiles, rules booklet.