Mayfair Games
Regular price
Sale price
$19.99
Unit price
per
Sale
Sold out
The Haunt: (Invincible Overlord Series #3, Stoker Manor)
"Your cause is hopeless..."
The voice thunders around you after you crash into the wall.
"There is nowhere to hide..."
You reach for your weapon, and feel a mighty hand grip your arms. You look and see the hideous talons gripping you. But they're coming out of the walls themselves; there are no bodies attached.
"Leave this place now..."
Your pulse is pounding. You strain your muscles to reach for your dagger. Sweating and wheezing, you hope you have a chance to stop this thing, before it's too late.
"...and save me the bother of killing you."
The insult is accentuated as the arms drop you and disappear. It is playing with you and your friends. You wipe the sweat from your eyes, draw your weapon, pray to your gad, and vow that the mocking creature will die before this night is through.
Years ago, a respectable baron became a deadly vampire and began a bloody reign of terror, but he was stopped when a powerful religious sect magically sealed him in his ancestral home. Now, the baron's evil is so great, the house itself has gained a malevolent intelligence. You and your party, determined to destroy this danger, enter the ghost-filled halls of The Haunt located on the outskirts of Briarwood.
The Haunt Guidebook is a reference book detailing the beings, items, and other aspects of Stoker manor. Legends claim that secrets and fortunes may be found within the confines of this one stately, two-storey mansion, but none has returned to confirm these tales.
All important features of The Haunt are covered:
- New monsters (Blue Yetch, Cloth Golem, Dust Spider, Poltergeists, Sandman)
- New & improved Vampire
- New magic items (Book of Dolphins, Mask of Many Faces, Medusan Portrait, Mirror of Passage, O'Malley's Magic Marbles, Pharoah's Phaucet, Picture of Hidden Fears, Serling's Button Box, Speak & Spell, Wand of Teleportation)
- New Spells (Crandel's Quick Cast, Cy's Spying Ear, Hibidah Hobidah Hoobidah, Scourge of the Violet Spider, Transfusion, Wood to Rubber)
- History & Legends
- Sprain & Break table
- Faith roll chart
This supplement describing Stoker Manor in the City State of the Invincible Overlord is the first guidebook in the series to detail a single locale/building in Calandia.
This boxed set contains: The Haunt Guidebook, the adventure, and a full-color, three gate-fold GM's screen containing pertinent tables, charts, and the Manon's layout.
For players with skill levels of 12 to 17. This setting can be used in any fantasy role-playing system.
Condition:
Share
View full details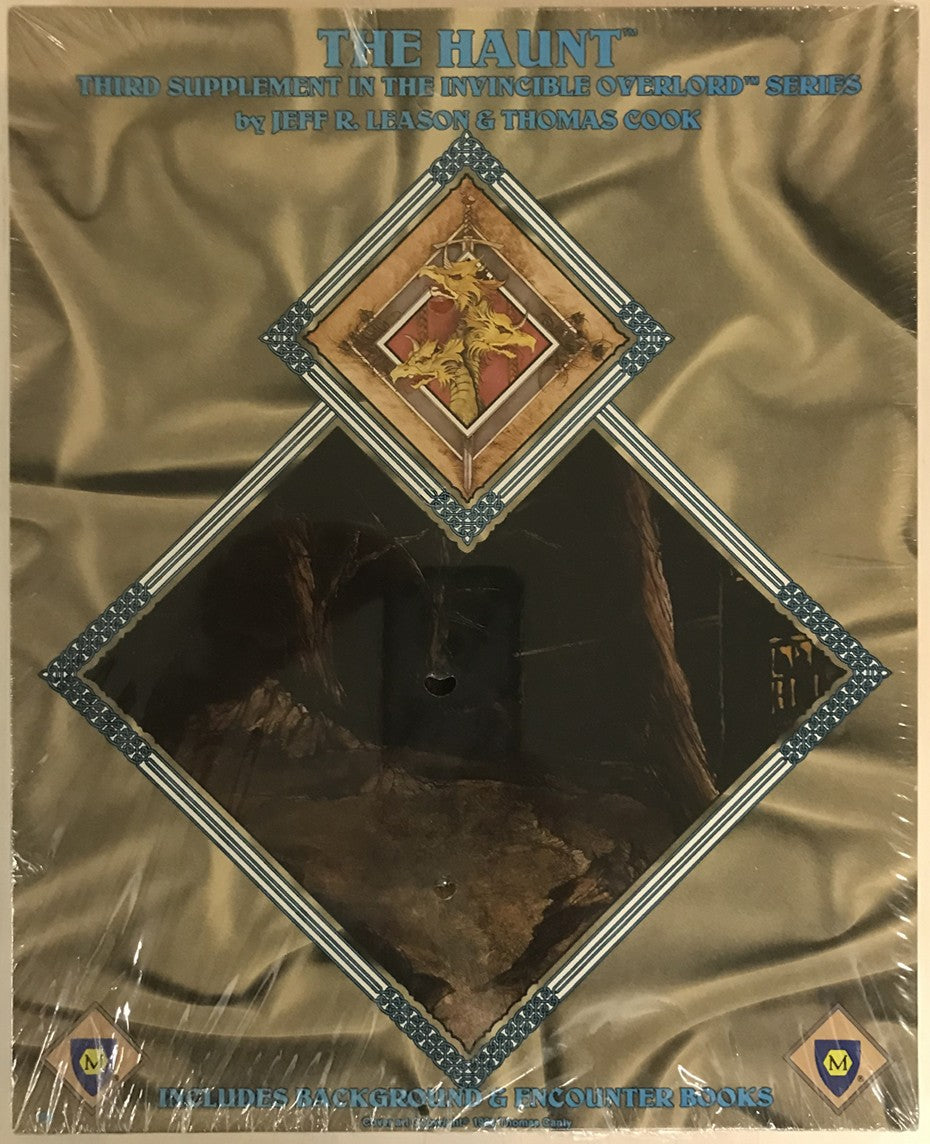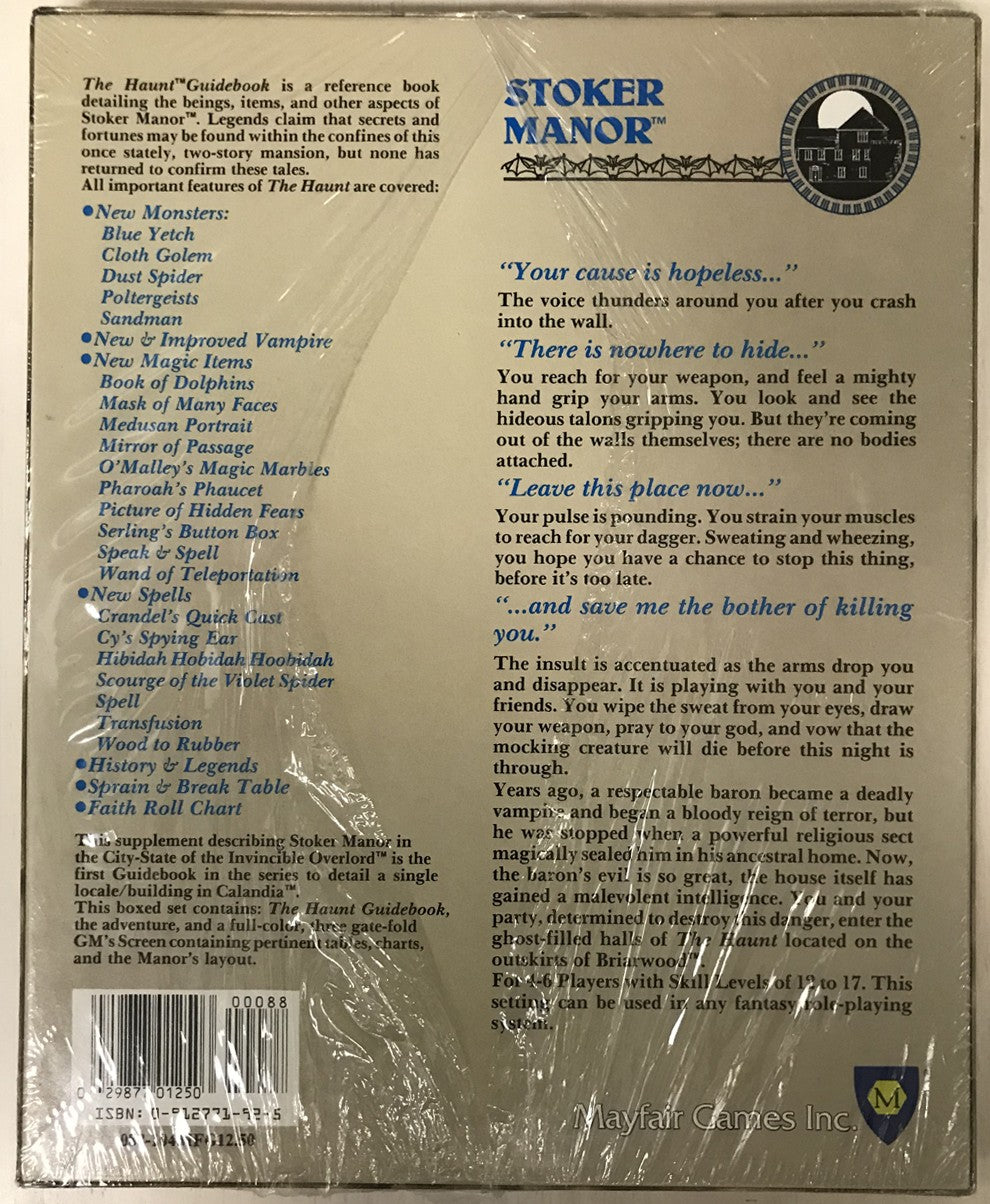 Collapsible content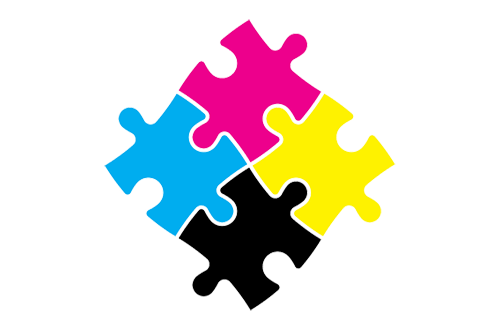 Puzzle Details

Piece Count:
Finished Puzzle Size:
Puzzle Cut:

Illustrator:
Publisher: Mayfair Games

Condition:
The Benefits of Puzzling

Puzzles have been proven to strengthen memory, shape recognition, problem solving, focus and hand-eye coordination. The process of assembling jigsaw puzzles also provides a variety of other benefits, including:

Deepen Connections - Conversation flows naturally as your sort and interlock the design. It's like we always say: Love completes the puzzle.
Relieve Stress - Escaping into the calm of puzzling for as little as 20 minutes can soothe anxieties. It's the perfect digital detox for you and your loved ones.
Exercise Memory - Jigsaw Puzzles sharpen cognitive function. Current neurology experts assert that puzzles stimulate neuroplasticity and can even slow progressive memory loss.

So get puzzling and improve your mental health!
Helpful Puzzle Accessories
Regular price

$17.99

Sale price

$14.99

Unit price

per

Regular price

Sale price

$14.99

Unit price

per

Regular price

Sale price

$4.99

Unit price

per