Days of Wonder
Regular price
$54.99
Sale price
$49.99
Unit price
per
Sale
Sold out
Ticket to Ride: Germany is a standalone game in the Ticket to Ride series. It adds Passenger meeples to the usual route-building and ticket-completing mix.
Turn of the century Germany... Through a fine autumn rain, a plume of smoke announces the arrival of the 4:15 train from Nuremberg in the Munich Central Station. The din of the massive engine grows more intense, culminating with a prolonged hiss as the locomotive halts at the platorm, steam erupting in every direction. Already, porters in livery are rushing to unload baggage as passengers step from their cars. On the opposite platform, an operator pulls the cord for a three-chime whistle and another train begins chugging toward its next destination: Berlin, capital of the German empire.
In Ticket to Ride: Germany, build your own rail network to connect cities listed on your Destination Tickets. Watch out for your opponents who might be trying to reach the same far-flung corners of the German empire and outwit them by collecting valuable Passenger Meeples from the cities faster than they can.
As with all installments in the Ticket to Ride series, Ticket to Ride: Germany can be learned in 5 minutes and provides hours of fun for families and experienced gamers alike. Hop on board!
What's New in Ticket to Ride: Germany
In Ticket to Ride: Germany, in addition to scoring points for tickets, whenever you claim a route on the board, you can claim a passenger meeple from each of the two cities that form the endpoints for that route - assuming any are left.
At the end of the game, the players with the most passengers in each of the six colors score 20 points, players with the secondmost passengers in each color score 10 points. The player with the most points wins the game.
History of Ticket to Ride: Germany
Ticket to Ride: Germany combines most of Zug um Zug: Deutschland and the Deutschland 1902 expansion in one box. Zug um Zug: Deutschland, published exclusively for the German and Austrian market, features the same map as the now out-of-print Ticket to Ride: Märklin, but doesn't include the passenger mechanism from Märklin in which players scored additional points by moving passengers from city to city. The Deutschland 1902 expansion introduced a different, simpler, method for scoring passengers, and that same method is present in Ticket to Ride: Germany.
Note:Ticket to Ride: Germany is a complete, new standalone game that does not require the original Ticket to Ride to play.
Contents: 1 board map of Germany, 225 colored Train cars, 11 Train Car cards, 89 Destination Ticket cards, 1 Bonus card, 60 Passenger meeples, 1 cloth bag, 5 scoring markers, 1 rules booklet.
Condition: New
Share
View full details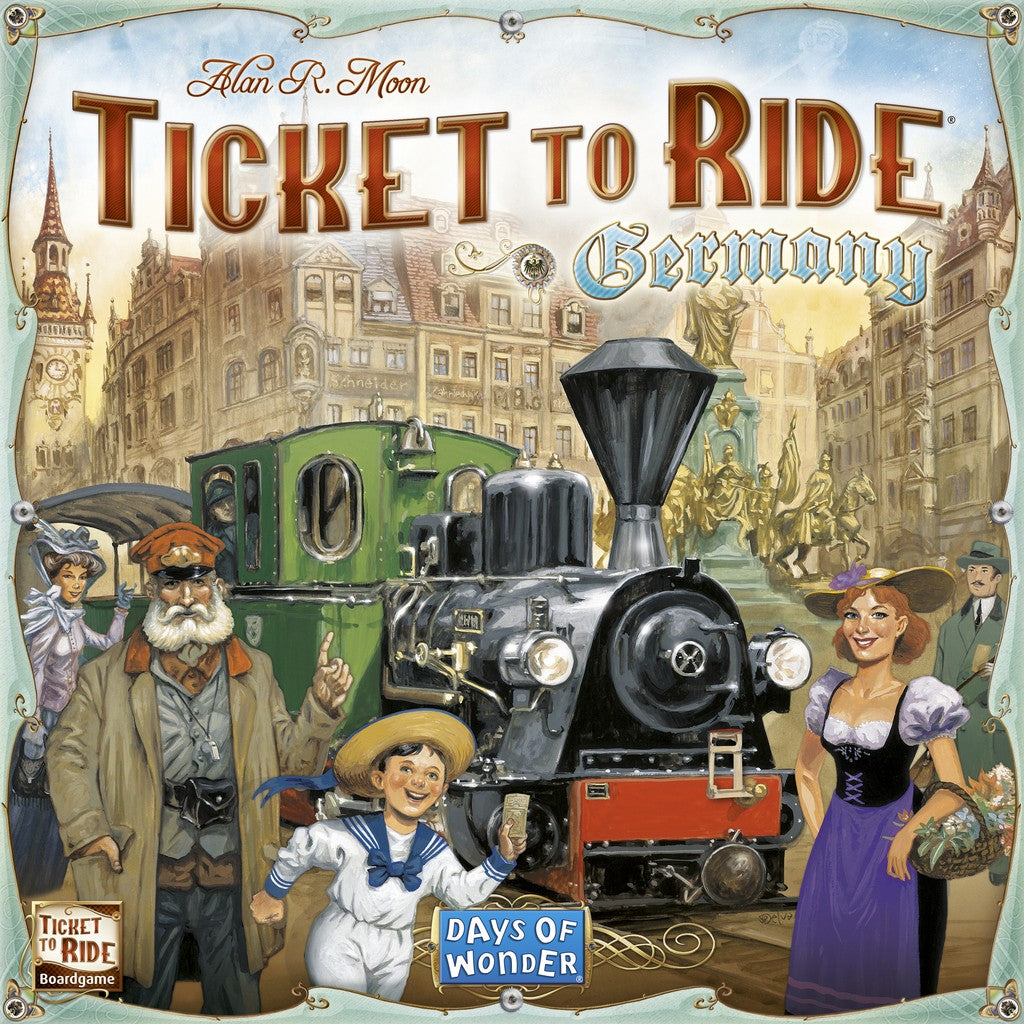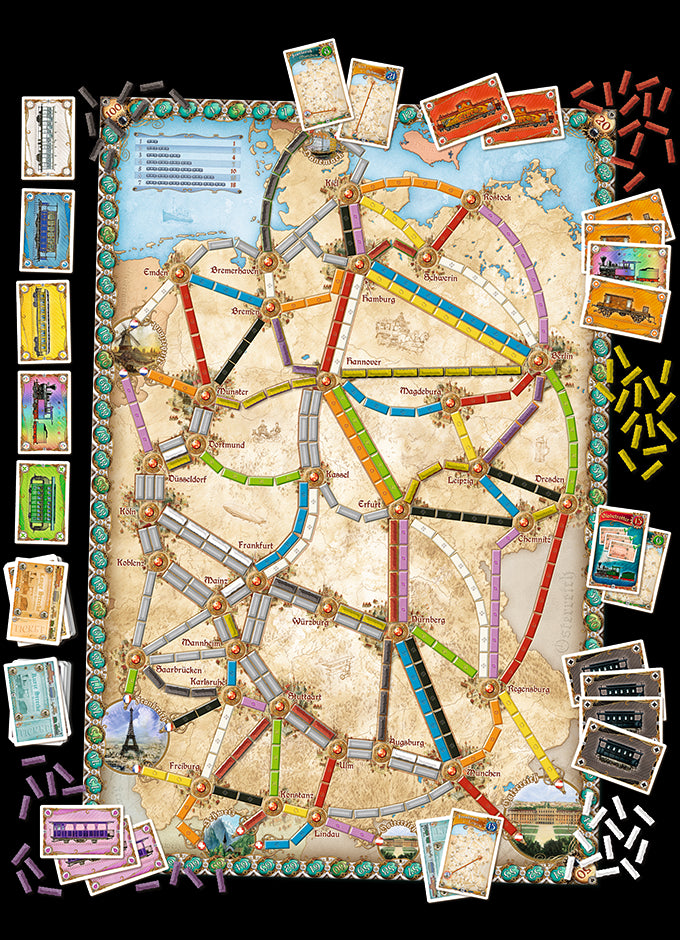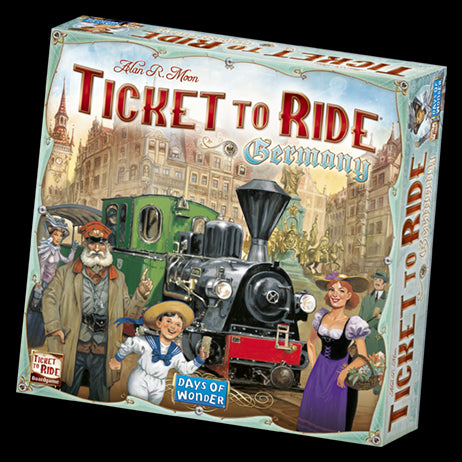 Collapsible content
Game Details

Suggested Ages: 8 and up
Number of Players: 2 to 5
Playing Time: 30 to 60 minutes

Designer: Moon, Alan R.
Illustrator: Cyrille Daujean, Julien Delval
Publisher: Days of Wonder
Mechanics

route building, set collection, card drafting, trains, transportation, travel, Germany, Ticket to Ride