Stonemaier Games
Regular price
$29.99
Sale price
$26.99
Unit price
per
Sale
Sold out
Tuscany Essential Edition, a modular expansion to any version of Viticulture. What story will you tell as you seek to create the most successful vineyard in Tuscany?
Tuscany Essential Edition includes 3 expansion modules for Viticulture that can be used in any combination:
Special workers adds 2 new types of workers to the game, each with it's own special ability to the game.
Extended board turns Viticulture into a whole new experience with four seasons, new action spaces and an area influence mechanic.
Structures provides each player with a private construction board where they can build two structures. There are three varieties: action structures which provide a private action space, enhancement structures which provide an ongoing bonus, and residual structures which give you a residual resource bonus at the end of each year.
Our favorite way to play is with all 3 expansion modules at the same time, but you can try them out one at a time to see how they work.
A copy of Viticulture is required to play any and all of the expansions in Tuscany Essential Edition.
About Viticulture
Viticulture is a worker-placement strategy game that allows players to create their own Tuscan vineyard beginning with a few plots of land, an old crush pad, a tiny cellar, three workers... and the dream of owning the best winery in Italy. Your job is to allocate your workers and helpful visitors to complete various tasks throughout the year. Each season is different on a vineyard, so the workers have different tasks they can take care of in the summer and winter. There's competition over those tasks, and often the first worker to arrive at each one has an advantage over the rest. You can expand your vineyard by building structures, planting vines, and filling wine orders as you work towards the goal of owning the most successful winery in Tuscany.
Condition: New
Share
View full details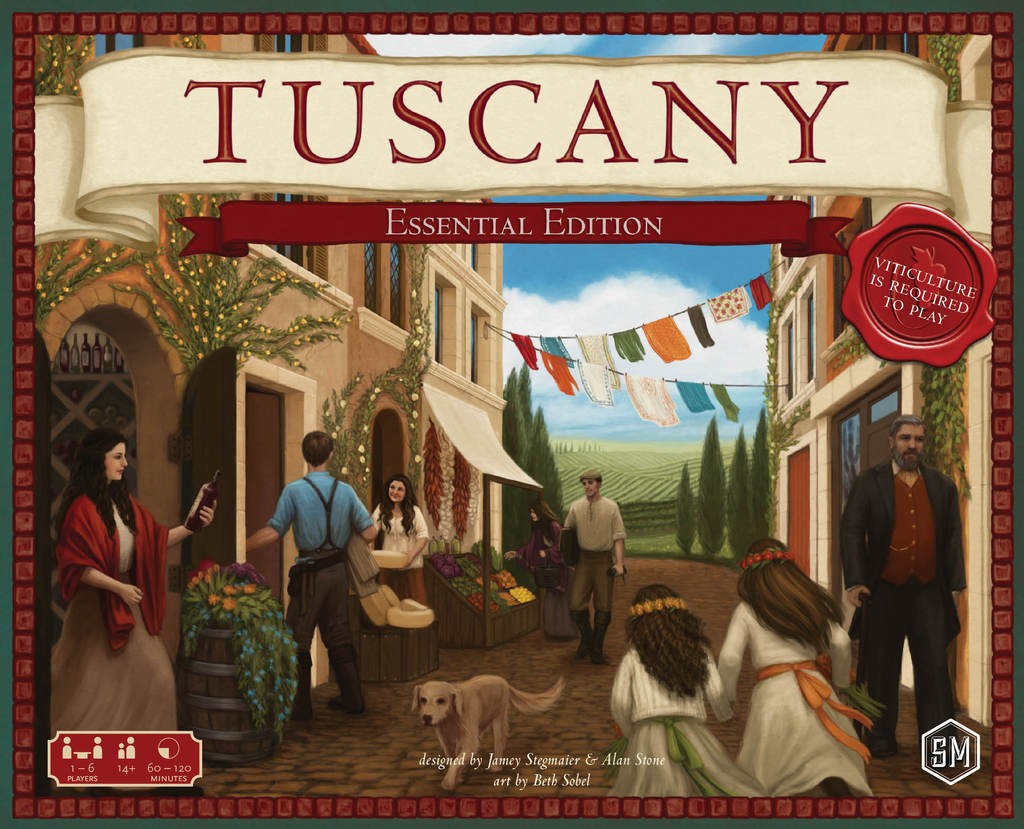 Collapsible content
Game Details

Suggested Ages: 14 and up
Number of Players: 1 to 6
Playing Time: 60 to 120 minutes

Designer: Stegmaier, Jamey and Alan Stone
Illustrator: Beth Sobel
Publisher: Stonemaier Games
Mechanics

hand management, worker placement, economic, farming, expansion, solo play, Viticulture
Contents

Structures (36 orange structure cards, 6 construction mat extension boards); Extended Board (1 double-sided game board, 36 influence tokens in 6 player colors); Special Workers (11 special worker reference cards, 14 special worker meeples); rulebook