Stonemaier Games
Regular price
Sale price
$59.99
Unit price
per
Sale
Sold out
Wingspan
You are bird enthusiasts - researchers, bird watchers, ornithologists, and collectors - seeking to discover and attract the best birds to your aviary. Each bird extends a chain of powerful combinations in one of your habitats (actions). These habitats focus on several key aspects of growth:
• Gain food tokens via custom dice in a bird feeder dice tower
• Lay eggs using egg miniatures in a variety of colors
• Draw from hundreds of unique bird cards and play them
The winner is the player with the most points accumulated from birds, bonus cards, end-of-round goals, eggs, cached food, and tucked birds.
Now includes a swift-start pack (4 guides and 10 new bird cards) to aid new players.
Condition: New
Share
View full details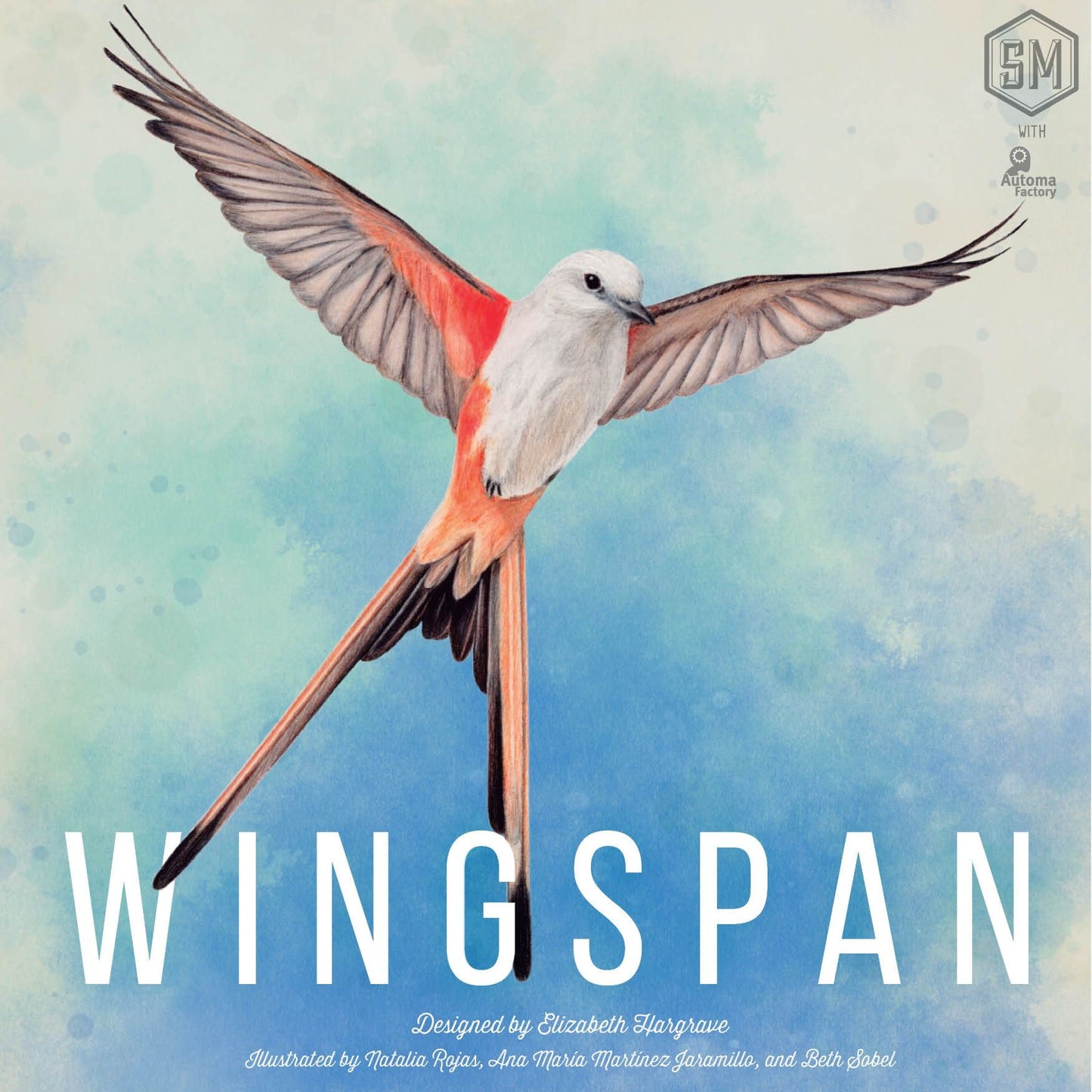 Collapsible content
Game Details

Suggested Ages: 10 and up
Number of Players: 1 to 5
Playing Time: 45 to 70 minutes

Designer: Hargrave, Elizabeth
Illustrator: Ana Maria Martinez Jaramillo, Natalia Rojas, Beth Sobel
Publisher: Stonemaier Games
Mechanics

Card Drafting, Dice Rolling, Drafting, Hand Management,
Set Collection, Solo Game
Awards & Honors

2020 JUG Adult Game of the Year Winner
2020 Japan Boardgame Prize Voters' Selection Nominee
2020 Guldbrikken Best Adult Game Nominee
2020 Gra Roku Family Game of the Year Nominee
2020 American Tabletop Strategy Games Winner
2019 Tric Trac d'Argent
2019 Swiss Gamers Award Winner
2019 Nederlandse Spellenprijs Best Expert Game Nominee
2019 Meeples' Choice Nominee
2019 Lys Passioné Finalist
2019 Kennerspiel des Jahres Winner
2019 International Gamers Award - General Strategy: Multi-player Nominee
2019 Gouden Ludo Best Expert Game Winner
2019 Golden Geek Most Innovative Board Game Winner
2019 Golden Geek Board Game of the Year Winner
2019 Golden Geek Best Strategy Board Game Winner
2019 Golden Geek Best Solo Board Game Winner
2019 Golden Geek Best Family Board Game Winner
2019 Golden Geek Best Card Game Winner
2019 Golden Geek Best Board Game Artwork & Presentation Winner
2019 Deutscher Spiele Preis Best Family/Adult Game Winner
2019 Cardboard Republic Architect Laurel Nominee
2019 Board Game Quest Awards Game of the Year Winner
2019 Board Game Quest Awards Best Production Values Winner
2019 5 Seasons Best International Strategy Winner
Contents

1 goal board, 1 bird tray, 5 player mats, 1 bird feeder dice tower, 1 score pad, 170 bird cards, 26 bonus cards, 16 Automa cards. 75 egg miniatures, 5 wooden dice, 40 wooden action cubes, 103 food tokens, 8 goal tiles, 1 swift-start pack, rule book, appendix, Automa rule book