Fantasy Flight Games
Regular price
Sale price
$17.48
Unit price
per
Sale
Sold out
Dawnforge: Explore the new world of Dawnforge with the d20 system. Play as a minotaur warrior or an ageless elf lord in the world of Dawnforge.
The world of Dawnforge is a mythic land rich in magic and wonder where great empires clash, intrepid explorers journey beyond wild frontiers, and mighty heroes brave epic dangers. It is a land where familiar and beloved races and archetypes are reaching the pinnacle of their glory and wonder. It is a vast and rich realm where newborn nations are still islands of civilization in a dark and unexplored wilderness sea. The world of Dawnforge is a land where the greatest deeds have yet to be done and epic heroes are wrought in the crucible of legend.

The Dawnforge campaign setting offers players and DMs an opportunity to explore and experience a mythic age. In Dawnforge, you play truly legendary characters whose powers and abilities far surpass those of other worlds. Play an ageless elf lord, a towering minotaur warrior, or a tiefling wizard who seeks to forge his destiny through fiendish pacts.
Dawnforge is an exciting new campaign setting designed for legendary fantasy roleplaying in the d20 system.
Dawnforge was chosen as a semifinalist from more than 10,000 submissions in a worldwide setting search. Explore these pages and find out why!


Condition: Very Good, slight wear on front cover
Condition: Very Good
Share
View full details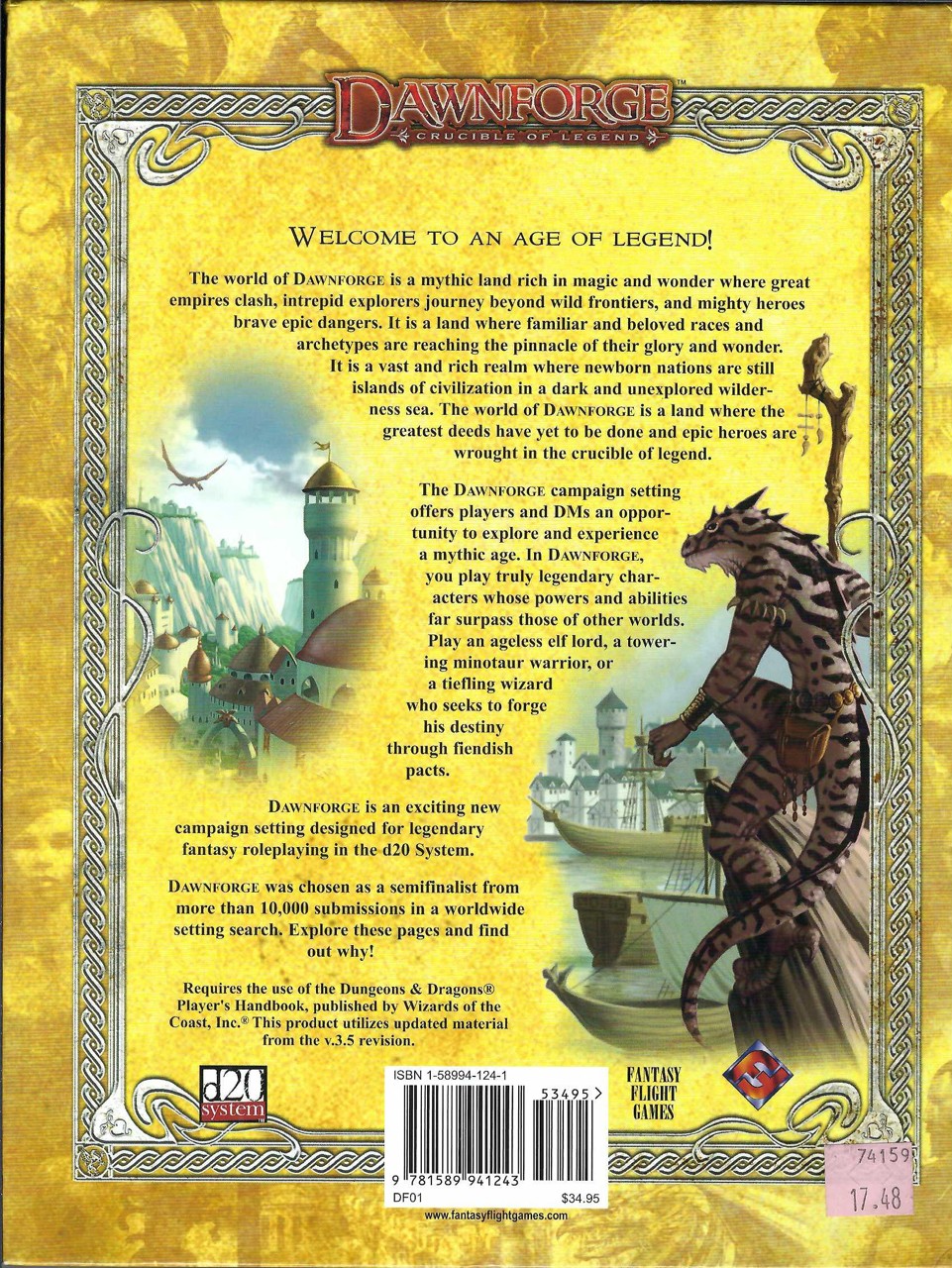 Collapsible content
Details

Author: Benage, Greg
Publisher: Fantasy Flight Games
Binding: Hard Cover